|

2015-09-05
Author:Jamie

|

|
IELTS Speaking Part 1 with Sample Answer for Band 9 ( New Topic )
HOUSEWORK
1-Do people in your country do much housework?
Oh definitely,they do , it is part of their daily grind to keep their homes tidy and neat ,so they invest a lot of time in doing house chores .
2-What housework do you like to do?
Well, I enjoy washing the dishes and doing my laundry ,and I also have strong passion for cooking if I have sufficient time .
3-What housework did you do when you were a child?
I was expected to make my bed , broom the floor and mop it as well , and I do recall my parents would ask me at time to mow the lawn if they were on a trip ,I did not like that though .
4- Do you think children should do housework?
I suppose so , it is kinda responsibility that they need to take on , and it does teach them how to be independent as well , beside that it also helps them to understand what is teamwork like .
5-Do you like to do housework?
Honestly I do not , I reckon it is time consuming and I grow up in a man society in which housework is considered essential part of female daily routine .
6- What housework do you least like doing?
Well , I kinda loathe mopping the floor thing , it drains me and I get myself all wet when I do it ,so I try to find a good excuse to avoid it every time I am asked to help with the house chores .
7- If a child helps do some of the family housework, how do you think this affects the child's development?
Check more sample answer at Master IELTS Speaking by Jamie Wood
---
If you wish to read more awesome articles like this, sample questions and answers for IELTS, expressions for Spoken English, vocabulary and slang, as well as daily tips, scan the QR code below to join us. We have a lot of great things to share with you everyday .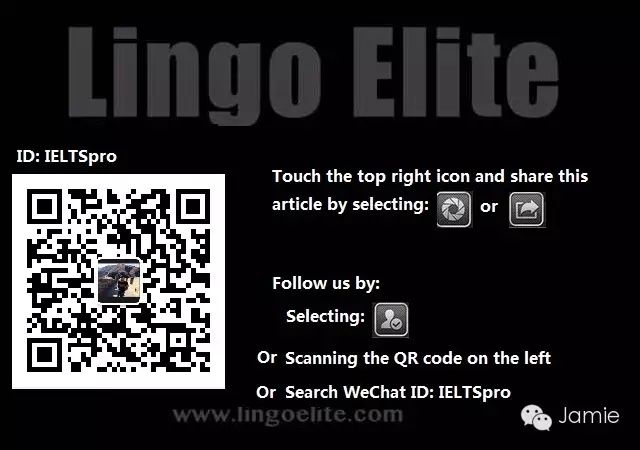 Have a great day ,and if you like this post ,please share it with your friends