The Fake Great Wall of China
writer: Qin Xie source: dailymail.co.uk

The one-of-a-kind Great Wall of China now has a knock-off - in its homeland.
A 2.5-mile-long replica version of the historic fortification has appeared in Nanchang, central China, reported People's Daily Online.
Despite being more than 13,000 miles shorter than the real Great Wall, some tourists reportedly thought it was the original structure.
Fake: A 2.5-mile-long replica version of the Great Wall (pictured) has appeared in Nanchang, central China
Real: Original Great Wall of China (pictured) is 13,170 miles long and was built in the space of 1,000 years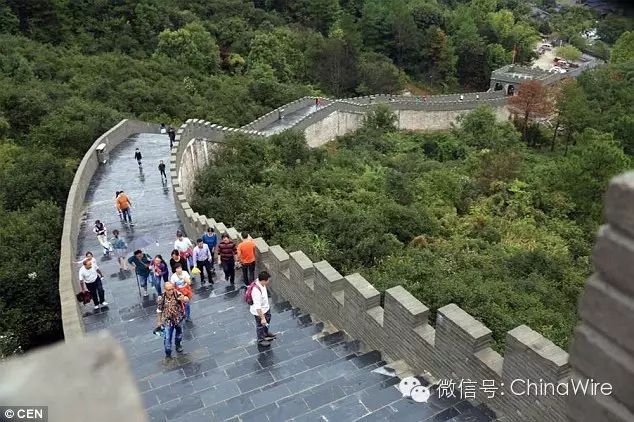 Tourist hot spot: Despite the wall being fake, many visitors have visited the attraction thinking it was real
Reports of the replica Great Wall of China first appeared in April this year. It is said to be part of a local tourist region in central China.
At the time, the 'Great Wall' had yet to be completed but was already receiving plenty of tourists.
Like the real Great Wall of China, the replica has been built with stones on top of a mountain range.
Sections of the wall are divided with watch towers, just like the real thing.
However, the replica is much smaller at just 2.5 miles long; the real thing is estimated to be at least 13,170 miles long.
It is also thought to be built using man-made stones.
Despite this, Chinese media has reported that the replica Great Wall was so realistic, visitors have been confusing it with the real historic site.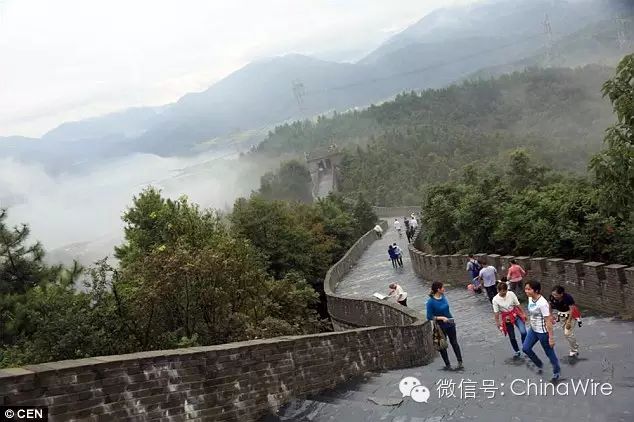 Convincing? Fake Great Wall (pictured) is built of man-made stone and is divided with regular guard towers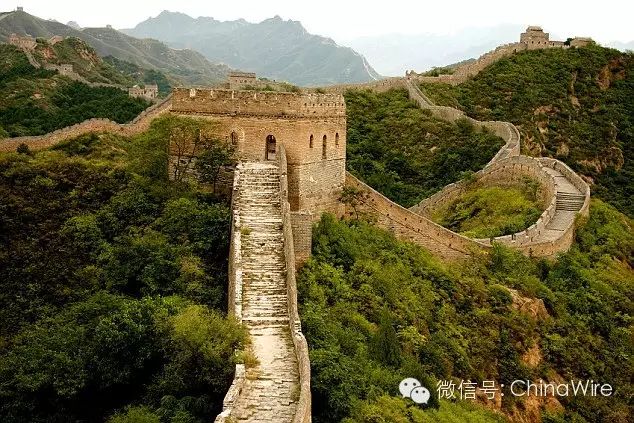 Historic: The real Great Wall (pictured) is made up of several connecting walls in the northern part of China
THE GREAT WALL OF CHINA
Surprisingly, it's not the first replica of the Great Wall to appear in China this year.
A school in Wuhan, central China, unveiled a Great Wall-style structure in April this year.
It measures just under one mile long and features several guard towers.
The school reportedly spent 4 million Yuan (£400,000) on the project, which forms a walkway around its buildings.
A spokesperson for the school has revealed that their version of the Great Wall has attracted a lot of local visitors but was not intended as a replica.
The original Great Wall of China is currently the world's largest man-made structure and was built over the space of about 1,000 years.
It was intended to be a line of defense against enemies from the north.
The most visited part of the wall is just outside of the capital of Beijing.
However, the wall spans across several regions in northern China.
The replica great wall is over 943 miles away from the real structure. It takes over two hours to fly between the two locations.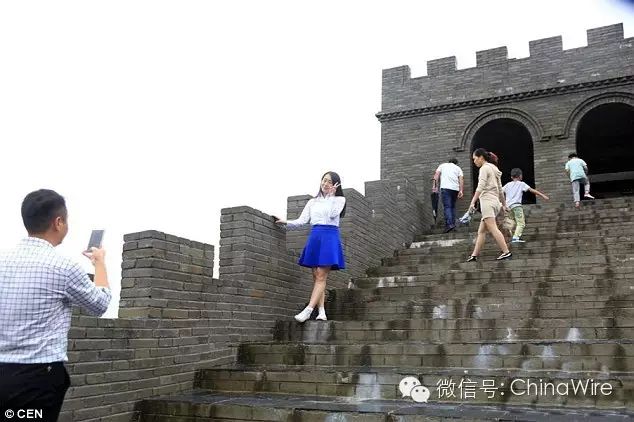 Tourist attraction: Tourists seem just as happy on the fake Great Wall, which has far fewer visitor numbers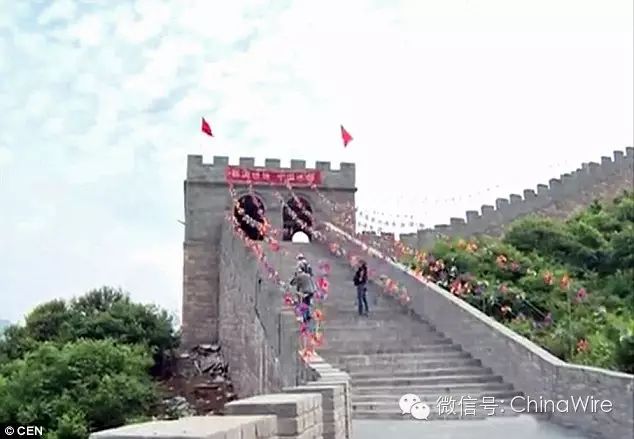 Popular: The replica wall first emerged in April. It had attracted many visitors, despite not yet being complete
Architectural replicas have become particularly popular in China in recent years.
French landmarks, such as the Eiffel Tower and Arc de triomphe, are particularly popular for replica makers.
Most recently, a small statuette of Lady Liberty has appeared in Yunnan, south west China, inside a hotel garden.
However, there's also been an increasing number of replica Chinese landmarks appearing around the country.
They have far fewer visitors than the real tourist sites, giving travellers more opportunities for photographs.
That looks familiar: A replica of Tower Bridge in central London has been created in Suzhou city, Jiangsu province, China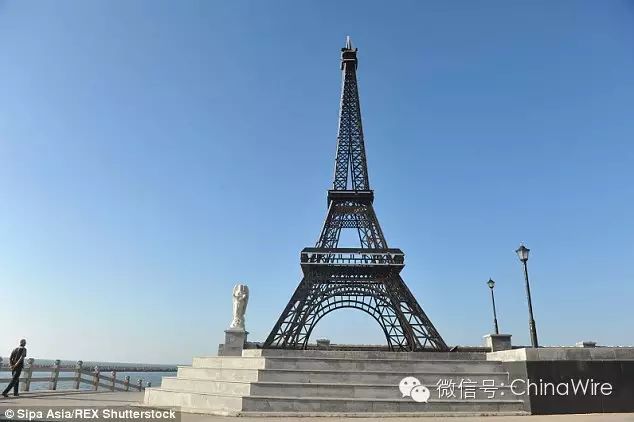 I've seen that before: In Shandong province, China, a model of the Eiffel Tower in Paris has been created
Carbon copy: A likeness of Mount Mount Rushmore in South Dakota has appeared in Shapingba Park, Chongqing Municipality, China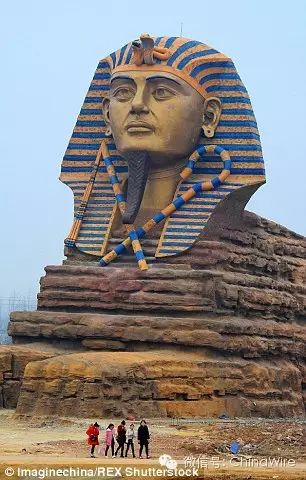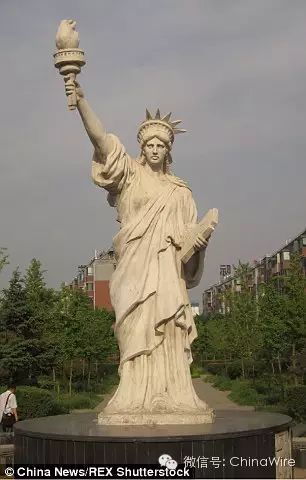 Imitation: Chuzhou ctiy has its own clone of the sphinx, left, residential complex in Shenyang has a Statue of Liberty, right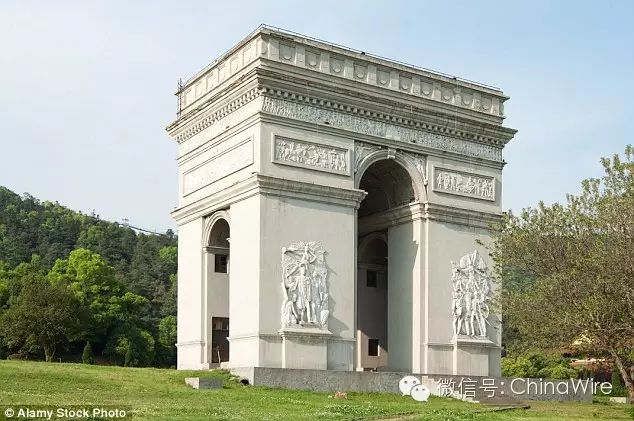 A reproduction of France's Arc de Triomphe has appeared in Huaxi village in Jiangsu, China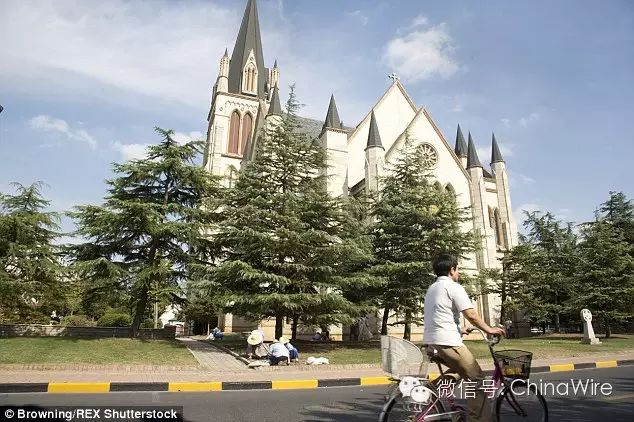 Thames Town has been built in Shanghai and is modeled on a quintessential English village. It boasts mock Tudor buildings, cobbled streets, red phone boxes and a Gothic church