How to Link a Bank Card with WeChat ?
How to Link a Bank Card with WeChat ?

By Grant Dou
Panda Guides now owns and manages 41 WeChat groups, mainly dividedinto the following categories:
City and Provincialgroups: We have 7 groups for Beijing, 2 forShanghai, 2 for Guangdong, and 1 for Jiangsu, Liaoning, Sichuan, Zhejiang,Yunnan, Hunan, Hubei, Shandong, Tianjin, Chongqing, Fujian, and Guangxi,respectively.

Country groups: We now have groups for Americans, Russians, Pakistanis, French,Canadians, Indians, Britons, Aussies, Germans, and Africans.

Job and interest groups: We now have 5 groups for job opportunities, and 1 for the EnglishPremier League, and 1 for National Football League.
During the procedure of inviting people to join their WeChatgroup(s) of interest, some always complain that they cannot join the group(s)because WeChat requires the linking of their personal bank card. As we know,AliPay, the Chinese equivalent of PayPal, has dominated the online paymentchannel for a long time. With the advent of mobile internet, WeChat is nowchanging the online payment pattern in China. Earlier this year, Tencent, thecompany that owns WeChat, reported that four-year-old WeChat now has 549million monthly active users. Since it's so popular, anybody wanting to join a groupbigger than 100 is required to link his or her bank card to the WeChat account.It's said that WeChat wants to earn more market share against Alipay in thisway. Any Chinese bank card (if acceptable),can be linked to two WeChataccounts. Some foreigners have reported that their foreign bank cards can alsobeen linked, while others downloaded their WeChat APP outside China. Some haveeven said they were never asked to link any bank cards, and they could join anygroup larger than 100. However, we have never had this experience.
Now, let's explain the process of linking a bank card with a WeChataccount, in a step by step process as follows:
Step1: Hereis my phone screen (sorry my phone screen is full with all the groups because Imade them "Sticky on Top"). Tap the right bottom button "Me", shown below andcircled in red, as follows: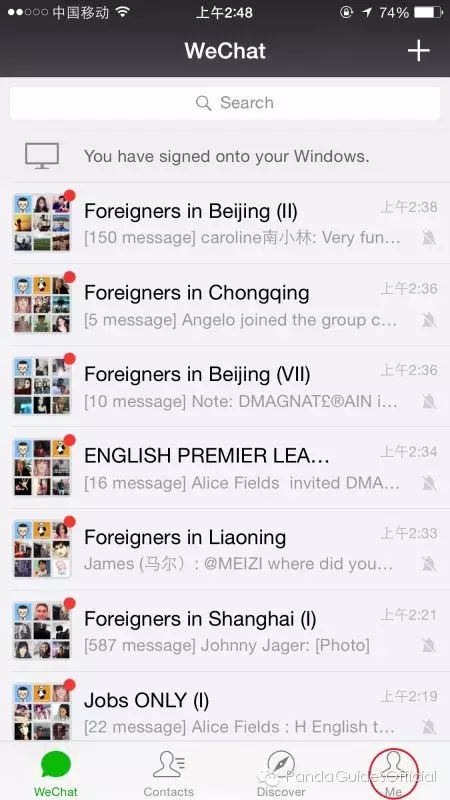 Step 2: You are led to the next picture, as followsbelow. Tap "Wallet", which is in the red square as follows:
Step 3: Tap the icon of "Cards", shown here in the red square on the topright.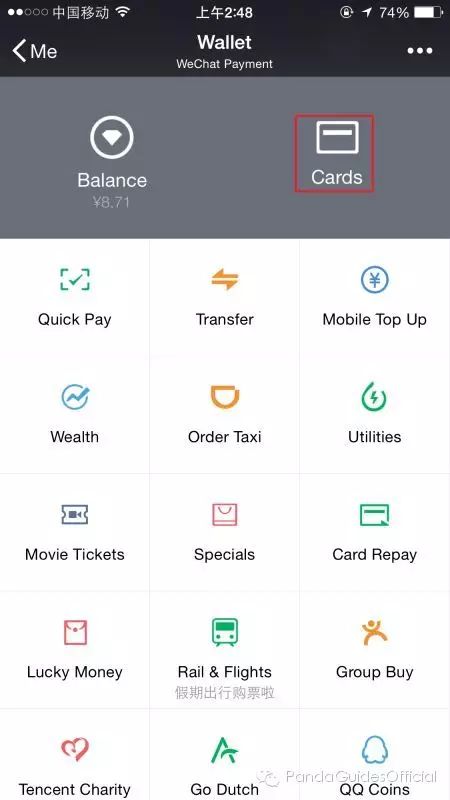 Step4: Tap "Add a Card" as shown in the red square,on the picture below.
Step5: Input the 6-digit password you savedtogether with the bank card you desire to link with your WeChat account.
Step 6: Input your bank accountnumber.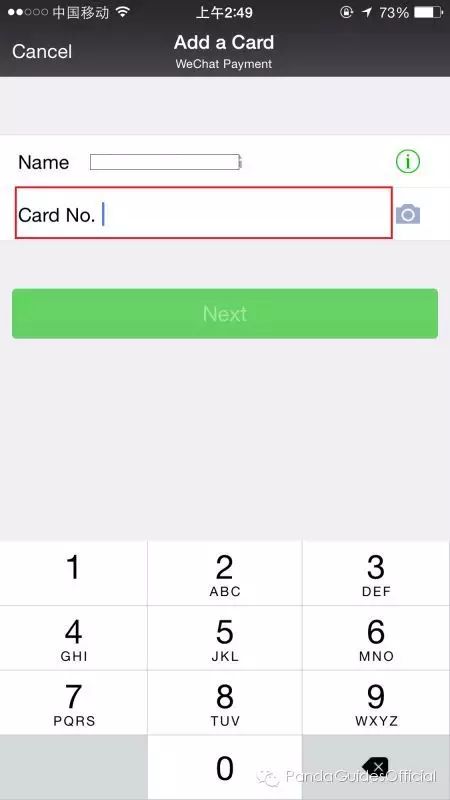 Step7: Input the phone number linked with your bankaccount when you opened it.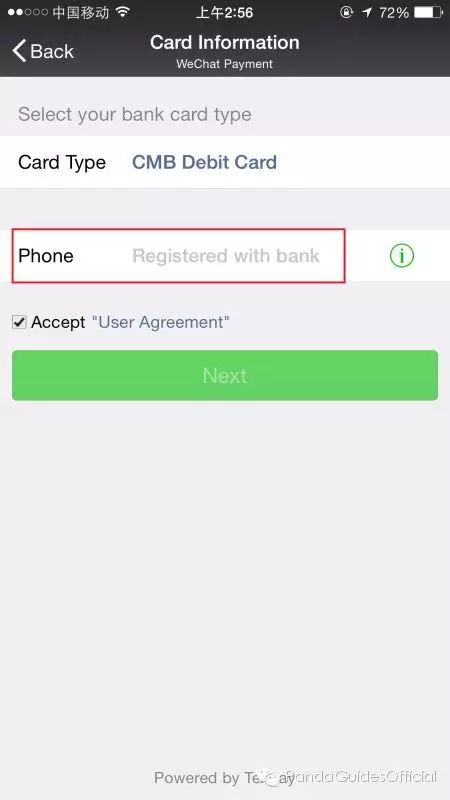 Step 8: You'll receive a Verification Code via SMS text message sent toyour phone. Input it in the red box shown below.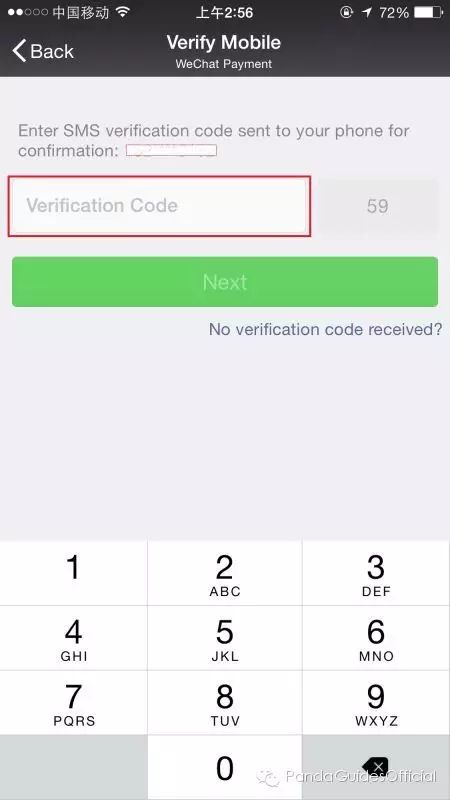 Step9: Now, the whole procedure is finished.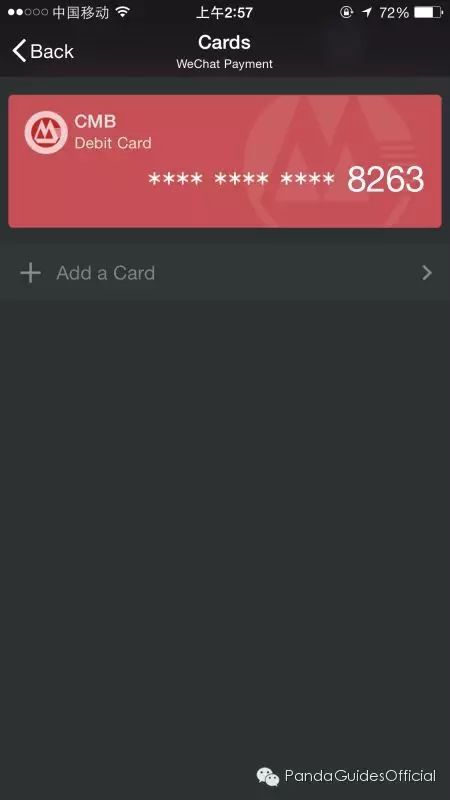 Please note somebank cards do not work when you open it with a foreign passport. For example, Itried to link my CITIC Bank Card, and it required the account be opened with aChinese ID (as shown in the message below).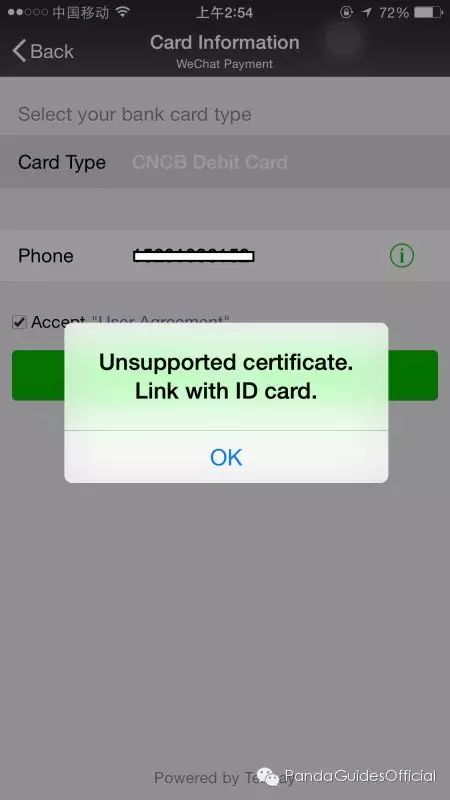 After consulting with some banking experts,the following are a list of banks confirmed to be acceptable to the WeChatpayment system by using a foreign passport.
China Construction Bank (CCB): 中國建設銀行(ZhōngguóJiànshèYínháng)
Industrial and Commercial Bank of China(ICBC): 中國工商銀行(ZhōngguóGōngshāngYínháng)
Bank of Communications: 交通銀行(JiāotōngYínháng)
China Merchants Bank (CMB): 招商銀行(ZhāoshāngYínháng)
Agricultural Bank of China (ABC): 中國農業銀行(ZhōngguóNóngyèYínháng)
Bank of China (BOC): 中國銀行(ZhōngguóYínháng)
Huaxia Bank:華夏銀行(HuáxiàYínháng)
Everbright Bank of China: 中國光大銀行(ZhōngguóGuāngdàYínháng)
About the Author
Grant Dou, PhD, is a Chinese Canadian currentlybased in Beijing, who owns the travel guide publishing business - Panda Guides(www.pandaguides.com). Now Panda Guides is working together with CITIC Bank toissue a joint local credit card to foreigners living in China, which attemptknown to secure credit for foreigners living in China. Panda Guides' firstversion of APP is scheduled to be released middle October. Readers areencouraged to add his personal WeChat ID: grantdou or the official ID:panda_guides for more information.
About Us
WeChat ID:PandaGuidesChina
LONG PRESS OR SCAN THE UNDER QR CODE TO FOLLOW US!