Best Sales Cases Sharing----Amit Vaishy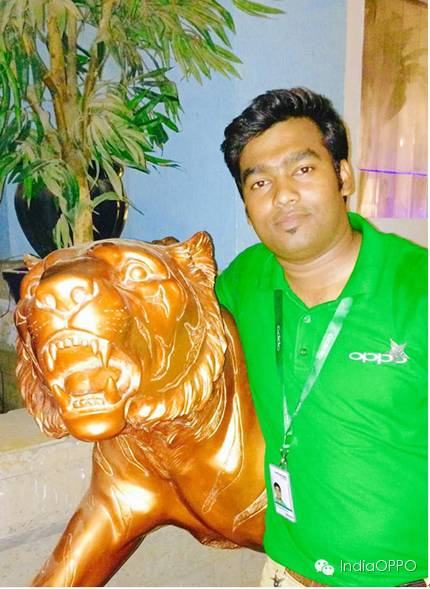 Name: Amit Vaishy
Store: Laxmi the Mobile
OSR- good morning sir how can I help u?
Customer- actually I lost my mobile and I didn't did the insurance. So there is no chance to get it back. Can u show me a mobile around 10k
OSR- yes sir which brand you want to go for?
Customer- previously I was using Samsung and I was bired with it I need something different which no other brand has
I have heard about OPPO the brand which has a mobile with rotating camera
OSR- yes sir it is the N3 u telling about really very amazing for photography
Customer- show me the mobile if OPPO around 10k
OSR- this is the one you were looking for sir OPPO neo 5 recently launched by OPPO and all reviews are positive it has amazing features and it very innovative as OPPO is well unknown for its unique features and creativeness
Customer- ohh well the look is awesome
OSR- yes sir very stylist decent and one hand usable with dragon tail glass on it on which hammer test has been performed and the strongest glass
Customer- the amazing and most useful for me because my mobile keeps on falling my use is very rough
OSR- it's an advantage for u sir what you actually need in your mobile
Customer- good camera, look, ram, processor,battery
OSR- yes sir OPPO is well known for its camera each and every model of OPPO has amazing camera and something different than another brand because it had pure image engine it is a combination of software and hardware manufactured by OPPO which enhance the clarity of your mobile camera and OPPO neo5 has 8mp back camera with pure image engine 2.0 and it gives you amazing different modes
GIF
HDR
Double exposure
Expert
Audio photo
Beauty mode
Audio photo-: You can capture a photo and give a 10sec. of background voice so your image will be the live image with voice
GIF mode-: the GIF mode helps to create ananimated video of photos this mode captures 20 photos in a 3sec. and shows it in a video format so it will look more beautiful
Double Exposure-: Double Exposure is a modefor the use when you want to create a creative image with assembling two images in a one picture it will work well and can capture an amazing and creativeimage
And last one is Beautify Mode-:
in the beautify mode of OPPO camera your face will be shown clear and the spots or oily face gets reduce and it gives you the better quality
I explain u one by one sir
Customer- amazing never saw before so many features in single camera
OSR- neo5 gives u 2mp front camera and if isay that you can use mode same in front camera what will b ur reaction sir ?
Customer- really it will be really amazing and the double exposure and beauty mode is best
OSR- neo5 give u 1GB ram and 8GB ROM with 32GB expandable and 2000 mAh lithium polymer battery
Customer- that perfect what i need is
OSR - yes sir if I say you can start your mobile without making your screen on and by using gestures you can start your music camera what's app etc
Customer- I don't believe it's next to impossible
OSR- no sir it's possible for OPPO just watch it i will slide down 2 fingers and music will start and same go for others you can customize it
Customer- I can't believe it can I do it once with myself
OSR- yes sir sure
Customer- amazing
OSR- the sensor provided is really amazing it'sa motion sensor
Customer- what's that
OSR-
Flip to mute- when u get a call to silent it just flip ur mobile and it will be silent
Easy dial-to just call someone just open the number take the mobile close to ear and the call will be done
Easy answer- to receive the call u have to bring the mobile close ur ear
Hand free switch- the last one is it amazing sir
Customer- its just like am watching a magic show
OSR- yes sir its just next to impossible to bring such a technology in the market and OPPO had made it possible
Customer- amazing
OSR- there is a O cloud storage here were u can store your photos contacts so that if your mobile formats your important photos in which all memories is captured will never wipe out from here up to 5GB and its in built given no need to download
Customer- amazing
OSR- sir your mobile was lost right
Customer- yes m sad
OSR- while using neo5 u can use it friendly and no need to get worry after paying 10k because in O cloud storage you get amobile tracker and track the mobile through GPS or format your phone ,put a pattern lock etc and no need to buy any insurance its in built
Customer- wowowo
OSR- you can use a OTG and attach a pen drive, mouse, printer, scanner etc if you want to watch a movie there no need to moveit in memory card you can attach a pen drive and watch it
Customer- wow it's a jackpot like so many features
OSR- more to go sir
App Encryption-: It helps you to lock your any application by password or pattern lock so you don't need to get any other app for it.
There is a Data Saving-: sir data saving can effectively prevent malicious software from running up data bills and sending spam information in the background so it can save your data
Quite Time Mode-: Sir suppose you have gotthe leave for 4 days and you don't want any calls from some people you can't do it in another brands phone it's easy to do in OPPO with quite time mode just select the contacts to whom you don't want any calls and if it's an important call you will get it only if the caller calls you 3 times in a 3 mints so you will not miss your important call
There is a permission monitor who will help to keep your data secure how??? just have a look when you use a Whatsapp Facebook or true caller they made one agreement where it's clearly mentioned that our service keeps yours data to our server like contacts, message mms photos and all and sir they can use your data for any use here you can take a control on it just select the application to whom you don't want to give your data
and the last and the best is guest mode -:Guest mode --is like a dual password system like we use in computer admin and user in this mode you can put two passwords for phone where one for personal use and second for others where you can hide your hide your contacts images videos and application the benefit is if the contacts are hidden and Guest modeis on the hidden contact call will be shown as a unknown call and the hidden application notification will not received on guest mode
Memory cleanup-: it helps to clear the using memory of applications and can set a reminder for cleaning a memory when it'slower than 20% which will help you to keep your speed maintain
Super Power Saving Mode-: Super Power Saving Mode is basically made to give you a long use of battery it comes with the super power saving mode which will work for 15 hours even your battery is a 20% so you will never miss you important calls
Cous- amazing system given
OSR- its the 5 best security system given by OPPO and manufactured by OPPO itself
Customer- wow but is it a trust full brand?
OSR- yes sir more than 140 countries trust OPPO and its well known for its quality and uniqueness
It gives 1 year warranty
6 months accessions warranty
7 days DOA process
And no need to go any service center youcan come here OPPO provides you shop service
Customer- nice after sales service
Pack the mobile please
OSR- yes sir all setting explained to you and you can use it friendly as each and every setting is Customize and easy to operate
This cover and screen guard is provided by OPPO for safety and for warranty you have to keep the bill and warranty card safelyand I guaranty u will be satisfy by OPPO
Thank you so much sir
Sale closed successfully sold and got positive review from Customers