Best Sales Cases Sharing-----Hyder Ali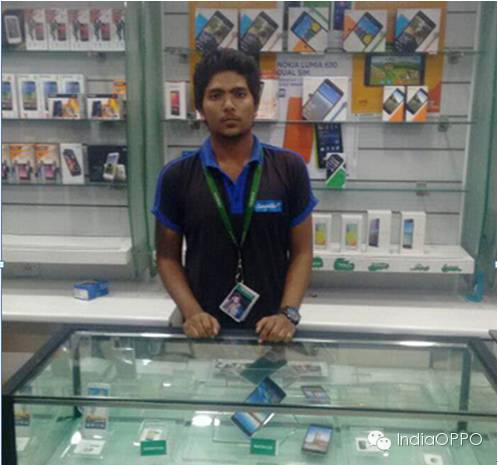 Name: Hyder Ali
Store: Sangeetha Mobiles Kondapur Hyderabad
Customer: Two Friend
Result: Neo5
I was in store two boys interned at the store for Query about Intex Mobile.
Good Afternoon sir
How may I help you sir?
Customer: they said to me I need Intex Mobile. Higher battery backup mobile it having 4000mAh.
OSR: then I told about Aqua Power+ smartphone features 16GB of built-in storage that is further expandable via microSD card (up to 32GB). It supports a 13-megapixel rear camera with LED flash, apart from a 5-megapixel front-facing camera. Connectivity options include 3G, and USB OTG.
Customer: it's ok but you are wear OPPO t-shirt you are the promoter of OPPO.
OSR: Yes Sir
Customer: I Saw the Branding of OPPO I think OPPO launch new model.
OSR: Yes sir this is our "New Arrive" Phone this is called Neo5 in OPPO Have Neo Series this is 3rd innovation of OPPO.
Customer: Ohh! Let's see
OSR: Sir this is the one best handset of OPPO which have ColorOS 2.0.1i and PI2.0+ which makes the Neo5 Stylish, fancy, Innovative and you can use it very friendly, comfortable and useable. It having mirror covers on front and back of Neo5 are specially designed based on a sea view. You feel royal when you handle it in your hand would you like try once.
Customer: yes it gives a really well feeling in my hand
OSR: What is your basic features what you use mainly?
Customer: Battery, Camera, ROM and RAM and some new and innovative features should be their which doesn't other brand has like Intex, Micromaxx.
OSR: Okay Sir Now I will tell about OPPO ColorOS this is based on Android for this you can get most attractive features like I how you will get more battery Backup, in colorOS2.0 it having one option this "power saving mode" using of it you can get.
Customer: How can its work and how manyhours?
OSR: Ok Sir in Power saving mode it having one option this call super saving mode it can give you 20% battery you can get 15 hours battery backup for call, massage, clock .
Customer: oh yes it's really good.
OSR: Yes Sir and from operating system of ColorOS which gives 13 off screen gestures which can be customized According your convenient and you can use Like on off screen you draw the 'M' for music and 'W' for whatsApp this I am using for my convenient because I am free that I want to listen music and while listening chatting with my friend this my personal feedback, Sir you can also try it once.
Customer: It's good and amazing.
OSR: Sir Now I am telling you application which is Protect your privacy like photos, contacts and application which cannever be Open by other person this application call as App Encryption and for Hiding we Gust Mode this hide your like Important (photos, contacts andapplication) cleaning Rom and Running application you need to download other application No Need Because OPPO is provide all inbuilt how to using it I will show you Sir
Customer: wow that's nice man, but whatabout Camera?
OSR: OPPO Neo 5 Provide you Rear Camera 8MP and Front 2MP but sir go for Mega pixels OPPO Have PI2.0+ (Pure Image Engine) which is manufactured by OPPO itself, this is different from other brand. Its combination of software and hardware which enhances your camera clarity and gives u best shooting option which you never Figure out other brand
Customer: Ohh it's really interesting.
OSR: Sir I will tell about most attractive option which is after updating PI2.0+. Beautify 3.0, it will gives you different type of photo and it will hide sweaty & Oily faces, pimples and dark spot, it have option like Panorama, Double Exposure, GIF, HDR, Audio PhotoDon't worry Sir I will show demo how it's work you one by one.
Customer: Really amazing all and the Double exposure, GIF and Audio Photo I had never seen it before.
OSR: thank you so much Sir for your listening but just now I will tell you about Beautification mode for using you can make your attractive profile photo on whatsApp and Facebook and all social site. Which gives you 8 different beauty styles. According to you, I will show demo how its work you one by one it will be work on front and Rear camera also.
Customer: This is really good while using of this features I can take my best selfie.
OSR: Sir this not Over, Neo5 having some more attractive feature like "Near Me Cloud, OTG" that will be enhance your Storage
Customer: how?
OSR: NearMe Cloud storage also gives you space to upload your data like(Contact, Massage, and Photo) when are you doing your phone Reset that time you can no need send save other mobile or PC andalso OPPO can give you safety of tracking in OPPO mobile
Though GPRS and its totally free no need to buy any type insurance for it but if you want in sangeetha Mobile Will Insurance only for 500 Rs.
Customer: This features well. No no I don't to take sangeetha insurance it is ok for me.
Customer: Ok I need a Dual SIM phone and 3G it's perfect.
OSR: yes Sir its dual sim and both slot are supported 3G.
Customer: that's good OPPO I am really impress by OPPO because I am coming for Intex please tell me how many colour do you have?
OSR: Black and white both colours are there which colour you want sir?
Customer: White colour its look royal.
OSR: Sir After billing you I will tell you regarding service and warranty, you will get 1 year warranty of handset and 6 months accessories (headset And Charger), one warranty card, head phone,charger, battery and 7 days DOA policy.
Customer: Okay.
OSR: Okay Sir I will explain you to all setting than can easy for you because everything will be customized as per your convenient.
Customer: that's good for me!
OSR: yes Sir your mobile, Bill and warranty card is packed it's important for you please don't lose warranty card its compulsory for service.
Customer: Okboss I will keep it safe.
OSR: Yes Sir please Take your phone and Ihave all OPPO phones demo available in Sangeetha Mobile Store if you and yourfriend would like to see demo or want to purchase than you can come anytime andtake the feeling and experience of each and every product of OPPO.
Customer: sure I will come again for OPPO new innovation and smart technology.
OSR: Sure Sir thank you for choosing as your best Phone.