Best Sales Case Sharing----From Sumit Sunil Barmukh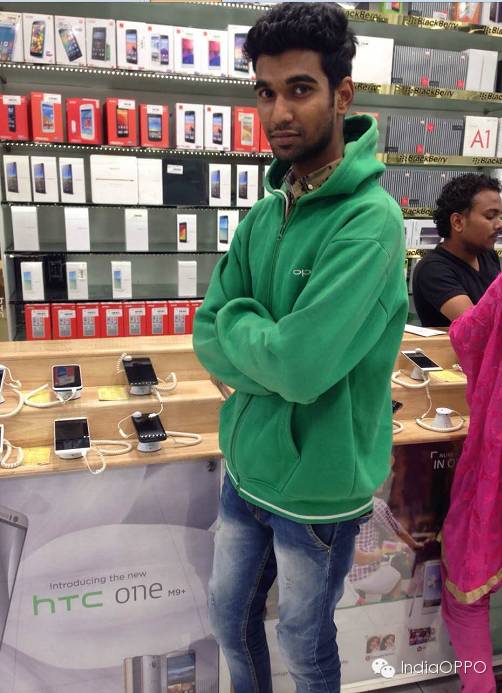 Name: Sumit Sunil Barmukh
Venue: Alfa Pune F.C. Road, Pune, India
Required phone: Zenfone 5
Result: Neo 5
(Customer entry)
Me: Hello Mam, :-) good evening, can you please tell me how can I help you?
Customer: Hi I want to buy an Asus Zenfone5, and want to know its features can you show it to me?
Me: Yes Mam sure just give me a second I will bring Asus Zenfone 5.
Me: yes Mam here is Asus Zenfone 5.
Customer: thank you so much but can you please explain its features?
Me: Yes Mam Asus is a National brand which actually manufactures a laptop and computers, Asus. Zenfone 5 is having a Intel processor which is best in a computer section and they have build it in a phone so it gives you a betel speed to use.
Customer: Okay and what about hardware and software like camera and ram etc.
Me: yes Mam Asus Zenfone 5. Having 2GB ram of DDR quality and Intel atom Z2580 processor. The camera of Asus Zenfone 5 is 8mp autofocus rear camera and 2MP front camera, Asus Zenfone5 is with android 4.4.4 kitkat version. The glass of the screen is corning gorilla3 which protects the screen from scratches. The ROM means internal memory of Zenfone 5 is 16 GB and expandable up to 64GB so you can store more apps and more mediafiles to gallery. Battery power of Zenfone 5 is 2110 MAHpower
Customer: WOW... amazing features I don't think so there will be any other model like this?
Me: sorry to say Mam but there is a model which comes with unbelievable features if you want i can show you...
Customer: Yes Why not?? Please.
Me: Okay Mam here it is? It's an OPPO NEO5.
Customer: OPPO??? i never heard aboutthis..
Me: Mam OPPO is a no. 1 global brand. OPPO having its own OS which calls ColorOS the features of ColorOS is amazing and the brand is completely awesome with zero rejection.
Customer: alright let me know the features.
Me: Mam here it's OPPO Neo 5 which having a two OS one Android and second ColorOS
Customer: what is ColorOS?
Me: ColorOS. It's a amazing UI of actual smartphone like you can operate your OPPO neo5 on off screen mode there are signs which can be used on off display. Like for camera just draw "O" on off screen the camera will start. For music just drag down your 2 fingers and your music will start go next and previous song you can draw this signs"< >". You can set total 13 gestures to off screenwhich ever you want.
Customer: amazing its awesome I would like to get more information
Me: thank you Mam surely I will tell you about this. Like the off screen gestures there are some of the on screen gestures
Like if you want to take a Screenshot on another phones you have topress some hard keys here it's so easy just swipe your 3 fingers on screen andyour mobile screen shot is ready. Now suppose if you are on browser on doing some other work and you want to operate camera just pinch you 3 fingers on screen your camera will turn on where in other phones you have to go back to menu and haveto open camera so it's easy than other phone. If you double tap on screen display will get off so you can make it On Off whenever you want. If you are listening music and wants to adjust a volume just drag your 2 fingers up and down as per you want a sound. These are the on screen features now there are special features for security..
Customer: it's just awesome please go on. I am excited to hear..
Me: HaaHaa. Yes Mam. In the security app you will get some important and useful apps like
Memory cleanup-: it helps to clear the using memory of applications and can set a reminder for cleaning a memory when it'slower than 20% which will help you to keep your speed maintain
There a one more feature which is
App Encryption-: it helps you to lock yourany application by password or pattern lock so you don't need to get any other app for it.
There is a data saving-: Mam data saving can effectively prevent malicious software from running up data bills and sending spam information inthe background so it can save your data
After that
Super Power Saving Mode-: Super PowerSaving Mode is basically made to give you a long use of battery it comes withthe super power saving mode which will work for 15 hours even your battery is a 20% so you will never miss you important calls
There is a
Quite Time Mode-: Mam suppose you have got the leave for 4 days and you don't want any calls from some people you can't do it in another brands phone it's easy to do in OPPO with quite time mode just select the contacts to whom you don't want any calls and if it's an important call you will get it only if the caller calls you 3 times in a 2 mints so you will not miss your important call
There is a permission monitor who will help to keep your data secure how??? just have a look when you use a WhatsAapp Facebook or true caller they made one agreement where it's clearly mentioned that our service keeps yours data to our server like contacts, message mms photos and all and Mam they can use your data for any use here you can take a controlon it just select the application to whom you don't want to give your data
and the last and the best is guest mode -:guest mode is like a dual password system like we use in computer admin and user in this mode you can put two passwords for phone where one for personal use and second for others where you can hide your hide your contacts images videos and application the benefit is if the contacts are hidden and Guest mode is on the hidden contact call will be shown as a unknown call and the hidden application notification will not received on guest mode
Customer: amazing i love it but anything apart of this features??
Me: yes Mam there is a cloud storage in OPPO which calls a near me cloud where you will get 5GB of cloud data free there you can save your contacts messages and photos if you lose your data you can get iteasy by going online on OPPO site apart of this if you forgot your phone athome you can divert your calls on your another number which you are carrying with you by just going online..
This is all the features of OPPO PI 2.0+ there are some beautiful features for camera like the 8MP ofrear camera which is comes with 5P lenses that gives you the actual and filter image quality there are some important modes in the rear camera like
Audio photo-: You can capture a photo andgive a 10sec. of background voice so your image will be the live image with voice
GIF mode-: the GIF mode helps to create an animated video of a photos this mode captures a 20 photos in a 3sec. and shows it in a video format so it will look more beautiful
Double Exposure-: Double Exposure is a modefor the use when you want to create a creative image with assembling two images in a one picture it will work good and can capture an amazing and creative image
And last one is Beautify Mode-:
in the beautify mode of OPPO camera your face will be shown clear and the spots or oily face gets reduce and it gives you the better quality
These all are the rear camera features now let'sturn to front camera..
The front camera of Neo5 is 2MP where you will get a audio photo gif mode as it is like rear camera.
but the beautify mode is different there are a 8 type of scene mode where you can give a direct effect to your image before clicking it so you don't need to give a effect after click.
Me: that's all Mam...
Customer: features are just amazing but what about sales after service?
Me: Mam OPPO is one and only company which provide you direct service centers of company where other brands are providing third party or franchises. So you can directly talk to OPPO and you will get fast service we have our service center in camp and PCMC or you can contact to me if any issue
Customer: And what is the cost of this product?
Me: Mam price is 9990/- only with the cover and screen guard as a complimentary.
Customer: Any discount?
Me: No Mam the price of OPPO is fixed allover the India there is no discount on OPPO products.
Customer: Okay then I would like to buy this product
Me: Mam there are two color option white gold and blue so which color?
Customer: white and gold is more beautify you will give it to me..
Me: okay Mam let's make an bill
Customer: okay thanks lot for the deal.
Me: you are welcome and here is my contacts please call me if you have any problem.
Customer: Yes sure thanks a lot
And the deal is closed this is the real conversation of today and all the conversation is true.