Australian Father Went Undercover to Expose Drug Trade in China
source: dailymail.co.uk

A father's trip to China has taken him into the dangerous world of synthetic drug dealers, as he attempts uncover the truth about the potentially fatal substances being imported into Australia.
Perth man Rod Bridge travelled to the Chinese city of Hefei to investigate exactly what drug lords were selling into Australia and how they shipped them.
Mr Bridge's campaign around the awareness of the effects of synthetic drugs - which are hard to identify and mimic drugs such as cocaine and ecstasy - began when his son Preston, aged 16, died in 2013 he after took two pills of an imitation LSD.
He threw himself off a balcony, believing he could fly.
Scroll down for video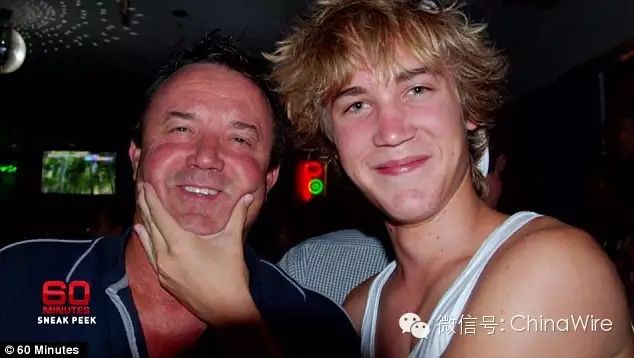 Rod Bridge is still devastated by the loss of his son Preston and headed from his home in WA to the drug labs in Hefei, China determined to prove how easy it is to buy synthetic drugs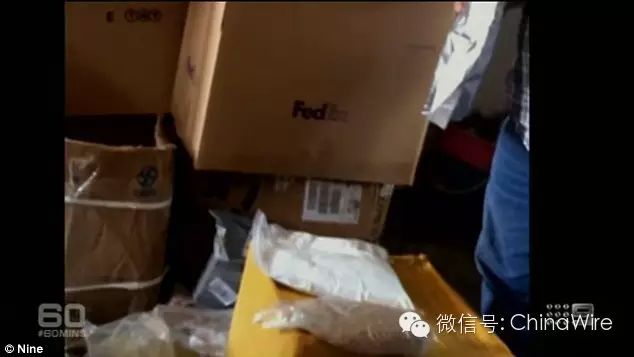 Boxes of drugs were seen stacked in rooms used by drug dealers in the Chinese city Hafei
What he found shocked him.
In an undercover mission with 60 Minutes Australia, he and the show's producer secretly recorded their interactions with dealers, as they had prices, quantities, compounds and shipping techniques explained to them.
The only thing the sellers did not have an answer for was how the drugs affected users, and how much should be used.
At one point, a dealer told him he could buy 200 kilograms of a particular substance, another, 100kg.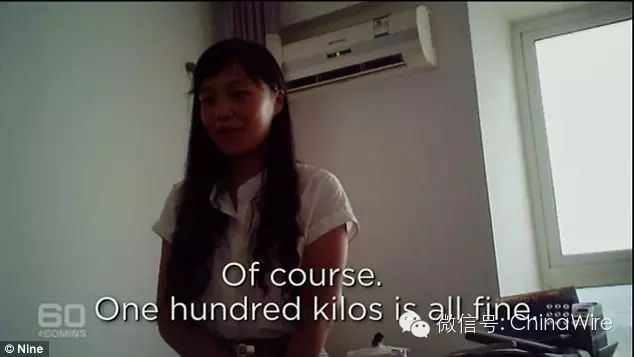 Synthetic drug dealers in Hafei had no problems with selling large quantities of drugs to Mr Bridges while he was impersonating an Australian drug importer
Other suppliers revealed they had no idea of what might happen if someone took the drugs they were selling.
During the covert operation, suppliers showed Mr Bridges how they got their products into Australia.
One packaged kilogram bags of drugs into fish tank water filters.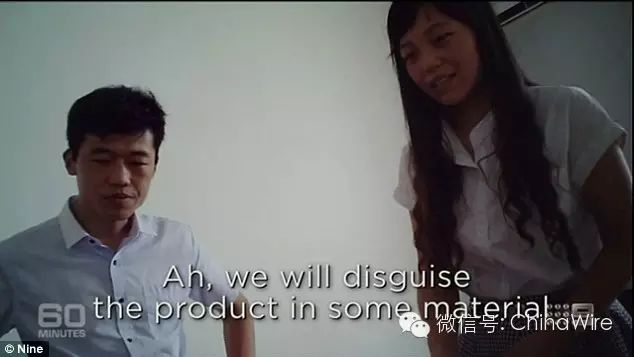 Drug dealers were clearly pictured using covert cameras explaining how they would ship the drugs into Australia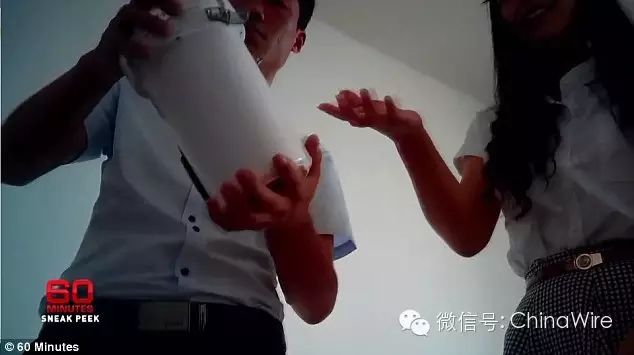 Dealers demonstrate one of their techniques for disguising drugs for shipping into Australia
Another used sealed bags that looked to be vacuum packed.
Both dealers and Mr Edwards were certain sniffer dogs could not identify the smell of the synthetic substances - because they didn't smell like normal drugs.
One dealer was so confident of their success, they guaranteed a seven-day delivery, or they would either replace the product for free, or for a split 50/50 payment.
Toward the end of one meeting, a dealer appeared to be getting suspicious, and two men undercover made a hasty retreat.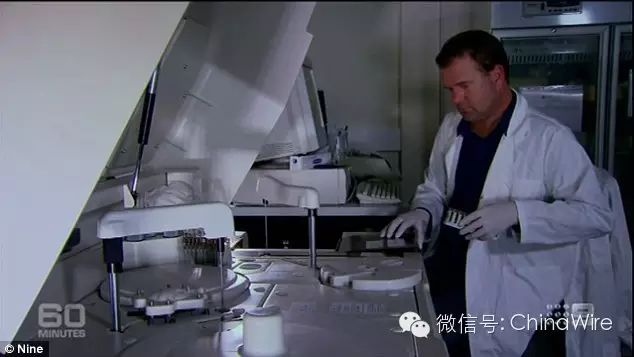 Scientist Tyren Edwards said the synthetic drugs were hard for sniffer dogs to detect because they did not smell like other illegal drugs
The program revealed the synthetic drugs are made using 'research chemicals' and turned into white powder, crystals or capsules.
No research on the effects the drugs have on humans is carried out before they are offered for sale.
Scientists who tested the synthetic drugs for the program were stunned at how lethal the doses were.
Safe Work Laboratories chief scientist Tyren Edwards told the show one of the drugs, 245i-NBOMe, was 60 times more potent than normal LSD.
'He said that one hit is equivalent to just six grains of salt, six grains is one hit,' Mr Bridges said.
'And we find out that even the suppliers have no idea at all of the dosage you should take, they can't and don't have any idea what would be considered safe and reliable.
'I really think this is a worse drug problem than "ice".'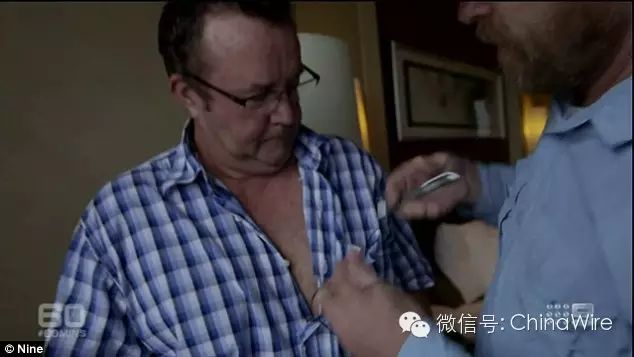 Mr Bridges has a secret microphone installed before going undercover
60 Minutes reporter Liz Hayes said they were told of the extreme hallucinogenic effect which was different for each chemical compound.
'In some cases demonic, a totally different being, people stripping clothes off because they over-heat and in one case somebody chewed the face of another person and another ate road-kill.
'They have such an impact that one guy just kept running into tree.'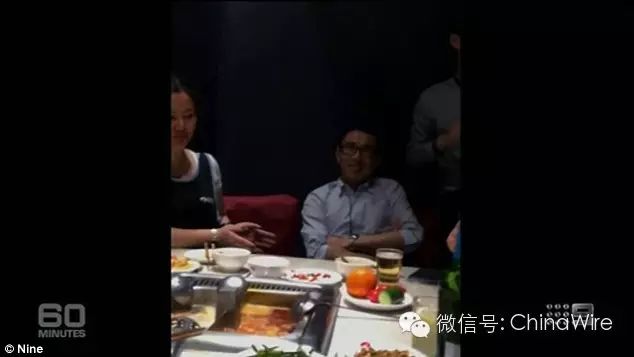 A man known only as 'The Boss' (pictured, centre) is a key figure in the 'research chemical' trade in Hafei
In an interview with Justice Minister Michael Keenan, Hayes challenged him over how the drugs were detected at the Australian border.
He said detection using sniffer dogs depended on what sort of chemical it was.
He did not want to go further into detail for fear of revealing border control operations.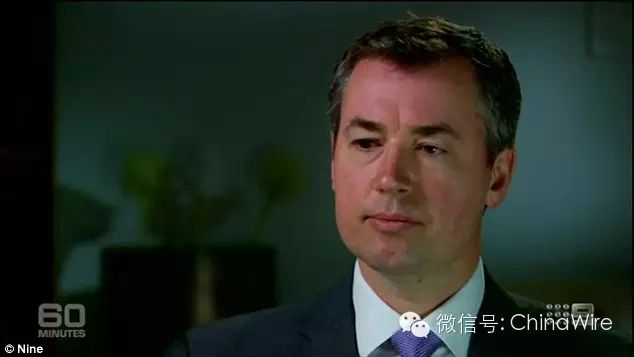 Justice Minister Michael Keenan was interviewed over the matter by 60 Minutes reporter Liz Hayes
Their danger is in their availability - usually they are much cheaper and very easily obtained on the internet, Hayes says
'They call them research chemicals but they all know what they are dabbling in and selling, they are very clear about how you can smuggle it into Australia, how much they can supply and what it costs.'
Australia has a blanket ban on all synthetic drugs.
Border Force officers now have the power to seize synthetic drugs, no matter their chemical structure.
The new laws, introduced by the Government earlier this month, close a loophole which allowed criminals to deliberately avoid prosecution by tweaking the chemical structure of an illicit drug to ensure it could be imported.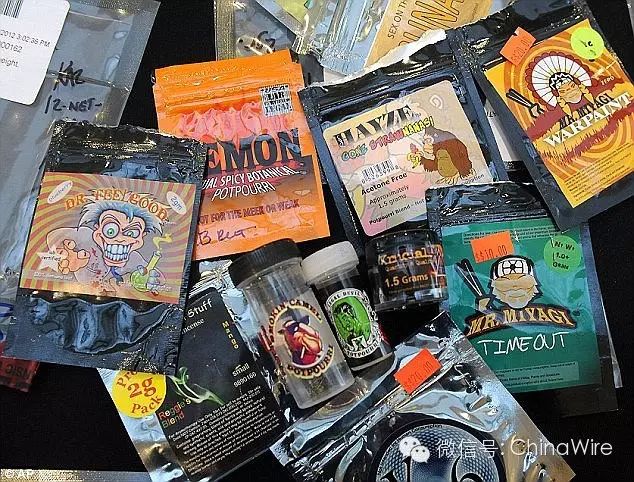 An assortment of synthetic drugs imported from China. They can be bought for as little as $1 on-line
However, unlike illicit substances, these synthetic products are not easily detected and are found with ease on-line.
'They [teenagers] get a hit for just a few dollars, go to a party and they could be all out of luck - you can't even experiment safely, the suppliers can't tell you how powerful they are until you take it,' adds Hayes.
'Rod Bridge is a grief-stricken but very determined feather, to lose a child in this manner he doesn't want to feel it was all for nothing.'