Daily Mandarin - To Put on Airs
You can type the six-digit date September 15th 2015 "091515" to get an auto response vocal recording, pinyin and translation for today's expression.

Today's expression is 擺架子 - To put on airs; to pretend to be good or to be superior.
Restaurant staff spotted kneeling down and bowing to bosses in humiliating ceremony as a way to show gratitude for their jobs

Chinese web users have been left speechless by photos of a humiliating scene in a public square. The photographs, taken in Shenyang, north-eastern China, on September 8 showed a line of people kneeling and kowtowing as others watched. Photographer claimed the staff were chanting 'thank you for my job' during the ceremony,

The photographs were first shared by an unnamed web user on Weibo, China's equivalent of Twitter, early on September 8. Four photographs were accompanied by a caption, which read: 'This morning 7.30. Arc de Triomph square at Tie Xi Construction Road, Ai Gong Street. 'Don't know which wonderful company's wonderful leader, wonderful staff. Thank you X boss for my job.'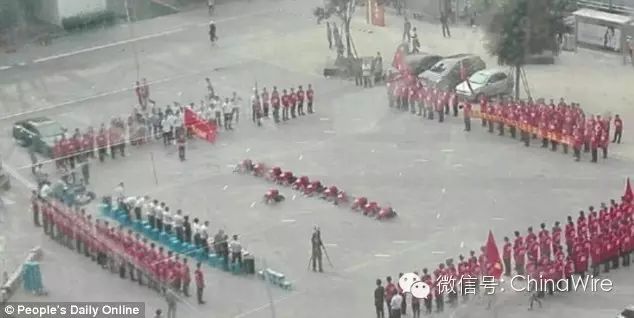 In the sequence of photographs, a row of people dressed in red tops and black trousers were seen to be kneeling, saluting and bowing on the floor. They were led by an individual in the same out fit.


In front of the group stood a row of people dressed mostly in white, some of which also appeared to be bowing. Surrounding the scene from all four sides are neat rows of people in red and black, holding flags and banners. This very public display took place on a busy square and could be seen by passers by. Witnesses from nearby businesses have revealed that the people pictured worked at a local hot pot restaurant. They were also seen dancing. A manager at the restaurant, who has been named Wang, claimed that the allegations surrounding the images were false.


She explained that they were holding a performance ceremony. The people dressed in white were senior leaders. They were originally sitting on chairs to mark each restaurant's performance. The manager said some restaurants decided to kowtow to them as a part of the company's culture. Wang said: 'This is part of our business' culture of gratitude. 'They were chanting slogans along the lines of thanks to their parents for raising them and prosperity of the business. 'It's not as the web rumours say about thanking leaders for job.' According to Wang, when the staff decided to kowtow to the leaders, they had nowhere else to go but to stand there, which led to the scene captured in the photographs.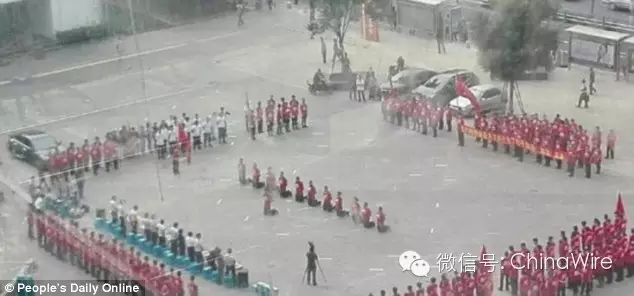 In Chinese culture, kowtowing is an sign of extreme respect. It's generally reserved for parents, ancestors and gods and is considered shameful outside of these scenarios, which made the incident in Shenyang highly unusual. Local residents were divided over the matter. Many questioned why kneeling and bowing was needed in such a ceremony in the first place. Others felt that, as it's incredibly difficult to find a job in the current economic climate, if such a show of gratitude was needed then the young people should do it.

It's not the first time staff have been seen kowtowing to bosses. In 2012, an interior design company in Harbin, north eastern China, reportedly requested its staff to kowtow and chant slogans such as 'thank you for letting me survive' and 'thank you for letting me eat'. Those who refused to go were fined 3,000 Yuan (£300).

source: People's Daily