Warrant Issued for Chinese Man in Connection to Thailand Bombing
source: cnn.com

Thai authorities have an arrest warrant out for a Chinese man in connection with last month's fatal bombing at a Bangkok shrine, a senior police spokesman said Saturday.
The man, identified as Abudusataer Abudureheman, was seen in surveillance camera footage with another bombing suspect already in custody. Abudusataer is wanted for jointly possessing arms without permission, said the spokesman, Lt. Gen. Prawut Thavonsiri.
Police have not been fully able to establish Abudusataer's role in the August 17 attack but believe he is part of a network tied to the bombing, Prawut said.
Abudusataer, also known as "Ishan," left Thailand on August 16, Prawut said. Police found he was living with Yusufu Meerailee, also from China, who was arrested last week trying to flee across the Thai border into Cambodia.
Prawut said Abudusataer was recently in Bangladesh but left the country at the end of August, according to information from Bangladesh's ambassador to Thailand.
Others in custody
Yusufu has confessed to carrying a rucksack that contained the bomb that killed 20 people at the Erawan Shrine, Prawut said earlier this week. He said he exchanged the rucksack with a man seen on surveillance cameras wearing a yellow t-shirt shortly before the attack.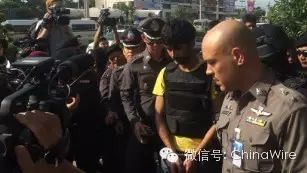 Yusufu Meerailee, one of the suspects, wears a bulletproof vest as he is escorted by Thai authorities.
Prawut said Yusufu was linked to an apartment where another man was apprehended during raids on two addresses in Bangkok, a few days before Yusufu was caught. Yusufu's fingerprints were found on possible bomb-making equipment found at the apartment in a suburb of the capital, police said.
The other man was named as Adem Karadak.
Prawut said Thursday that Karadak may not have had a direct role on the day of the bombing, but that he may have been involved in some other way. Police believe the atrocity was carried out by a group of people.
Yusufu has a Chinese passport, Prawut said, and Thai authorities have sent copies of it to Turkey and China to check its authenticity.
A Chinese Foreign Ministry spokesman said China is following the investigation and is in close contact with Thai authorities.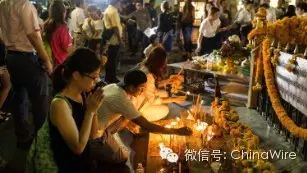 People place incense and candles and pour water at the base of the Erawan Shrine on August 24 to remember the bombing victims.
Additional suspects at large
A number of arrest warrants have been issued for people police believe are connected to the attack, including a husband and wife suspected of having fled to Turkey. They were named last week as Emrah Davutoglu and Wanna Suansan.
Wanna is the only Thai suspect named in the bomb investigation so far. Police believe her husband is Turkish.
Wanna and Davutoglu are suspected of organizing and providing accommodation to other suspects, police have said. The search for Wanna began after authorities found bomb-making materials in a Bangkok-area apartment allegedly connected to her.
Uyghur speculation
While no one has claimed responsibility for the bombing, speculation has been mounting about possible links with China's Uyghur minority -- though there is no proof of this.
The Uyghurs are a predominantly Muslim ethnic group who live in Xinjiang, a province in western China the size of Iran that is rich in natural resources, including oil. Over recent decades, waves of Han Chinese migrants -- China's dominant ethnic group -- have arrived in the region, displacing Uyghurs from their traditional land.
In July, Thailand was criticized for deporting more than 100 Uyghur refugees to China, with human rights activists warning that they would face persecution.
The decision to deport the Uyghurs from Thailand sparked protests in Turkey, with which the Uyghurs share linguistic and cultural similarities. The Thai Embassy in Ankara and its consulate in Istanbul had to be closed temporarily after pro-Uyghur protesters stormed the latter.