Shanghai's 8 Best Holiday Hangover Foods
After a heavy night of boozing, nothing's better for soaking up the alcohol than a high-octane speedball of meat and grease, preferably served late into the night. Shanghai has too many good renditions to choose from, but if you were to rouse us from a drunken stupor and ask us to list our top twenty, these would be the nine we'd remember.
9. Brother's Kebab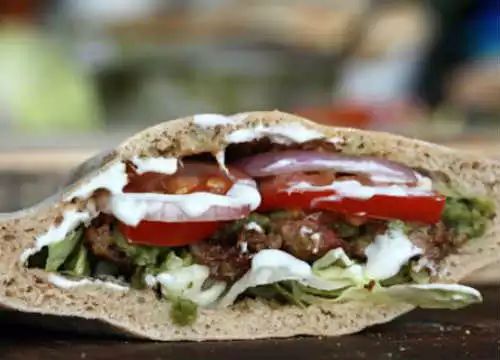 Ubiquitous across Europe, the classic Germano-Turkish delicacy meat sliced from a vertical rotisserie onto Durum or other flatbread is fairly untrammeled territory in Shanghai. Fortunately, the movement is gaining momentum with Danish-run Brothers Kebab at the tip of the skewer.
Brothers edges out competitors by importing beef from Australia and chicken from Argentina, and offering charity-drive prices. They also source hummus from Shanghai's own mashed chickpea maven Jen Iannuzi. We like the 'Doner Beef Kebab (RMB48). It's sliced from a pillar of beef -- which rotates in the back like a fatty tornado ready to suck up the fiercest hangover -- then stuffed in large, duffel-like Durum with veg and homemade dressings. Pick the Tzatziki. Brother's is open until 4am.


DETAILS
Where: Multiple locations
8. Shouzhua Bing | Panyu Lu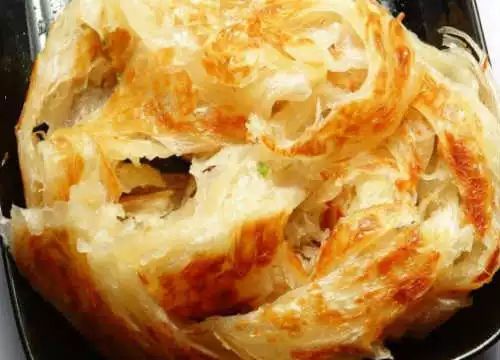 The Taiwanese pancake (手抓並, shouzhua bing) is like a breakfast crepe that hit rockbottom with bacon of dubious origin, "industrial grade" neon-yellow cheese, a fried egg, and a wrapper so greasy it could solve the global fuel crisis. It's also a mouth-watering guilty pleasure that presents the perfect arsenal for nipping a hangover in the "bud"weiser. We think it has to do with the cheese, which is like crazy glue for clinging to booze. You can find shouzhua bing stands across town, but our favorite depot is located at the side entrance to Jia Tong University, where they're served alongside other street eats like fried chicken. We prefer ours zig-zagged with copious ketchup and dusted with spice (RMB9).
DETAILS
What: Shouzhua bing stand
Where: 667 Panyu Lu (near Huaihai Xi Lu) 番禺路667號 (近淮海西路).
7. Fried Dumplings | Da Hu Chun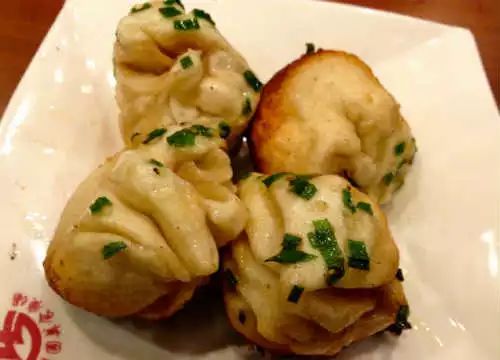 Our vote for the best fried dumpling depot in town, Da Hu Chun's been serving the Shanghai staple (生煎饅頭, shengjian mantou) since its invention a hundred years ago. Unlike the more recognizable Yang's Fry Dumpling, it employs the "clear water" technique, browning the dumplings on the non-pleated side. As a result, they look a bit decrepit and deflated like they could use a couple presses of the basketball pump. But they taste astronomically better as if they compressed all the flavor from a pork belly into one meatball while the sweet skin sponges up the juice marvelously (RMB4/four).


DETAILS
What: Da Hu Chun
Where: 71 Yunnan Nan Lu (near Jinling Dong Lu) 雲南南路71號 (近金陵東路)
Tel: 6249-3683
6. Late-night Breakfast | Lao Shaoxing Doujiang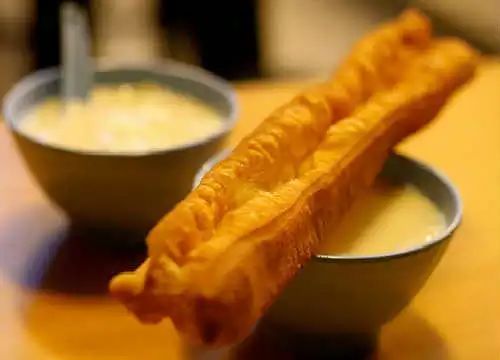 Everyone dreads breakfast the morning after a hard night of drinking. Circumvent the problem by having brekkie that night at Lao Shaoxing Doujiang, where they serve the best Chinese crullers (油條, youtiao) and soy milk (豆漿, doujiang) in town until 6AM! We recommend ordering both the salty and sweet versions, and dipping your cruller in both -- think of it as the Chinese take on dunking your doughnuts in coffee.
DETAILS
What: Lao Shaoxing Doujiang
Where: 309 Zhaozhou Lu (near Jianguo Xin Lu) 肇周路309號 (近建國新路)
5. Fried Beef Buns | Friday Muslim Market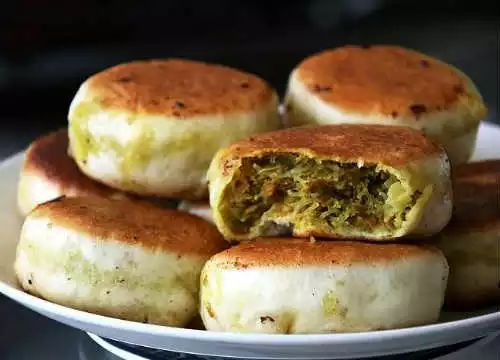 It might seem paradoxical putting a Muslim food on a list of "hangover foods," but if you don't subscribe to the faith, nothing's better for sopping up the suds than a fried halal beef bun (煎牛肉包, jian niurou bao) at the Friday Muslim Market. Essentially a robust fried dough shell filled with spicy meat, it's a lot like a regular baozi, minus a couple years off your life. Fortunately, unlike most meat-dough marriages, the carapace manages to be deliciously crispy and oily without overwhelming the fragrant halal beef within. We recommend arriving at the bazaar by late morning, these guys sell out before the one o-clock prayer.
DETAILS
What: Friday Muslim Market
Where: Aomen Lu (near Changde Lu) 澳門路 (常德路)
4. Pork Mo Sandwich | Ms. Ji's Fang Xin Rou Jia Mo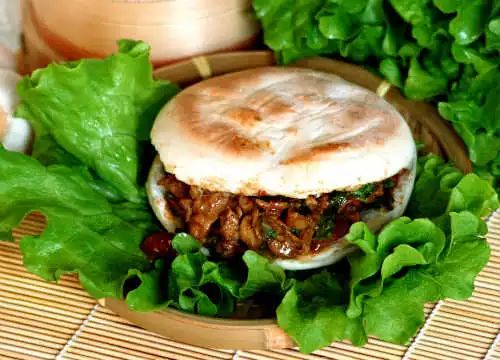 At end of bar-laden strip of Dagu Road lies a gauntlet of street carts waiting like crocs at a river mouth for drunken hordes of expats to stumble their way in search of scrumptious insurance against tomorrow's hangover. The best of the bunch is Mrs. Ji's Fang Xin Rou Jia Mo, basically a stove with wheels. Mrs. Ji specializes in pork mo sandwiches (肉夾饃, rou jia mo), a snack from her hometown of Xi'an that consists of pork belly, green pepper, lettuce, and chilies (if you want them) inside pan-browned mo bread; Naan's smaller, fluffier cousin. Usually sliced off a vertical spit, Mrs. Ji's pork is stewed in a pot until meltingly-tender. We like this rendition better, we find the shawarma setup spin-dries the flavor out of the meat. These sandwiches set you back only RMB6, and Mrs. Ji might even throw in a free one if she's feeling magnanimous.


DETAILS
What: Ms. Ji's Fang Xin Rou Jia Mo
Where: Dagu Road (near Shimen Road) 大沽路 (近石門路)
3. Yakitori | Kota's Kitchen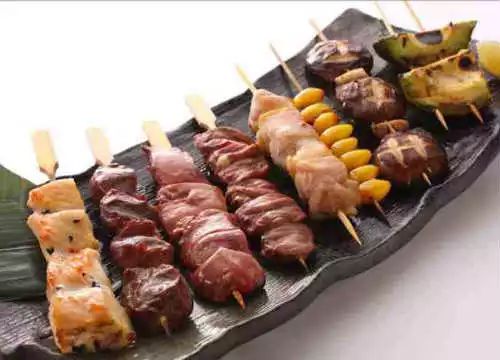 Meat skewers sold out of late-night street carts might be the go-to drunken eats among bar-hoppers, but ceaseless fake meat scandals have made it a gamble. Higher-grade hangover prevention on a stick can be found at Kota's Kitchen, a yakitori restaurant (by definition, a place where professionals eat grilled meat to blunt the blow of the booze). Their specialty is chicken, of which they serve every part but the "cheep," but they also offer a variety of veggie options, and even camembert cheese. Sounds bizarre, tastes succulent, and melts down the stick like it's a creamy candle wick. We're partial to the pork belly and the beef tongues.
DETAILS
What: Kota's Kitchen
Where: 1F, 10 Baoqing Lu (near Fuxing Zhong Lu) 寶慶路10好1樓 (近復興中路)
Tel: 6404-2899
2. Roast Goose | Hengshan Cafe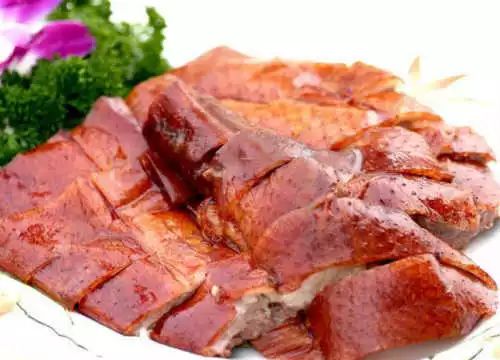 If your booze munchies call for something heartier than street snacks, go for Hengshan Cafe's roast goose (燒鵝, shao e). Sourced from a special farm in Chaolian, Guangdong, roasted over an open mahogany fire, and best of all, served until 4am, this is arguably the highest form of nocturnal noshing in Shanghai. Hengshan's honker comes in two sizes: a quarter which feeds one person (RMB45), and a half which feeds 2-3 people (RMB125) -- or one slavering expat, provided you don't order much else.
DETAILS
What: Hengshan Cafe
Where: 308 Hengshan Lu (near Wuxing Lu) 衡山路308號 (近吳興路)
Tel: 6471-7127, 6466-4953
Double-Decker Reuben | Tock's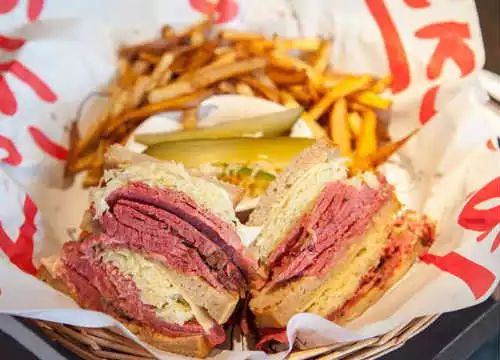 One of the best sandwiches in town and a niche-filler for Montrealers missing their native smoked meats. This beast entails two stories of savory brisket cured with "secret" spices and cooked for 14 hours, homemade sauerkraut, and Swiss cheese crammed between three pieces of crackling rye bread (RMB98). You choose between fatty, lean, or medium meat. Pick medium or fatty, you're not eating a double-decker Reuben with cured meat and fries to shed pounds. The home-brined pickles and vinegar-based coleslaw help cut the richness.
DETAILS
What: Tock's Montreal Deli
Where: 221 Henan Zhong Lu (near Fuzhou Lu) 河南中路221號 (近福州路)
Tel: 2113-3516