Where to Indulge Your 'Star Wars' Fetish Prior to Jan 9
A long time ago, in a capital far, far away … Noble, devout sci-fi geeks struggled to remain calm and patient in the face of the most unspeakable of injustices: a delay in the local release Episode VII: The Force Awakens, the latest Star Wars sequel.
While much of the rest of the world has spent their dough on seeing the December 18 debut 12 times already, we have to wait until January 9 for the theatrical release. And though this turn of events is as sluggishly slow and ugly as Jabba the Hutt dancing a jig to Jedi Rock, geeks should still refrain from taking up their plastic lightsabers and angrily lashing out: Beijing still offers plenty of Star Wars-themed distractions to keep local dorks from growing too furious and embracing The Dark Side.
Below, we've listed our city's most intergalactic-worthy treats, activities, sights and more, all of which will leave you howling like Chewbacca with glee.
Pre-Opening
Buy Your Tickets for January 9 at Hyper Speed
The most practical of geeks are bound to play it safe by securing themselves a seat in the theater, in advance, for fear that tickets for The Force Awakens might sell out in its first few days of release. Peter Dixon, director of 247cinema (the premiere English language movie ticket booking site in China) says his company will likely have tickets available for the latest Star Wars installment three to four days before the January 9 release. Meanwhile, if you must be the first in Beijing to see the film, keep an eye out for Chinese online movie ticket services (baidu maps has one, as does WeChat, as do most of the cinemas themselves – but in Chinese only). These services regularly offer ticket booking three to five days in advance, and sometimes farther in advance in special cases. We recommend trolling the sites seven days in advance just to make sure you'll get your seat on December 9.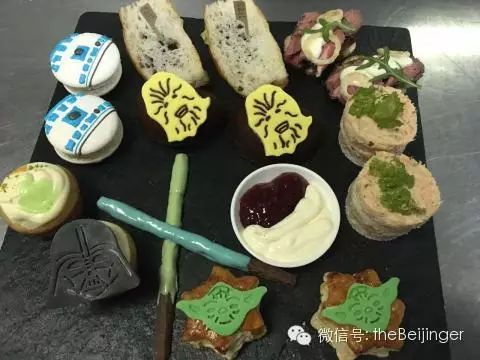 Jan 1-31: Feast on Imperial Afternoon Tea Sweets
Sci-fi diehards can satiate their appetite for all things Star Wars, while also indulging their sweet tooth, by gobbling up The Force Awakens-themed deserts available at EAST Hotel's Domain cafe. Among those interstellar themed goodies are R2D2 macaroons, chocolate cherry Wookie hair mousse,Yoda scones, lightsaber cookies, and – most brilliantly of all – cheese and "Ham Solo" paninis. This afternoon tea set will be available daily at Domain throughout January from 1.30pm-7pm.
Dec 26 and Jan 4: Get Classical and the Theme Stuck in Your Head Forever
Not one but two classical music performances will give a little culture to your crass commercial indulgences. On December 26 the National Symphony Orchestra of Ukraine presents the works of John Williams, including of course the Star Wars theme (admit it, it's going through your mind right now). If you miss that one, the American Hollywood Film Orchestra conducted by Neil Casey will be performing iconic and classic songs from 20 films, including the Star Wars theme, on January 4.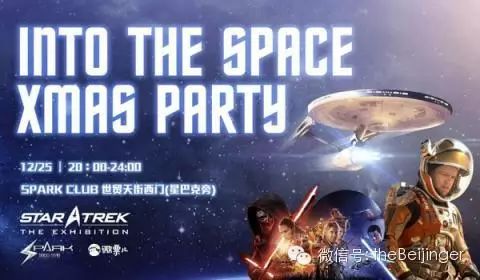 Dec 25: Party Dressed as a Stormtrooper
While Star Wars is getting all the love worldwide, Beijing's The Place is going all Star Trek. There's the massive exhibition on underneath the mega-screen, and now nearby nightclub Spark is holding a space-themed Cosplay party December 25 from 8pm to midnight. In the spirit of interplanetary peace, love, and understanding, the party theme happily invites sci-fi geeks of all creeds to party, be they fans of Star Trek, Star Wars or even The Martian. What better way to ruin a Trekkie's evening by showing up dressed as a Stormtrooper? Free admission and a drink to anyone who comes in costume from one of the three movies and fills out the on-site registration form.
Jan 7: Film Screening: Return of the Jedi
Get up to scratch and don't miss a beat with a screening of the last Star Wars film in the original trilogy at the Beijing American Center among a bunch of likeminded geeks.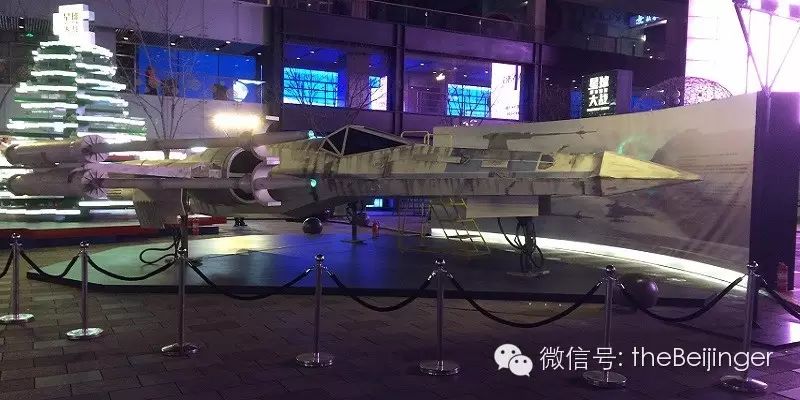 Ongoing: Get Up Close and Personal with an X-Wing at Sanlitun
Shoppers at Santlitun can rest easy knowing that they will be safe from any impending Death Star attacks. That's because a lifesize X-Wing fighter is parked in the shopping complex's main common area. Displays showcasing the latest Star Wars LEGO figurines flank that giant X-Wing, making passersby agree without reservation that, indeed, The Force is strong with Sanlitun.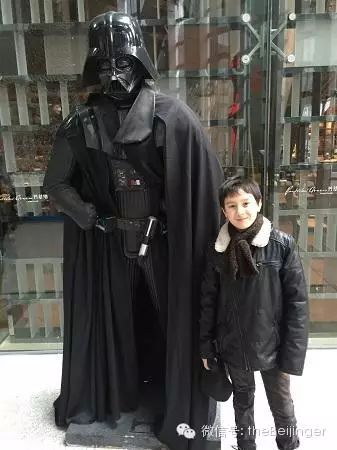 Ongoing: Take a Selfie with Darth
For reasons unknown, the Parkview Green Mall has a few life-sized replicas of Star Wars characters (Darth Vader, Boba Fett, and that irritating clown with the face paint and the horns). The statues are located between Opera Bombana and Din Tai Fung.
Assemble Your Own X-Wing
Speaking of Star Wars toys, young fans – and those who refuse to grow up – can proceed to the official LEGO outlets in Sanlitun, Guomao, Liangmaqiao and Solana to buy any and all miniature bricks needed to assemble their very own X-Wings, TIE Fighters, Millennium Falcons, and more.
Dress as Your Favorite Character from the Star Wars Universe
Anyone looking to not only decorate their homes with Star Wars toys and paraphernalia, but also don film appropriate attire, can look no further than Taobao. The e-commerce site has numerous sci-fi costumes for any and all demographics, including Storm Trooper armor for the fellas, Princess Leia dresses for the ladies, furry little Wookie outfits and Darth Vader helmets for toddlers, and more. Best of all: dress head to toe in a Chewbacca costume for those adults with a healthy inner child.
Beat the Crowds, Head to Hong Kong
Star Wars devotees who simply cannot wait until the January 9 Mainland release of The Force Awakens' may find themselves resorting to desperate measures. After all, there's plenty of hazardous moments between now and then when a spoiler could present itself and sully the entire film. That's especially the case with most news sites, and even Yahoo!'s main page, which are rife with headlines about the new film's celebrity cameos, plot twists, and more. However, Hong Kong had the same Awakens release date as the US, meaning Star Wars obsessives have a last-ditch alternative to enduring those agonizing final days between now and January 9.
Sit through Episodes II-VI: Do or Do Not, There is No Try
As of late, most movie lovers avoid our city's bootleg DVD shops in favor of streaming and torrenting. However, many Star Wars lovers may need to initiate some Chinese friends who have not yet seen the classic trilogy with proper subtitles. Any dodgy DVD outlet in town will fit the bill in this regard. But watching all the movies may take a certain degree of finesse beyond that, at least for the truest of George Lucas' disciples. As comedian and movie geek extraordinaire Patton Oswalt recently explained on an appearance of Late Night with Seth Myers, purists should begin their marathons by watching Episode IV: A New Hope and Episode V: The Empire Strikes Back, and then switching to the prequels, in order to better appreciate the themes of both trilogies. He also insisted that Episode I: The Phantom Menace, should be skipped entirely because it's too subpar to bother with. The jokester gives an impassioned case for watching the films in this seemingly jumbled order, sounding like an OCD-stricken scholar from a galaxy far, far away.
Drink Like an Alien at Mos Eisley Cantina
If all this geek-speak is leaving you exasperated – like Harrison Ford fielding inane questions from fans to the point of breaking their Millennium Falcon LEGOs – then fear not. We have the perfect solution for the next time one of your dorky buddies drags you to a Star Wars screening for the umpteenth time: drinking games. The internet has an abundance of such booze-guzzling rules for viewers of these films – from one that implores you to take a swig every time "C3PO talks about the odds" of Luke Skywalker surviving his next quandary, to another that suggests you take a gulp every time a lightsaber is turned on or off. Before long, your speech will be as slurred and incoherent at Master Yoda's. Forget the Empire – this will be your way to strike back.
Post-Opening
Xian Bar Hosts an Imperial Star Ship Party
Meanwhile, the hotel's Xian bar will have an Imperial Star Ship party on January 23, where the head of Beijing's 501st Legion – which is self described as "a worldwide Star Wars costuming organization comprised of and operated by Star Wars fans" – will be on hand to answer any and all trivia questions by fellow geeks hoping to stump him for various prizes. As if that weren't enough, East Hotel's Domain will also be host to a pop-up store selling Star Wars wares from January 11-30.
Imbibe Arrow Factory and Jing A's Imperial Stout Trooper Beer
After a pulse pounding blaster shootout with rebel scoundrels, few bevies can quench a heroic Stormtrooper's thirst more than a pint of fine Beijing craft beer. Local breweries Arrow Factory and Jing A have teamed up to accommodate anyone with the appetite of such a brave intergalactic soldier with their forthcoming Imperial Stout Trooper beer, made with "comet and galaxy hops". Hopefully the Stormtroopers are equipped to fight off the ensuing hangover that is sure to be as mammoth as the Death Star. The beer will be available once The Force Awakens hits theaters on January 9, and both breweries are planning Star Wars-themed events, details of which are forthcoming.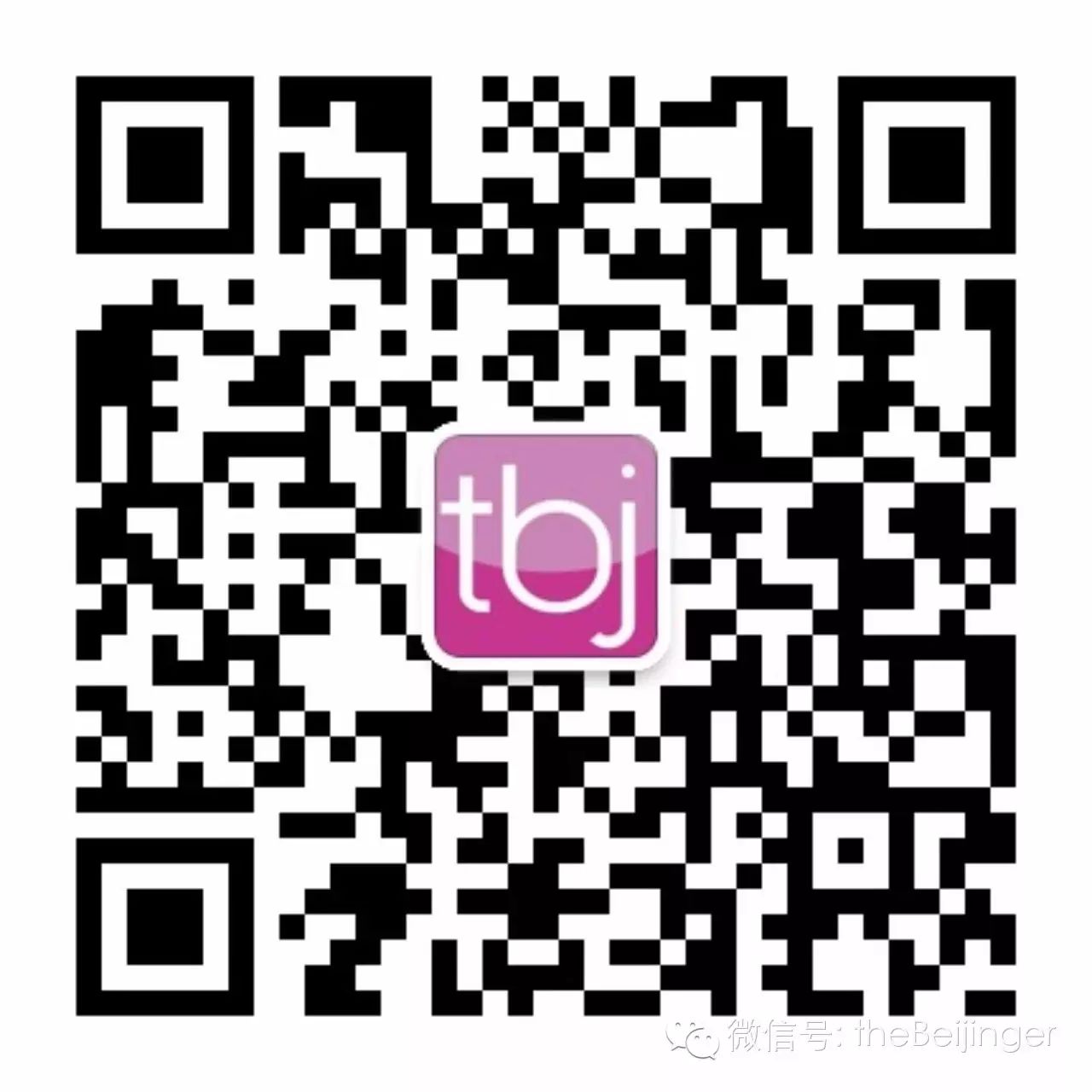 Written by Kyle Mullin