Merry Christmas and Happy New Year!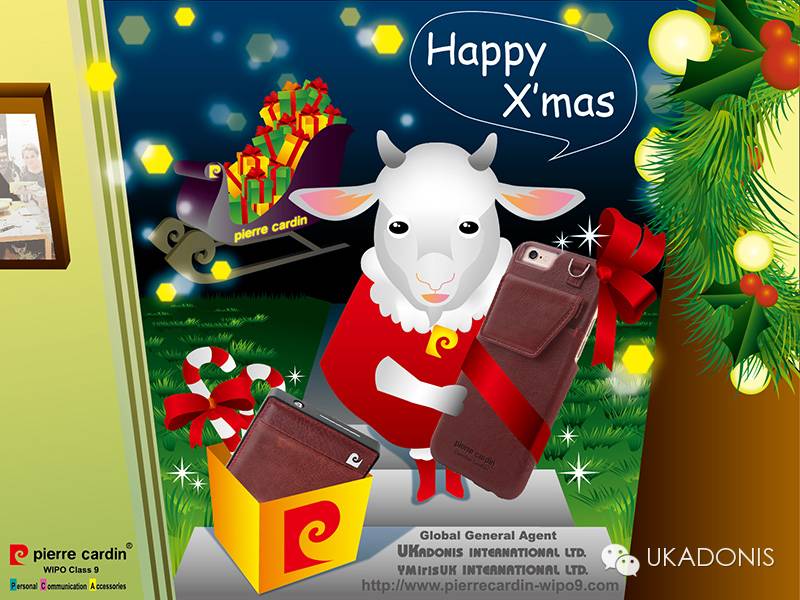 Thanks for your interests and support for pierre cardin products.
The Christmas and New Year is coming. We would like to express our best wishes for the upcoming holiday season and wish you and your family Merry Christmas and a prosperous new year. Wish your New Year be filled with special moment, warmth, peace and happiness.
Best wishes,
Pierre Cardin WIPO Class 9 Global Agent UKADONIS International Ltd.
聖誕快樂!新年快樂!
感謝您對皮爾卡丹產品的關註與支持。
值此聖誕新年來臨之際,送上我們最誠摯的祝福,祝您和您的家人聖誕快樂,新年快樂!希望您在新的一年幸福安康,萬事如意。
最好的祝願,
皮爾卡丹第九類全球總代理英國阿多尼斯國際有限公司
---
Welcome to inquire:
地址:廣東省東莞市橫瀝鎮中山西路378號3樓

Add:3/F No.378 ZhongShan West Road, HengLi Town, DongGuan City, GuangDong Province, CN
Website:www.pierrecardin-wipo9.com
Tel:86-769-8187 6723
Store address:
深圳店(ShenZhen Shop)
地址:深圳市福田區華強北路賽格康樂通訊市場2F 2A53
Add:2F 2A53 KanSgle Communication markets, Huaqiang North Road, Futian District, Shenzhen City.
TEL:86-755-23993771
廣州店(Guangzhou Shop)
地址:廣州市荔灣區西堤二馬路37號新文園數碼城3F A031-032
Add:3F Room A031-032 New Wen Yuan international Digital City,NO.37 XiDi Er Ma Road,Liwan District ,Guangzhou City
Tel:86-20-8190 2765