College Playoffs, Winter Classic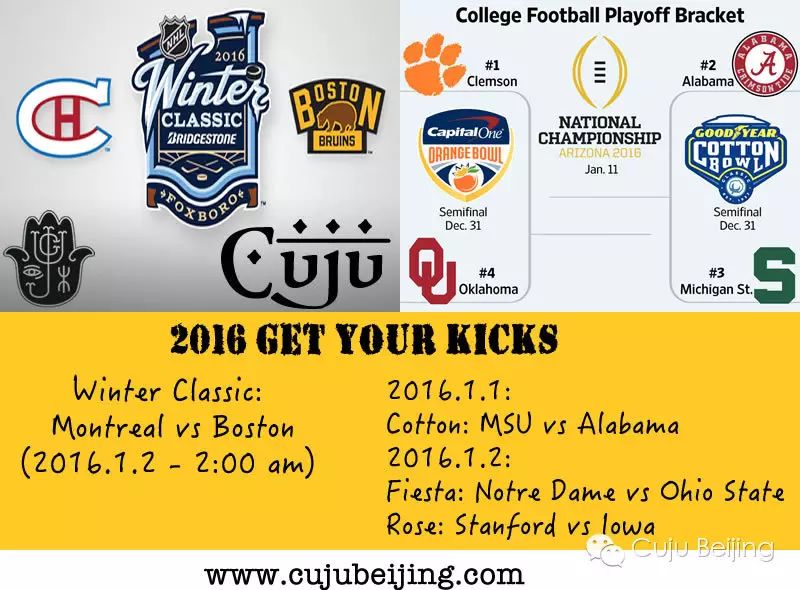 Howdy folks,

2015 is pretty much done and we're ready for 2016. Looks like it's gonna kick off with a bang and a lot of folks in an advanced state of refreshment trying to watch some games. Here is the schedule as we see it going right now!

The unfortunate victim of the NYE celebration will be the Oklahoma vs Clemson game unless enough people express an interest. We need sleep!

So, for this weekend, we're looking at:

2016.1.1
9:00 Cotton Bowl: MSU vs Alabama


2016.1.2
2:00 Fiesta Bowl: Notre Dame vs Ohio State
6:00 Rose Bowl: Stanford vs Iowa

and
2:00 Winter Classic: Montreal at Boston
of course, you can always join our NFL/NCAA wechat group for updated American Football listings and special requests.

=========================================================

All of December, come on over to cuju and sample the whole range of Ron Abuelo rums for a special price!

Anejo: 40RMB ( Normal Price: 50)

Anejo 7: 50RMB ( Normal Price: 60)
Anejo 12: 60RMB ( Normal Price: 75)
Make it into a Rum Sour, Old Fashioned, Panama Libre for an extra RMB 5
---
Cuju Moroccan Bistrot & Rummery
28, Xiguan Hutong
Daily Happy Hour: 18:00 to 20:00
Manic Mondays: Buy 1 get 1 free Sandwiches
Thirsty Tuesdays: RMB120 Free Flow Kirin
Pie Wednesdays: 2 Guys & a Pie crew takes over the kitchen