Clothing Swaps Could Help Curb Shanghai's Fast Fashion Craze
Shanghailanders are known for flaunting extravagant clothing. Unsurprisingly, this takes a toll on the wallet. And who wants to sacrifice their upcoming Spring Festival trip to Thailand because you purchased more faux-fur coats and knee-high gladiator sandals than your budget allowed? Clothing swaps are becoming more and more popular in Shanghai. Once limited to expat living rooms, they are now branching out. J & L Bar joined forces with organizer Pewa Kaheka to bring swaps to the public sector.
Kaheka hails from Namibia and she has begun traveling through China to host various clothing swaps. She originally got into swaps as a way to clear out her own closet. But, in the end, the demand was so popular and so overwhelmingly positive she decided to take her show on the road. She is entirely self-funded. In fact, the swaps are free. Kaheka seems happy to host swaps so long as there is a demand to do so, and would gladly continue traveling around China to help girls get (almost) new clothes. She has held swaps in Hangzhou and Shanghai, and plans to hit up Beijing next.
It's a huge plus for fashionistas struggling to keep up with the cycle of incoming and outgoing styles−not to mention the never ending internal battle: closet space.
A typical clothing swap entails women unpacking gently-worn clothes that they no longer want. They then go through the other donated piles of clothes for new kicks that suit their ever-changing styles. There are no rules; people are encouraged to take whatever tickles their fancy.
Origins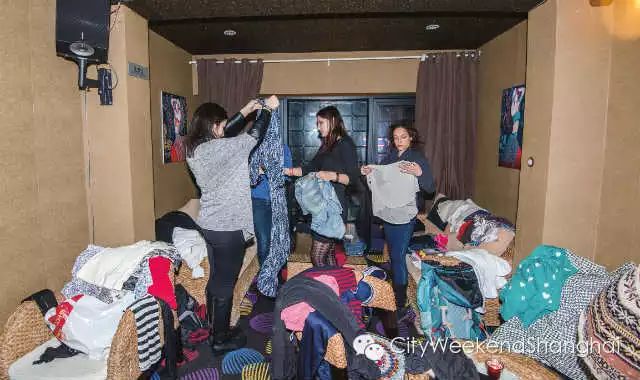 Clothing swaps originated in San Francisco in the late nineties with fashionista Suzanne Agasi, who is credited with beginning the "green glamour"—an environmentally-friendly counterweight to today's "fast fashion" movement.
It used to be that each person just had a few items, which they mended over time. Now, in Shanghai, something as eccentric as overalls can be chic today and passé tomorrow. This means many have closets overflowing with Zara, H&M, and other apparel we liked at the time, but no longer fit our personal needs.
Swapping encourages women to evaluate their own style while helping the environment. People already discuss reusing and recycling cans and plastic bottles. But textiles are just beginning to enter into the conversation. According to an article this past fall by The Business Standard, "The industry claims that as much as 60 percent of dumping happens from China, and unofficial estimate peg the size of this trade varying between 20 and 40 percent of the US$105-billion domestic textile industry." Taking clothing and other items to swaps helps to limit the amount of waste.
Swap Culture
At any given swap you can expect to partake in a casual, garment-related tête-à-tête. Clothing is one of the best ice-breakers. "I got it in Milan, but it no longer fits me," one swapper says of a piece of clothing at a swap at J & L Bar. Another participant squeals while pulling a leather skirt out of the pile. "It fits!" Clothing swap participants generally leave with a sense of satisfaction; they're not just happy about their new gear, but are also delighted to see their old favorites being celebrated again.
Participants often swap stories as well as clothing. Conversation topics include blind dates, upcoming movies, career moves, broken hearts and life in China. Friendships are easily made, but if you suggest pairing trousers with the wrong shoes you are likely to be quickly, but delicately, told that it's a no-go.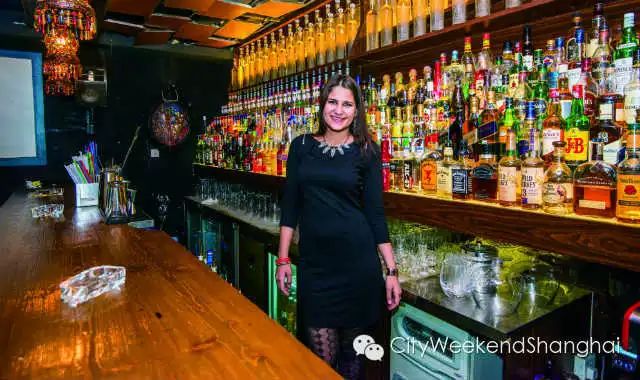 Clothing swaps take place every other Saturday at J & L Bar, where Kaheka held her initial event. Overseeing the garment exchanges is bar manager and fashionista Milena Dimitrova. Dimitrova is precisely the person you want to help you pick out clothes. She is bubbly, and she has a knack for finding outfits that complement each woman's natural look. Says Dimitrova, "I love swaps because they're a great place to make girlfriends. Besides, who doesn't get sick of having the same clothes for longer than three months?"
At J & L, women are given the space and the privacy to peruse the abandoned clothing articles, which are typically draped over tables and chairs in the quiet, cozy upstairs space. The bar boasts a menu of professionally-made cocktails, and their prolonged happy hour schedule makes it difficult to buy a drink without a discount. Dimitrova reveals that J & L also plans to offer one complimentary glass of wine for each participant as a welcome gift.
All leftover garments are taken to different places. Recently, one swapper asked if she could have the remaining garments to sell at a charity fundraising event. J & L happily obliged. Another guest offered to personally take the leftover clothes to a charity in Namibia−she is literally packing them in her suitcase for her next return trip. J & L hopes to make sure that all future clothing swaps provide help for those in need. Come on out, and redefine your style.
J&L Café & Lounge, 43 ZhaohuaLu (near Yan'an Xi Lu) 延安西路1023號 (近昭化路). For more info about the swap, contact Pewa Kehaka on WeChat at Pewa_Kaheka.