Welcome to the neighbourhood: meet the Springmann family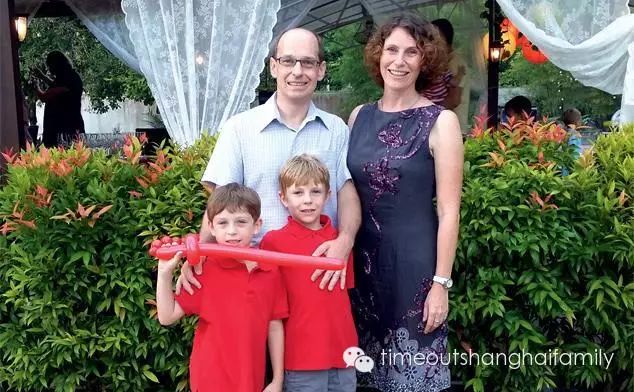 It's not easy moving to a country with a culture vastly different from your own. In our series 'Welcome to the neighbourhood', we check in on families who have just moved to Shanghai, to see how they're getting along

Parents Heike and Steffen Springmann
Children Arne (6) and Lutz (5)
From Mannheim, Germany
Where do you and your family live?
We live in Seasons Villas. The compound is great for families as it comes with a big green field, a playground and an indoor and outdoor pool – perfect places for the kids to play with their friends. The location is convenient, too, only a bike ride away from Kerry Parkside and a short drive to Jinqiao.
What are the family-friendly perks in the area?
We especially enjoy Kerry Parkside with its lovely shops and family friendly restaurants. The Science and Technology Museum is a huge place for kids to get into those subjects, but normally we try to avoid the weekends or go early in the morning as it gets really busy.
A couple of weeks ago, we hopped on the Maglev train (German technology!) at Longyang Lu and had fun going to the airport in only eight minutes at an amazing 430 km/h.
We can also recommend the small but very well set up Shanghai Museum of Animation. It gives an informative walk through the history of Chinese cartoons and shows the big American and Indian names in the business. Lutz and Arne especially enjoyed watching all the short movies and taking pictures with the super heroes.
Is there anything you don't like about your neighbourhood?
The cars speeding on the roads, even within the compound, and especially around schools really annoy us. We've seen too many dangerous situations involving cars and pedestrians.
What's the best thing about bringing up your kids in Shanghai?
We like the many options we have for spending our free time – museums, sports, markets and restaurants.
Where do your children go to school?
Our children go to the British International School Shanghai (BISS), Pudong
campus. As parents, we're happy about the high quality education the children get and every day, we find it amazing that they really love to leave the house and go to school.
The biggest difference compared to a school in Germany might be that topics involve various subjects and students get a good overview. Lutz for example just studied the Romans within history, literature, music, art and numeracy. The highlight was 'Roman Day', when students put their learned skills into action. What a fantastic combination of theory and practice.
The school's community group and its events are a good forum for getting to know people. By getting involved in activities like the Christmas bazaar, Bonfire Night and United Nations Day, we have met many other families and feel a real part of the school community. The school's Orientation Day was also very well organised and also helped us settle in at BISS, Pudong.
We also like the way the school celebrates the diversity of nationalities. The annual International Food Fair this month was an amazing event for students and parents to experience the fun of being part of an active international community – as well as the chance to try delicious food from more than 40 countries.
What issues did you face as a family moving to Shanghai?
The language barrier in China is higher than in the English/German speaking countries where we had been before. Our first visit to a supermarket took hours!
How did you resolve them?
We made as many contacts as possible and got valuable information about shopping and getting around. We started with Mandarin lessons straight away. It took a while to pick up the language, but the classes helped us get the tone of it in our ears, so the world doesn't sound so strange anymore.
What advice do you have for newbies to Shanghai?
The best advice that we would have is to go out and make the effort to get in touch with people. Every day brings for us something new and we have already learnt a lot and become familiar with many kinds of Chinese specialties. Living in Shanghai is a great adventure and we feel lucky that we have the chance to enjoy it.
What is your favourite attraction to visit in Shanghai as a family?
With the children, we will definitely go back to the Shanghai Science and Technology Museum, probably several times as it has so much to offer. Steffen also regularly needs a trip to one of the fake markets to cultivate his negotiation skills.
What is your family's favourite restaurant in Shanghai?
One of our favourites is Din Tai Fung, which has several outlets in Shanghai and serves delicious Taiwanese dumplings and noodles. And we really love the Malaysian cuisine in Food Fusion at Kerry Parkside. Once in a while we also get some authentic German fare at Paulaner which has some play equipment – swings, slides, etc – that the kids could play for free.
What is your family's favourite Shanghai landmark?
The Bund and the area surrounding the Pearl Tower are among our favourites. It is city life at its best with that impressive skyline.
Want your family to be featured in this series? Just drop us a message!