Red Dress Charity Run Attracts Online Animosity Towards Expats
It was supposed to be a lighthearted event for a good cause, but the annual Red Dress Charity Run (hash.cn/beijing-hhh-run-1808-red-dress-run) has ended up as a focus of criticism by Chinese netizens.

Saturday's run took place at Dawang Lu Station on Lines 1 and 14 in which proceeds were donated to the Maple Hotline, a 25-year-old NGO that provides counselling to women suffering from domestic abuse.

As seen in photos posted online, the only condition required for taking part in this event is to wear a red dress, meaning that male participants must wear women's clothing. Also, alcohol consumption is usually a part of the festivities.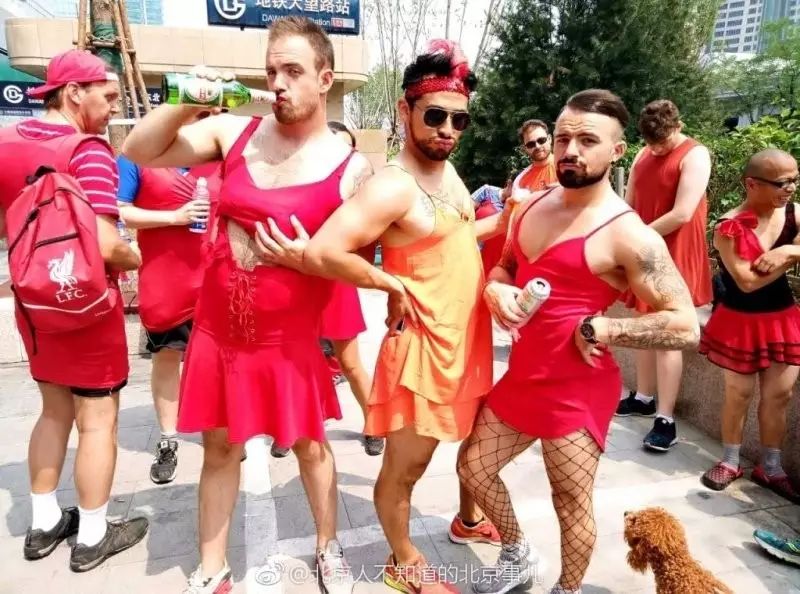 But although the atmosphere of the Red Dress Run is one of fun and absurdity, the event has attracted a wave of negativity online.

As seen on the Things Beijingers Don't Know Weibo account, numerous comments objected to the Red Dress Charity Run. People reacted to the photos with comments like: "Demons;" "Really despicable;" "One word: really (expletive) nauseating;" "They're all so weird looking;" "Foreign bastards in China are an abomination against heaven;" and "Really (expletive) disgusting, takes 'disgusting' to a whole new level."

One person echoed a commonly-heard Chinese refrain about expats: "A large proportion of the foreigners that hang out in China are losers."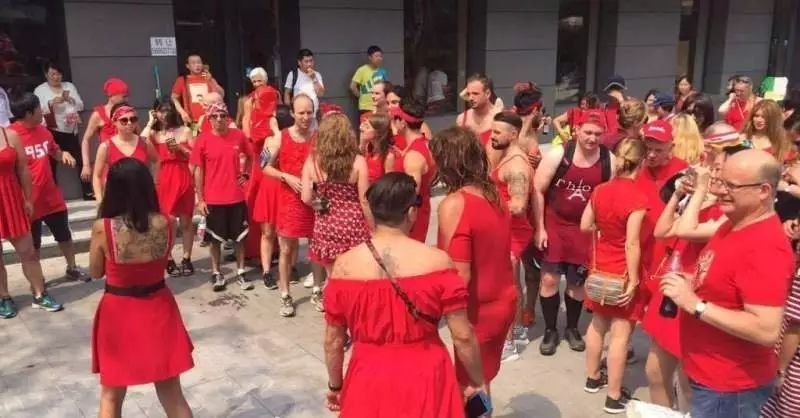 Other comments referred to China's authoritative police forces. Online comments ranged from "This should be regarded as an illegal gathering;" "Imprison them for 15 days;" to "Where are the chengguan (city management workers famous for causing altercations)?" and "Where are the cops?"

The event had been originally posted to Weibo without being described as a charity event, which was later corrected in the comments. However, some Chinese commenters were not persuaded by this information.

"Don't try to use some (charitable) event to change what this is: a group of foreign trash along with a group of crazy domestic trash," wrote one person. "Foreign trash is attempting to insert their retardedness into China."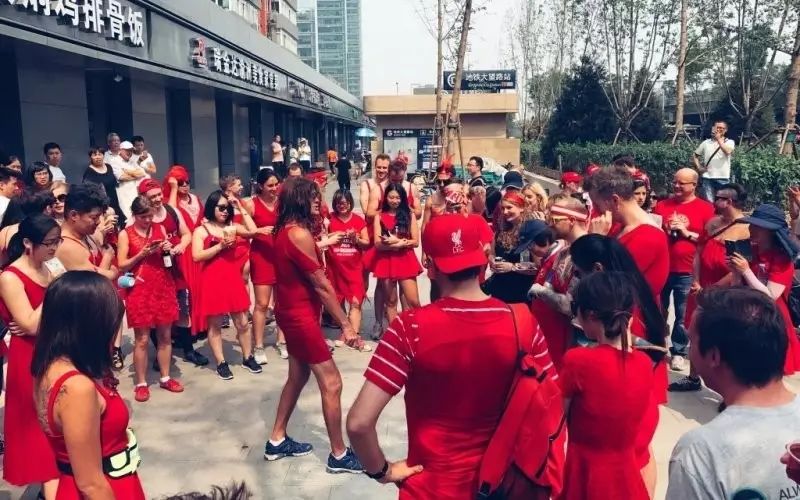 Dressing up in strange costumes is a common sight at Chinese marathons, a tradition that may have taken its roots from the many costume parades held at Chinese colleges and high school. Meanwhile, some Chinese running events have special dress-up themes to them, like the Color Run or the Naked Run (that features no actual nudity). What's more, owing to its status as an international event, the Red Dress Run has been held in a number of other Chinese cities like Chongqing.

Yet, as far as we can tell, the Red Dress Run has never attracted this type of controversy in the 10 years it has been held in Beijing.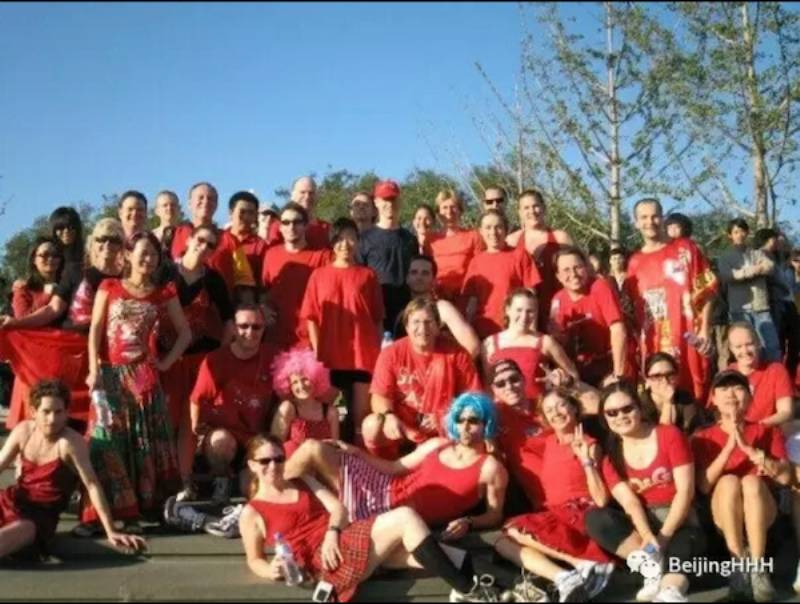 Some Chinese netizens were shocked at the abuse directed towards the participants of a charity event. "How did a charity event come to be disparaged like this?" asked one person. "We don't need to look down upon others just because they're from a certain place or that they look a certain way, do we? Helping others in need is the most important thing, isn't it?"

There were some suggestions. One person said, "There would be a lot more upvotes if they each looked like (David) Beckham," while another suggested for Red Dress Charity Run participants to "wear the Chinese flag instead."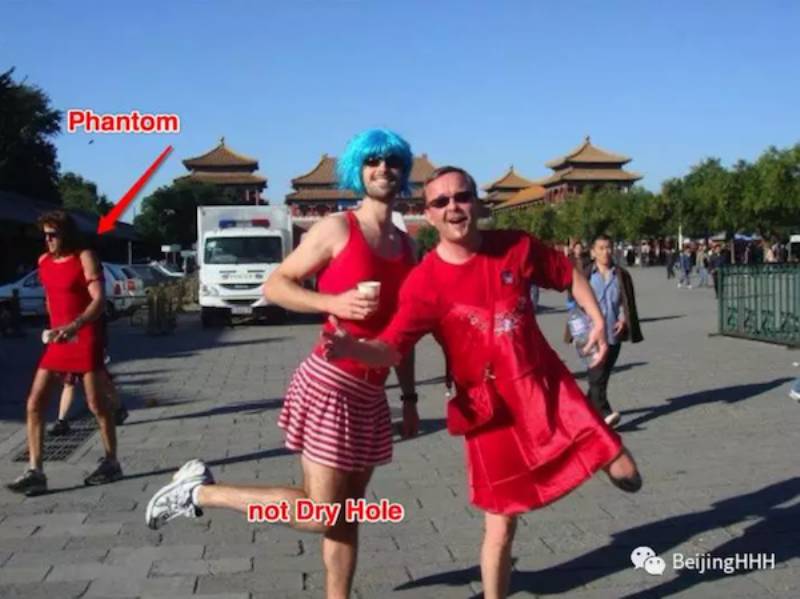 The Red Dress Run was organized by the Beijing Hash House Harriers, a running, walking, and drinking club with chapters around the world.

Last year, the Red Dress Charity Run donated its proceeds to China Little Flower (chinalittleflower.org), an organization that provides aid to orphaned, abandoned, and severely disabled infants and children. The year before, Beijing HHH raised funds to support the Leukemia and Lymphoma Society.

The crossdressing antics of the Red Dress Run haven't been limited to expats, as seen in this photo from the 2014 Chongqing event: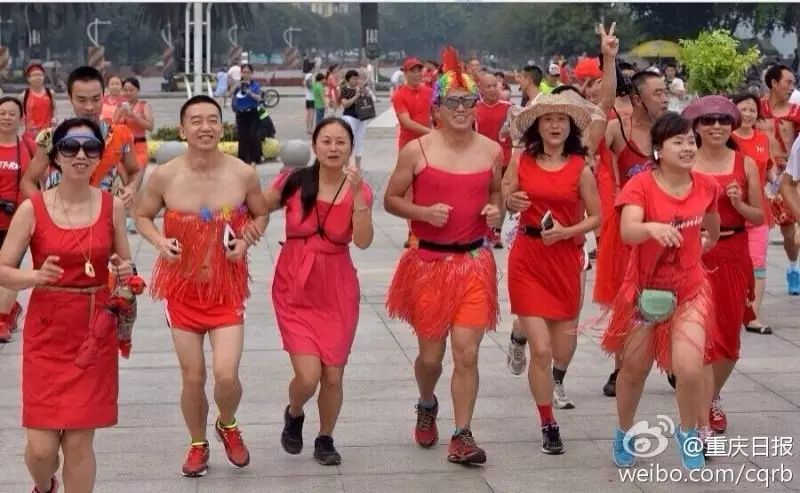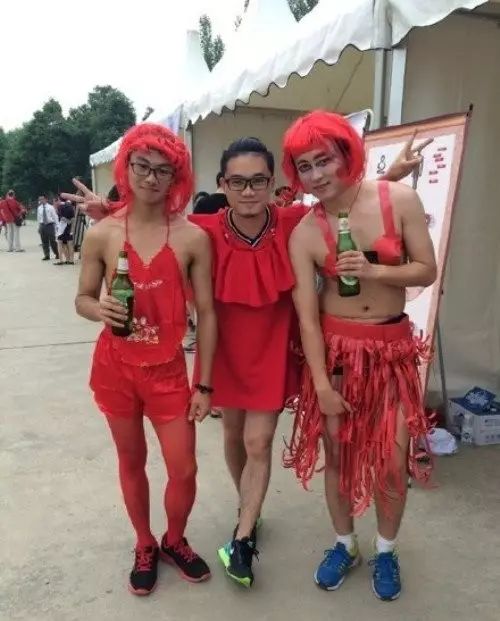 Images: Beijing HHH (hash.cn), Xinmin.com, Weibo

---
Top Stories This Week:
"Beijing Bikini" Successfully Satirizes a Chinese Custom

Water Park Incident Leaves Woman With Critical Brain Injury

The Complete A-Z For Beijing Newcomers
Beijingers Are Buzzing About:

Get Buzzed at Beijing Coffee Festival, June 26-28

You Voted: Q Mex Crowned Beijing's Best Burger 2017

Chinese Phrases for Condoms and Birth Control Pills