Freak weather, management flaws behind Eastern Star tragedy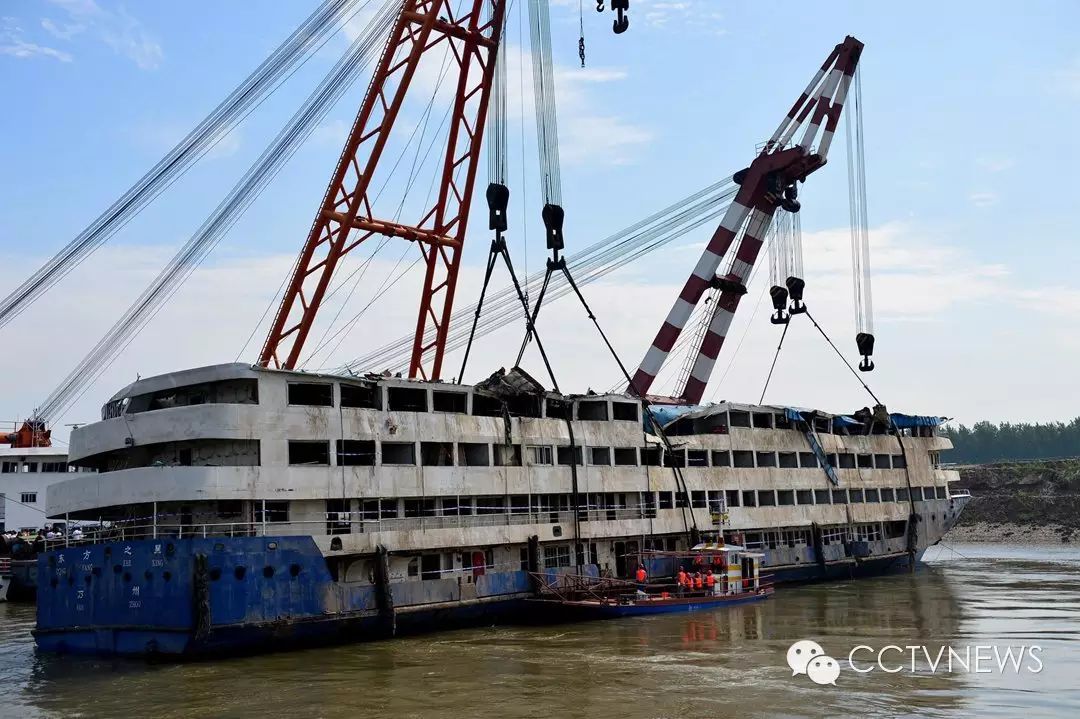 China's State Council on Wednesday released a report on the investigation into the Eastern Star ship tragedy that had resulted in the death of 442 people in June this year.

The six-month-long investigation concluded that the incident was "an extraordinarily serious disaster" caused by strong winds and heavy rains resulting from a squall line accompanied by a downburst, a very rare weather phenomenon.

However, it added that the shipping company and local authorities were also flawed in terms of their daily management and supervision work.

The State Council investigation team has identified 43 people to be punished in connection with the tragedy.
Eastern Star is a well-equipped cruise belonging to Chongqing Eastern Shipping Company. It measures 76.5 meters in length, 11 meters in width and 18.6 meters in height. It has a total weight of 2,200 tons, and a seating capacity of 534 people.
CHINA'S WORST MARITIME ACCIDENT IN 7 DECADES
The ship capsized at around 9:28 p.m. on June 1st, in the Jianli section of the Yangtze River in central China's Hubei Province.
The death doll reached 442 and the number of survivors was 12.
A total of 456 people were on board, most of whom were tourists between the ages of 50 and 80.
The accident was blamed on a tornado that lasted for about 15 to 20 minutes.
Thousands of people were involved in the rescue operation shortly after the accident. Chinese top leadership called on rescuers to "take all possible measures" to save lives from the capsized ship.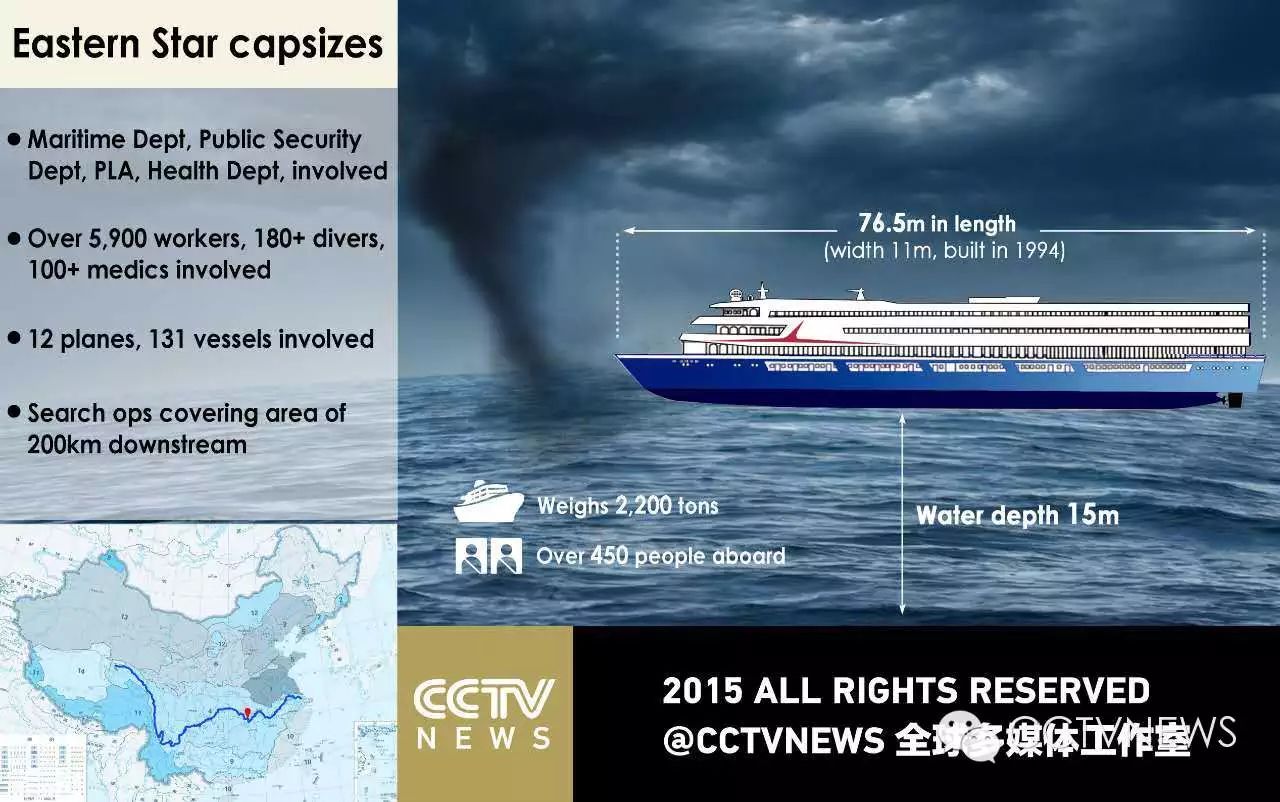 At 9:50 p.m. on June 3rd, rescuers began cutting a 1-square-meter hole on the bottom of the overturned ship in an attempt to rescue victims inside the Eastern Star.
As of 6:00 p.m. on June 4th, over 300 people remained missing and 77 had been confirmed dead.
Throughout the evening of June 4th, rescue workers worked to upright the capsized ship, hoping to search for bodies and any potential survivors.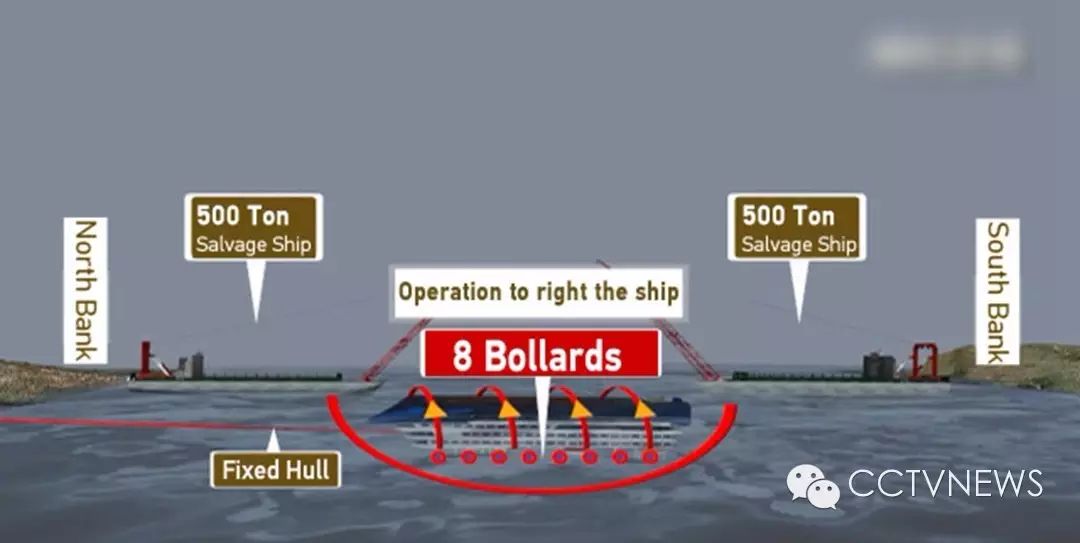 As of June 5th, only 12 survivors had been found, with 103 confirmed dead and 339 unaccounted for.
On June 3rd, China Insurance Regulatory Commission (CIRC) said insurance companies would pay a total of 92.5 million yuan (15.7 million US dollars) in compensation to all 456 people on board, as well as to the ship company and travel agencies organizing the trip.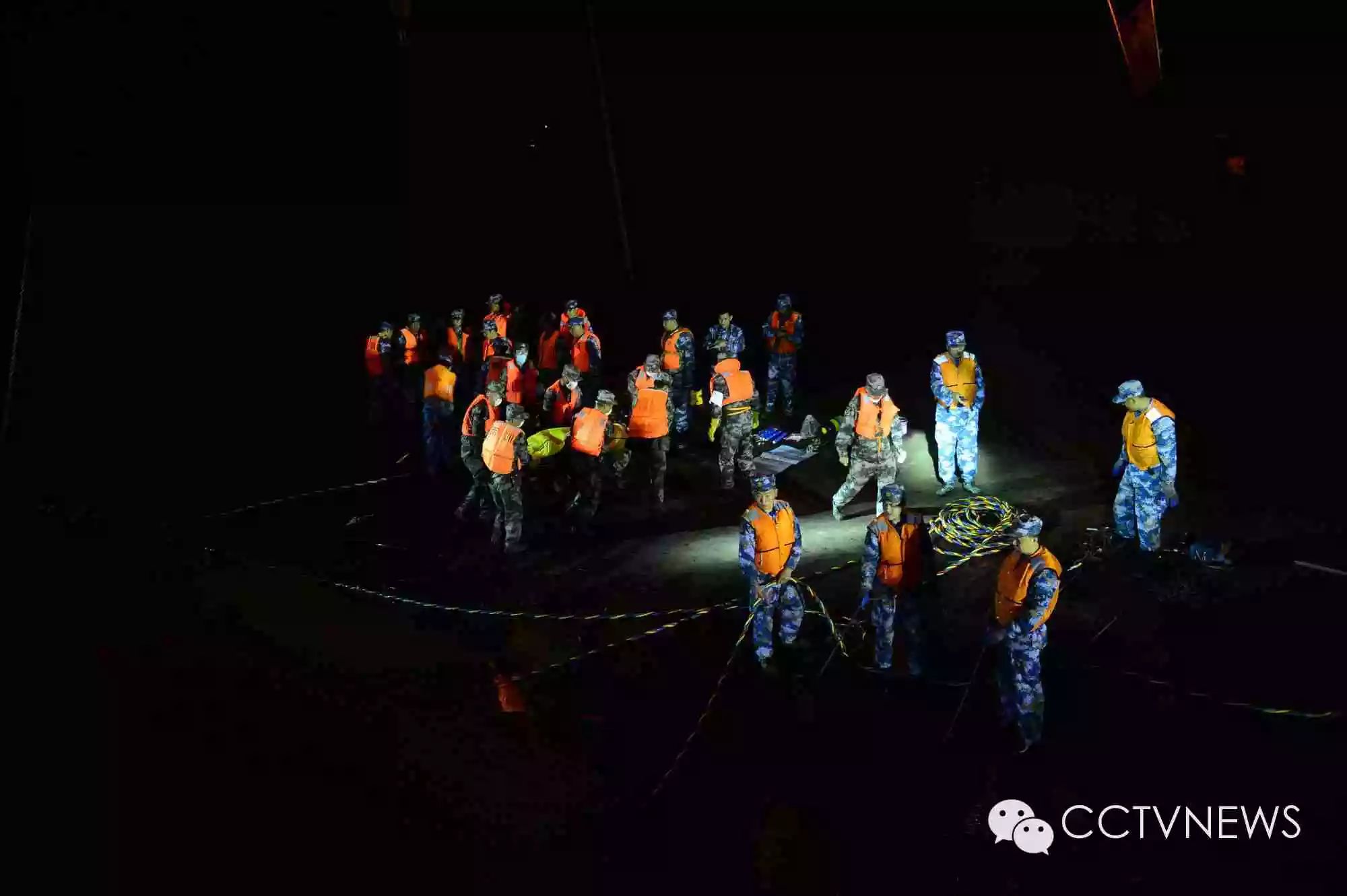 A preliminary investigation showed 340 insurance contracts lived up to the requirements for settlement claims.
15.7 million yuan (2.5 million US dollars) will go to the company that owns the Eastern Star ship, and 10 million has already been cleared.
12 million yuan (1.9 million US dollars) will go to travel agencies that organized the trip.
Over 61.7 million yuan (9.9 million US dollars) in life insurance payments are to be paid to the families of 396 passengers.
18 crew members are expected to receive a total compensation of over 3.12 million yuan (502 thousand US dollars).
Hundreds of grief counselors traveled to the site to help and comfort the families.
Medical workers arrived at the site to conduct prevention work against possible epidemics.
Many local people and some hotels in Jianli offered to provide free accommodations to the family members.
More than 1,000 taxis, cars and buses in Jianli fastened yellow ribbons to their vehicles in solidarity and provided free transportation to the family members.