Airport Expansion May Kill Off Hong Kong's Pink Dolphins

source: huffingtonpost.com
The future of the Chinese white dolphin in Hong Kong may be in jeopardy because of plans to expand Hong Kong International Airport and build a bridge to a popular gambling destination, Macau, BBC Travel reports.
The mammal -- also called the pink dolphin because its skin color can vary from a mixture of gray and pink to an all-over rosy hue -- was once so beloved by the city that it became Hong Kong's official mascot in 1997, when the British returned the territory to China. Yet its population has been dwindling for a quite a while. According to theHong Kong Dolphin Conservation Society, the number of white dolphins in Hong Kong waters declined from 158 in 2003 to 61 in 2014.
Much of the decline is due to pollution in the water because of ferry traffic and overfishing, according to The Washington Post. The BBC also reports the city's ineffective waste management causes plastics, fertilizers and heavy metals to contaminate the water.
And now conservationists are worried construction will wipe out the rest of the population in the region. The 31-mile Hong Kong-Zhuhai-Macau Bridge is expected to be completed in 2016, and the government plans to expand Hong Kong's airport in Chek Lap Kok with a third runway on Lantau Island, which is near a popular hub for white dolphins.
"We think that if that project goes ahead, then it will probably drive the dolphin away from Hong Kong waters," Samuel Hung, chairman of the Hong Kong Dolphin Conservation Society, told the AFP. "In some ways it seems like we are pushing them closer and closer to the edge of the cliff and if we're making that final push, they will be gone forever. I think now is the time to get our act together."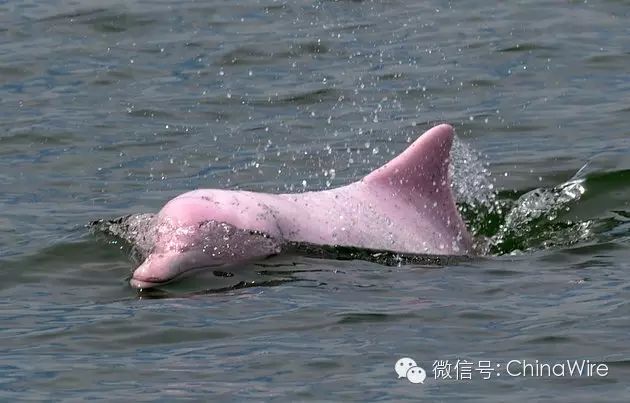 There is also the issue of unregulated dolphin tours that fishermen from the nearby village of Tai O conduct on their small, personal boats. They account for 10 percent of the village's tourism business, according to The Guardian. Although some guides take necessary precautions by not approaching dolphins at high speeds, suddenly changing directions or separating mothers from calves, not all do.
The World Wildlife Foundation tried to remedy this in July with its four-month Dolphin Watching Interpreter Pilot Programme, in which volunteers donning "Dolphins, I care!" shirts went on dolphin-spotting tours with motorboat operators based in Tai O to explain the dolphins' sad plight to tourists.
If something more drastic isn't done soon, these rare creatures may disappear from Hong Kong for good.