Art Picks | Features in Flesh
Embroidered Patterns In Flesh By ElizaBennett
For the photographic series 'A Woman's Workis Never Done', artist Eliza Bennett literally creates handstitched artworksusing her own hand as a canvas.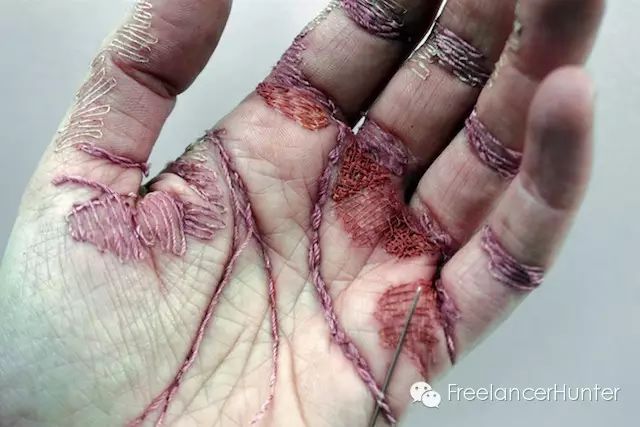 By sewing a thread into the top layer ofher skin, she manages to apply the age-old technique of embroidery in flesh. Indoing so, the hands appear to be marked by hard work.
With this series, Bennett wants to raise awareness on the traditional ideas of "women's work", such ascleaning and caring, and its consequences on the physical body.
Most of the time, these tasks are considered easy, but are often underpaid and doneunder bad conditions.
In a statement about her work, the artist says: "I need authentic experiences of my own, in the act of creating thisbecomes possible. I sculpt because I am driven to commit a feeling to something tangible."
- END -
Flesh Sculptures Of EverydayObjects By Cao Hui
Chinese artist Cao Hui creates flesh sculptures of everyday objects for his series 'I Want To Play God'.
Whether it's a sofa, a coat or a pair of gloves, Hui manages to transform these ordinary pieces into hyperreal works of art with the use of mixed materialssuch as resin and fiber.
Moreover, he displays the inner bodily workings inorder to question the viewer's perception of these daily objects.
In a statement about his approach to art,Hui says: "It seems artists are no longer happy just being artists, but are driven by their inborn love of performance to try out new roles, such as philosopher, scientist, doctor or perhaps even engineer.
I think artists really want to play god more than anything else, and will stop at nothing to construct a truth that validates the self."

Here we offer freelancer job opportunities
Share cool content for a global view
Recruiter 丨 Applicant 丨 Say hi
Feel free to contact
Wechat ID:FreelancerHunter
Scan fingerprint can be concerned