[Giveaway] OGGI Christmas Meal Valued 388RMB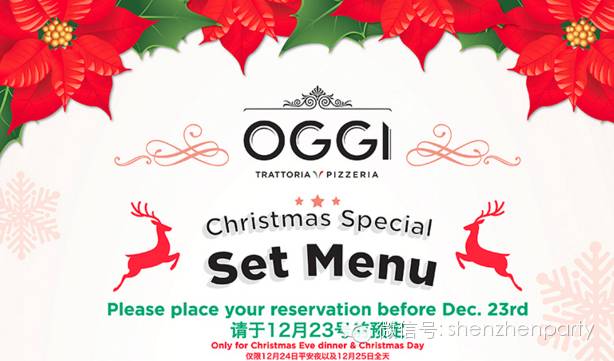 ★ [Giveaway] Christmas Meal ★
Oggi Trattoria Pizzeria is located right on the seaboard with resort-like ambiance. We will surely impress both of your palate and your eyes. Beside our sea-side terrace, you can enjoy a great sea view in our second floor and watch our talents baking your pizza in the first floor.

Oggi Trattoria Pizzeria 深圳蛇口南海玫瑰花園店位於南海玫瑰花園三期的一線海邊位置,四周風景如畫。二樓面朝大海,心曠神怡;一樓更設有零距離親海浪漫風情露天餐位。地道出品火山熔岩石烤披薩以及牛扒大餐等。
www.oggirestaurant.co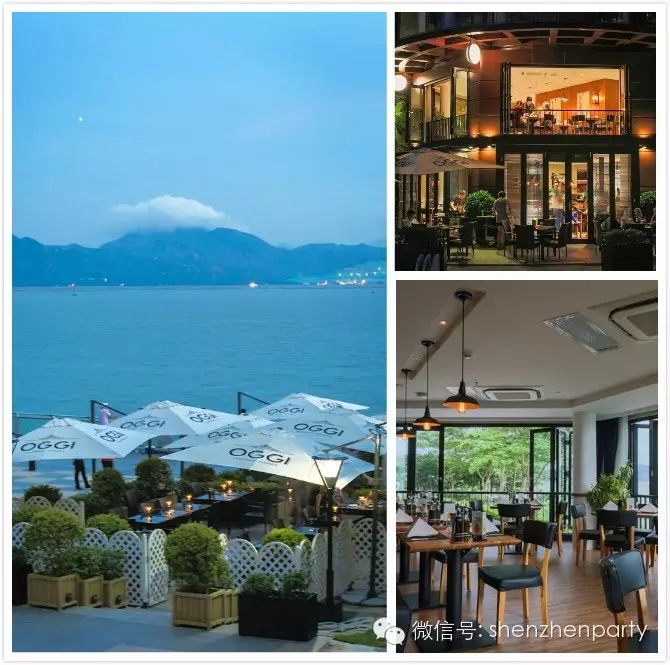 ShenzhenParty.com is very proud to be partnering with Oggi Trattoria Pizzeria to launch an online contest for Christmas. We're proud to give away Christmas Meal to Three lucky winners!!! We are waiting for seeing you and your family, friends there.
Shenzhenparty.com非常榮幸能攜手OGGI意大利餐廳一起舉辦贏取聖誕大餐的活動。我們將送出3份聖誕大餐給三位幸運者!期待你和你的至愛及親朋來OGGI品嘗意式風情聖誕大餐!
Follow"shenzhenparty"on Wechat or scan the QR code at the bottom. 關註shenzhenparty的微信公眾平臺/掃描底部二維碼。

Share this post to your moment. 轉發此貼在你的朋友圈。

Send us back a screenshot of the post, your name, address, phone number and wait for reply. 關註本平臺並回覆截圖+你的姓名+聯繫地址+電話,請耐心等通知。
Smooth potato mousse with soft melting egg yolk and fried pasta shell
土豆慕斯(配流心蛋和炸意粉片)
Home-stained Norwegian Salmon with organic fennel salad and orange fillets
腌制挪威三文魚(配有機茴香沙拉和橙片)
Amberjack fish-stuffed homemade Tortello pasta with a smooth mousse of Cannellini beans and fried basil
意大利餃子(配琥珀魚,奶油白豆汁和炸羅勒)
Long-time braised veal cheek in red wine reduction with shallots and fried potato
燉小牛臉頰肉(配紅酒汁,青蔥和炸土豆)
OGGI Panettone Christmas cake with chocolate sauce and hazelnut ice cream
OGGI聖誕蛋糕(配巧克力醬和榛子雪糕)
1. The deadline will be 5:00pm Dec. 16th, 2015. 截止日期是2015年12月16日下午6點.
2. We will randomly pick three winners and each winner will get Christmas Meal valued 388 RMB. 我們將隨機抽取3名幸運者,每位幸運兒將得到一份價值388元的聖誕大餐。
3. We will notify you by phone if you win and if you do not respond with in 24 hours you will not get your winning ticket. 我們將會以電話形式通知獲獎者,若未能在24小時內回覆將被視為無效!
4. WINNERS: Please place your reservation before Dec.23rd and it's only suitable for Christmas Eve or Christmas Day. 請在12月23號前預約,此套餐只適合聖誕前夕或者聖誕節當天。
5. All matters and disputes will be subject to the final decision of Shenzhenparty.com.
所有的爭議將由Shenzhenparty.com作最後決定。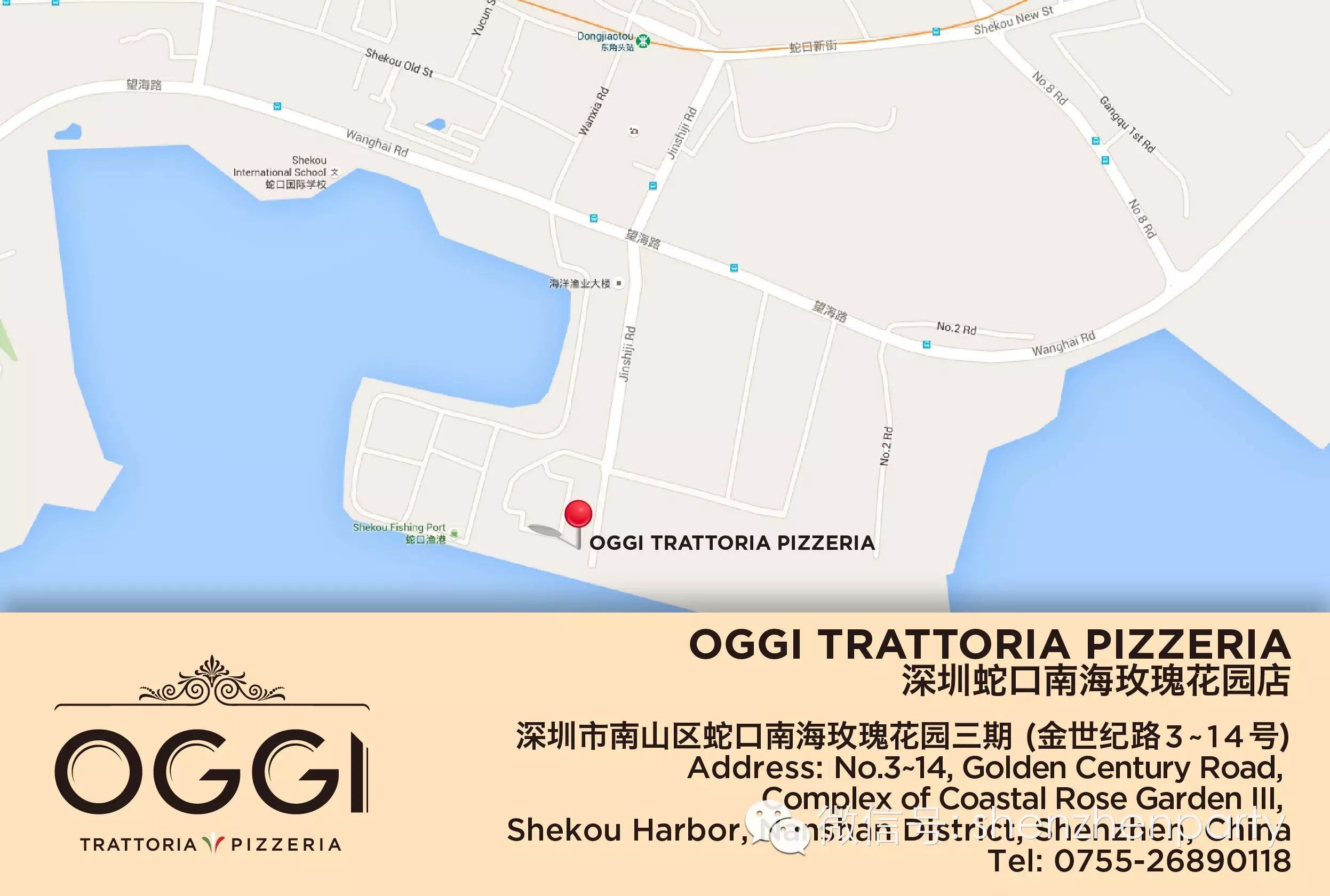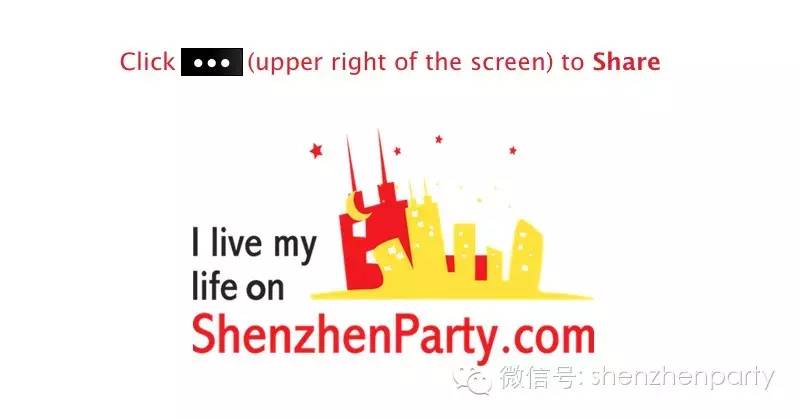 ---
Long-press the QR Code, tap "Extract QR Code" to Follow "shenzhenparty" on Wechat:

For more details, please click "Read More".