10 minutes with Chineasy's Shaolan Hseuh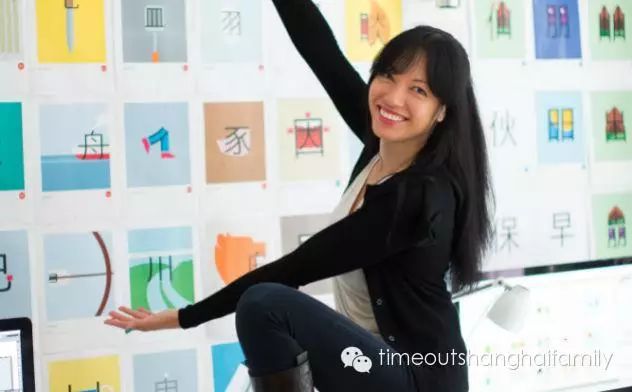 Even on a good day, learning Mandarin is a struggle. But Taiwanese entrepreneur-turned-author Shao Lan Hseuh has found a way to bridge the language gap between East and West with her award winning book Chineasy: The New Way to Read Chinese.
Historically Chinese characters were pictographic but as thousands of years passed, their original forms morphed. Hseuh and her team combine bright, simple design with the Chinese characters' roots. The result is a work of art.
Chineasy was born out of your own children's struggle to learn Chinese. What have you found works and doesn't work when it comes to learning a new language?
I believe there's an universal way for people to learn a second language no matter their age or cultural background. Through illustrations and storytelling, people can learn in a fun, engaging and memorable way.
This works on kids as well, of course. The primary difference in teaching kids and adults is that with kids, illustrations must be simpler but at the same time more striking, as this helps them associate meaning within a second.
What is the design process like?
It is a long and thought out process! Instead of trying to reproduce all of the historical links, I use a totally refreshed approach as our illustrations have to be something westerners can associate with. Before we start designing our team researches the definition, origin and history of the character, before we finally consider how to make stories out of them. Then our designers create different interpretations of the character and we bounce ideas back and forth.
When we come across a challenge (which happens with nearly all of them), we discuss, sleep on it and play around with different combinations of colours or designs. Finally, when a new illustration is created, I will show them to my children.
If they can guess the answer immediately, I know we've got it right. If they struggle, then we go back to the studio and do it all over again.
How have your own children reacted to the book?
When I first created Chineasy for my children, it was just a family project. Neither me nor my children expected Chineasy would come to be appreciated by many others. [They] love the book but they don't like to see my heavy workload and constant travel because of my commitments to the Chineasy projects.
I want to make Chineasy more accessible; I want to show people how easy and efficient learning Chinese can be.
Chineasy started out as a book, and has now turned into a learning community. What's coming up next in the world of Chineasy?
After the success of my first book, I knew there was a huge demand from people who wanted to learn Chinese in a fun, creative and engaging way. I've been planning my second book [since] the release of the first, and now I am happy to say my next book, Chineasy Everyday, will be published in Spring 2016.
The book is structured by topic to help readers navigate and find the phrases which are most suited to their interests and situation. To me, Chineasy will always be a work in progress because it is a social, educational and community learning movement.