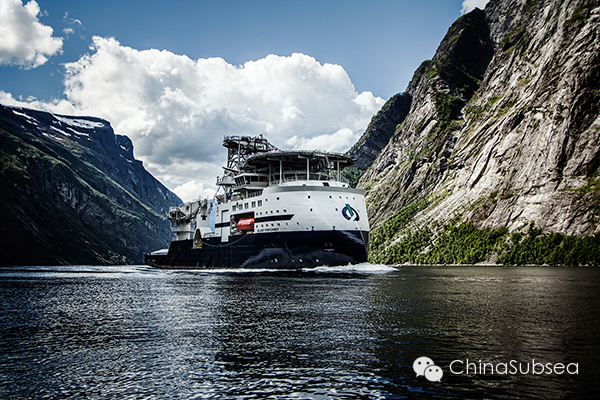 9July 2014 – Norwegian shipbuilder Ulstein Verft delivered the state-of-the-artMV Island Performer to its owner Island Offshore today.
The flexible, RiserlessWell Intervention Vessel/Inspection, Maintenance and Repair(RLWI/IMR) vessel willserve its first five years for FTO, a joint venture between FMC Technologies,Edison Chouest Offshore and Island Offshore in the U.S. Gulf of Mexico.
"The vessel is customizedto suit the scope of work in the FTO contract, in which RLWI (Riser-less LightWell Intervention) and IMR (Inspection/Maintenance/Repair) are the main tasks.She is able to perform operations at depths down to 3,000 meters, and thecontracted work start at year's end," says Managing Director Håvard Ulstein, IslandOffshore. "However, the very first assignment will be for the RogFastconnection in Norway, in which the scope of work will be to investigate the seabottom."
gCaptain got a sneak peakof the ship while we were visiting the Ulstein Verft yard last month, see RobAlmeida's photos and report from the trip HERE.
'Island Performer' is anext generation subsea vessel designed and built by Ulstein, with largeaccommodation, storage and lifting capacities. She meets the highest standardsfor station keeping, redundancy and dynamic positioning (DNV GL class notationDYNPOS AUTRO, equivalent to DP3). Operability in DYNPOS AUTR (DP2) operationalmode is maximized with help from the 'Operation+' feature, with a three-splitconfiguration on main machinery allowing the vessel to retain system integrityand to continue operations even the case of a substantial single systemfailure.
A shelter deck stretchingall the way past the main moon pool and aft to the main cranes increases theoperational window for moon pool work and offers a shielded space for variousequipment. On the shelter deck is a multi-skidding system for handling100-tonne skidding pallets, a design also includes a heavy-load cargo deck fortransporting equipment for various operations and construction work.
In addition to its designfeatures, 'Island Performer' was also developed and built according to thelatest international regulations for safety and comfort. The vessel is equippedwith resiliently mounted tunnel thrusters, and carries the DNV GL classnotation Comfort Class, COMF-V1, which ensures that noise and vibrations arekept at minimum. SCR (Selective Catalytic Reduction) catalysts are installedfor all engines, as well as an ESD system (Emergency Shut Down system) in orderto automatically close down systems in case of a hydrocarbon leakage. Thevessel has a crew capacity of 130, and in case of evacuation, each of thelifeboats on the starboard and port sides can accommodate everyone on board.
As you can see the IslandProvider also features patented ULSTEIN X-BOW® bow design.
"The three contractingcompanies combined have extensive competence in the advanced subsea segment,"says Gunvor Ulstein, CEO of Ulstein Group. Together, we have developed asolution which is particularly adapted to both RLWI and IMR work, and westrongly believe that the 'Island Performer' will prove her value in the yearsto come."
'Island Performer' Maincharacteristics:
· SX121 DESIGN
· Length over all approx. 130.0 m
· Breadth moulded 25.0 m
· Dead weight w/tower mounted 7.300 tonnes
· Trial speed 15.25 knots
· Accommodation 130 persons
· Deck skidding system located on shelter deck 100 tonnesunrestricted load
· Main moon pool 8.0 m x 8.0 m
· ROV moon pool 4.9 m x 4.9 m
· 300 t SWL Module Handling/Intervention Tower
· 250 t Offshore Pedestal Crane (AHC) w/ main winch belowdeck
· Dynamic Positioning System DNV AUTRO (IMO Class III /DP3)
· Integrated bridge system
· Electric equipment, Ulstein delivery: Switchboards,ULSTEIN COM® communication system
· ULSTEIN X-BOW® hull line design
Photos courtesy UlsteinGroup