Jobs for Foreigners in China
City: Beijing

Job type: Part time
Looking for a male model and a female model on Dec 28, just the afternoon, location: Zhushikou, Line 7.
Job: just display product (cosmetic)
Jenny: 18911827048

Wechat:13051588186/269329164
City: Beijing

Job type: Part time
Looking for translator English-Chinese Chinese-English
Time: On January 11 - February 4 (25 days)
Requirements:
- Strong Mandarin and English communication skills
- Architect background preferable
- Have experience with Rhino and GH 3D software preferable.
Salary: negotiable
City: Wuhu

Job type: Full time
Need two beautiful girls gogo, Wuhu, Anhui. Dec 16 to start working.
Contact Wechat: tian0029 or zhengjie-223
City: Dongguan

Job type: Full time
Dongguan need 6 female gogo, start work ASAP.
City: Shenzhen

Job type: Full time
Shenzhen Female gogo needed, start ASAP.
Contact wechat: jakekinchan
City: Beijing

Job type: Part time
Girls!!! ASAP! I need extra 30 WHITE EUROPEAN GIRLS with model appearance (preferably blonde) for the movie shooting in Beijing, the date is Dec 18. but not set yet will it require 1 or 2 days , payment is 1800 per day , time not longer than 8 hrs. Need to wear bikini. The casting is Dec.13 & 14. Casting address: subway Line 10, Jiandemen, exit D, the casting will held from 2.30 pm till 5 pm.
Contact Wechat: Gattamelata
City: Guangzhou

Job type: Part time
Looking for 1 Event Photographer in Guangzhou and Shenzhen:
- Guangzhou 26th December; 14:00 - 16:00 (arrive 1 hour earlier for preparation, light testing, etc)
- Shenzhen 27th December; 14:00 - 16:00 (arrive 1 hour earlier for preparation)
Address: downtown area, exact address will be confirmed soon
Bus transfer will be provided, on 27th of December at early morning leaving from GZ, and late evening return.
Need to provide between 40-50 pictures / each Event. with post-editing and professional retouching if needed + discarded pictures, within 1 week after the Event.
Payment 1,600 RMB/each Event, 30% will be paid on the day after the Event and 70% will be paid within 4 days after receiving the final pictures.
City: Kunming

Job type: Full time
Need dance team of 5 people! City: Kunming! Start December 20. Provide ticket, apartment! Residence work in good club, with good condition.
City: Guangzhou

Job type: Part time
Need one female black model-gogo! City: Guangzhou. Contract work. Provide ticket and apartment. Good club! Good condition!
City: Nanjing

Job type: Part time
Need two male models work in the shopping mall from 15:00-20:00 on 24th of Dec in Nanjing City, only welcome guests and send flowers.
Contact wechat: 575791801
City: Xi'an

Job type: Full time
Need 4 girls go-go 170+ from Ukraine or Russia! Make a work visa, provide ticket two way. City: Xi'an (西安). Contact 6 month.
City: Xi'an

Job type: Full time
Need 5 female go-go 170+ No need drink!! Xi'an city. Start ASAP.
City: Tai'an

Job type: Full time
Tai'an, Shandong need a white foreign teacher, salary 6,000 RMB.
City: Wuhan

Job type: Full time
Wuhan need a U.S. foreign teachers, salary 8,000 RMB.
City: Beijing

Job type: Part time
We are an outdoor sports company that run ski day trips and camps from Beijing to resorts in the suburbs. We have many ski students and currently need more instructors to keep up with demand. Instructing work is available year-round, with trips to many resorts, both near and far. You can easily fit this around another occupation, as most of the work is at weekends. But it is even better if you can commit to the whole season or part of it.
There are also opportunities to develop this into a full-time position, getting involved in project management, for those interested.
City: Dongguan

Job type: Part time
Looking for professional models for shooting and model show, job is in Dongguan.
Contact Wechat: aixinjueluo77
City: Shenzhen

Job type: Part time
Looking for one Male Flair bartender work in Shenzhen, start at 15th of December, one month contract.
Contact Wechat: aixinjueluo77
City: Shenzhen

Job type: Part time
Attractive pay. Part time English Teacher with proven knowledge about Australia needed to deliver a 10-12 hour English course about Australia for 10-12 year olds in Shekou, 25 students in class. Flexible time can be adjusted to your availability, both daytime and weekends possible. Materials provided but need your good preparation. Australian preferred but not required.
Contact wechat: catt2013 or call 13556887603
City: Wuhan

Job type: Full time
ASAP! Need 4 go-go girls to Wuhan (武漢), minimum for 3 months, need drink, flights and visa are paid, living in hotel.
City: Meishan

Job type: Full time
Need model girls in Meishan (SiChuan), one month, start Dec 17, salary 12,000 RMB
Contact Wechat: adamok888
City: Fuzhou

Job type: Full time
Need model girls in Fuzhou, 10,500 RMB, need drink.
Contact Wechat: adamok888
City: Beijing

Job type: Full time
LivClub Beijing
Need:
2 beautiful go-go girls 170+, need drink;
4 beautiful models girls 172+, need drink;
1 boy dancer, to join the team
Contact Wechat:ranweiwei5201314
City: Xingtai

Job type: Full time
Xingtai, Hebei Province, need 2 go go girls. Start ASAP. Provide tickets and hotel or good apartment.
Contact Wechat: dashaudnikova
City: Beijing

Job type: Part time
Beijing: Dec 14/15 Guizhou TV Show 《讓世界聽見》 (let the world listen to good voice) singers Casting
A TV show needs some good and professional singers who can sing Chinese songs and maybe speak a little Chinese to join the TV show shooting with some stars after new year, will have a casting on 14/15 Dec, payment will be negotiate with the Column according to the professional degree of the singers, it is a big TV show which will make you become popular somehow and know a lot of interesting people, also a good opportunity to learn Chinese, they need a lot of singers, who can come to the studio plz pm me or you can send me your Demo videos
After 15th the director will go back to Guizhou so plz value this good opportunity!
Contact Wechat: lifeisajourney111
City: Beijing

Job type: Part time
December 26, need 4 male models for one presentation job at Fangzhuang Beijing
need to arrive before 12:00 from 13:00-14:00 guiding customers, 15:00-16:00 go on stage with customers, 17:00-18:00 swimsuit catwalk.
Contact wechat: lifeisajourney111
City: Baoding

Job type: Full time
Early childhood education Training position pay 10,000 RMB and accommodationPlace: BaodingWork time: 9 am – 6 pm from Wednesday to SundayStudents: 1-3 years old
Pay working visaSalary: 9,000 -10,000 RMBApartment: school provideFemale and male okNon native speakers okMust have early childhood education experience
City: Ningbo

Job type: Part time
English teacher needed in Beilun, Ningbo
Working time: Friday from 5:50 to 8 pm
Saturday and Sunday from 9 am to until the classes finish (3-5 pm). 40 mins per class
RMB 120 per class
work duration : only for two weeks
City: Beijing

Job type: Part time
Looking for some roles for catalogue shooting.2 female acting as mother2 male acting as fatherage around(27-40)Also, need two female and two male acting as kongfu scholar.shooting date: end of December or beginning of January.
Contact Wechat: subhaat21
City: Wuhan

Job type: Part time
Wuhan job: need one jazz band, must in Wuhan.
Contact WeChat: 13240036007
City: Hangzhou

Job type: Part time
Hangzhou job: need jazz band in Hangzhou, Jan 12.
Contact WeChat: 13240036007
City: Nanjing

Job type: Full time
New teaching opportunity teaching in top-end training center in Xuanwu, Nanjing is available for teachers to start immediately. This role would suit an English teacher who is searching for an opportunity to join a dynamic team that is committed to raising student achievements.
Job Description: Teaching English; The class size is 20-40 students per class; The students are aged from 6-18 years old.
Benefits: The basic salary is 13,000 RMB per month. Income tax will be automatically deducted from salary by the employer according to Chinese law. Paid public holidays; Z visa is provided; Pay extra fee for over 100 working hours per month.
Teaching Schedule:100 working hours per month, 2 days off per week.
Qualifications: Native speakers; BA degree or higher education background TESOL/ TEFL, At least 2 years teaching experience, Enthusiasm commitment and flexibility; A passion for teaching English.
City: Wuhan

Job type: Full time
Teaching Position in Wuhan.
Native speakers (age 20-38 years old ) are wanted from UK, USA, NZ, Canada, Ireland, Australian.young kids teaching job a year contractWe offer:8,500 – 11,500 RMB/Month as basic salary.
Free Apartment Visa support Free airport pick-up 1,000 USD airfare bonus Chinese lessons on the weekend
City: Yantai

Job type: Full time
English Instructor in Yantai.
Native English speakers under 35 years oldGood PersonalityBachelor's Degree(not necessary)TOEFL /TESOL/ESL certificate (recommended)Prior teaching experience (recommended)Location: Yantai of Shandong Province
Salary and Benefits8,000-10,000 RMB monthly salary (depending on qualifications)Luxury ApartmentMedical InsuranceTwo days off (Sunday and Monday)10 days paid vacation + Chinese public holidaysVisa Assistance Single Apartment with basic furniture, cook available, free lunch Airport pick-up
City: Zhengzhou

Job type: Part time
Need female model for shooting, experienced, slim and beautiful, shooting for clothes in Zhengzhou for three days. flight, hotel and dinner all included.
Contact wechat: sunnymodelagent
City: Huangshan

Job type: Part time
ASAP. This week. Need 4 gogo dancers for a club in Huagshan City near Shanghai. Provide accommodation and flight.
Basic salary 11,000 RMB + 200 RMB drinking tips.
Contact wechat: akilips_brovas
36Senior Operations Manager
City: Beijing

Job type: Full time
The Senior Operations Manager holds responsibility for strategic and operational planning and management of all aspects, including staff, contracts, and budgets, for a number of programs, projects and/or departments. The Senior Operations Manager acts on behalf of the COO in his absence. It is the Senior Operations Manager's responsibility to ensure practices and procedures reflect Vericant's mission and goals.
In addition, the Senior Operations Manager will act as a member of the Management Team - in this role, his/her primary responsibility is ensuring organizational effectiveness by providing leadership and overseeing Vericant's operations team. This person will bring best practices to running the operations while improving on existing operational management processes
The ideal candidate will be highly comfortable interacting extensively with both Americans and Chinese, preferably with 5-8+ years working in an international environment. Experience working in both China and the USA will be an advantage. A background in human resources, business administration, project management/coordination will help a candidate excel in this role.
Responsibilities
Structure, mentor, and grow Vericant's operations team
Contribute to developing and implementing China strategy, as part of Management Team
Develop and manage budget for China operations
Continuously work with Vericant's tech team to use technology to create solutions for business and operational issues and maintain Vericant's leading edge in the market.
Maintain, enhance, and mentor, Vericant's cross-cultural, cross-border and bilingual team and environment
Drive product updates and refinements
Essential Qualifications
Strong English and Mandarin Chinese skills
High comfort level and demonstrated ability in working cross-culturally
Experience working in an international environment
Demonstrated leadership and vision in managing teams and major projects or initiatives
A demonstrated commitment to high professional ethical standards
Strong quantitative skills
Highly motivated, resourceful and able to demonstrate professionalism
Excellent interpersonal skills and a collaborative management style
Strong track record for judgment and decision making
Budget development and oversight experience, and familiarity with financial statements
Demonstrates strong customer focus
Delegate responsibilities effectively
Adaptable to new technology, and comfortable using new office software and online tools
Ability to mentor entry-level young professionals
Desired Qualifications
Prior experience growing a company from 10 to 30 people
Prior experience running a start-up company in China
Quick learner and excellent team player
Interest in working in a fast-growth company
Excels at operating in a fast paced environment
Excellent people manager, open to direction and feedback
Collaborative work style and commitment to get the job done
Ability to challenge and debate issues of importance to the organization
Ability to look at situations from several points of view
City: Shantou

Job type: Part time
Need professional saxophone player and 4 female models on December 24
work in Shantou, Guangdong Province.
Contact wechat: 420761011
City: Shanghai

Job type: Full time
Kids- Teenager position information , Start ASAP
Qualifications
• A genuine interest in children, teaching, and professional development
• Open-minded, an adventurous spirit, and professional flexibility
• 4-year bachelor's degree from an accredited university
• Native English speaker
• Passport issued by the USA, Canada, the UK, Ireland, South Africa, Australia, and New Zealand
• Two years post bachelor degree teaching experience preferred
• Internationally recognized TEFL, CELTA, or TESOL certification
• Experience traveling internationally and/or working abroad preferred
Responsibilities
• Planning and delivering lessons to young learners (ages 3-15)
• Using electronic media and courseware to teach English efficiently and effectively
• Evaluating student progress and providing ongoing guidance for improvement
• Participating in social activities with students organized by your school
• Maintaining regular office hours
Employment package
• Salaries starting from 14,000RMB per month (depending on experience)
• 6,000RMB sign on bonus (after probation)
• 10,000RMB Accommodation Assistance Loan (overseas applicants only)
• 2,000RMB relocation allowance (overseas applicants only)
• 16 teaching hours and 10 office hours per week
• 2 Days off per week
• Paid overtime for teaching
• Paid sick and vacation time
• One-year Z working visa
• 5000RMB flight allowance (paid upon contract completion)
• Comprehensive health Insurance
• Accommodation assistance
• On-going professional teacher development and training programs
• 15 month contract(including 3 months' probation)
To apply for this position, please e-mail [email protected] with the following documents:
• a Resume/CV with photo
• a copy of your passport (with photo page)
• a copy of TEFL/ TESOL/CELTA certificate
• a copy of your Bachelor degree
• reference letter
• Police clearance statement required
Panda Guides APP lists thousands of job offers!
Please scan the following QR code to download the APP. Or visit our website
www.pandaguides.cn. You can also search "panda guides" in APP Store or Google
Play.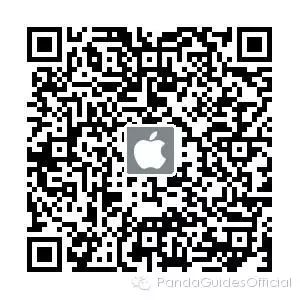 For
iOS
For
Android
WeChat ID:PandaGuidesChina

Long press or scan the QR CODE below !