Talking & singing about Wuhan in the dialect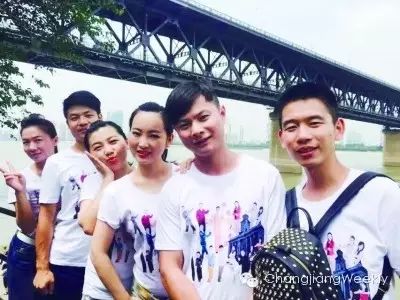 Wu Jian (second from right) and his crew filming Talking and Singing About Wuhan in front of the Wuhan Yangtze River Bridge
"I was born in Wuhan. I speak the dialect. I eat Hot-and-Dry Noodles for breakfast..."
This is a line from a MV program called Talking and Singing About Wuhan. This MV program is filled with elements of the local culture, specifically the Wuhan dialect. Created by artists born in the '80s, this MV is expected to be released soon.
The creator, Wu Jian, a young folk opera performer at the Huangpi District Culture Center, revealed that he used his own money to start this project two years ago. During the course of production, dozens of young folk artists, including Hubei Drum performer Cheng Jun and crosstalk entertainer Fan Zhiqiang, volunteered to be a part of the project.
The 15-minute video not only represents historical events such as the 1911 Wuchang Uprising, but also Wuhan's modern prosperity, like the development of high-speed railways and Chu River and Han Street. In addition, popular Wuhan snacks, such as Hot-and-Dry Noodles and doupi, have made viewers' mouths water, and day-to-day life, such as lying on bamboo beds and enjoying the cool summer breeze at the riverside, is quite familiar to locals. The performance is given in five typical Hubei folk art forms, namely Hubei Drum, ditty, daoqing and yugu (both are a kind of chanting of folk tales to bamboo percussion instruments), and storytelling, with a light tripping rhythm.