An Unforgettable Experience at La Villa Restaurant
We want to tell you about what may be the best lunch deal in town. For 188RMB+, you can have a four course tasting menu at Seven Villa's French restaurant La Villa Restaurant.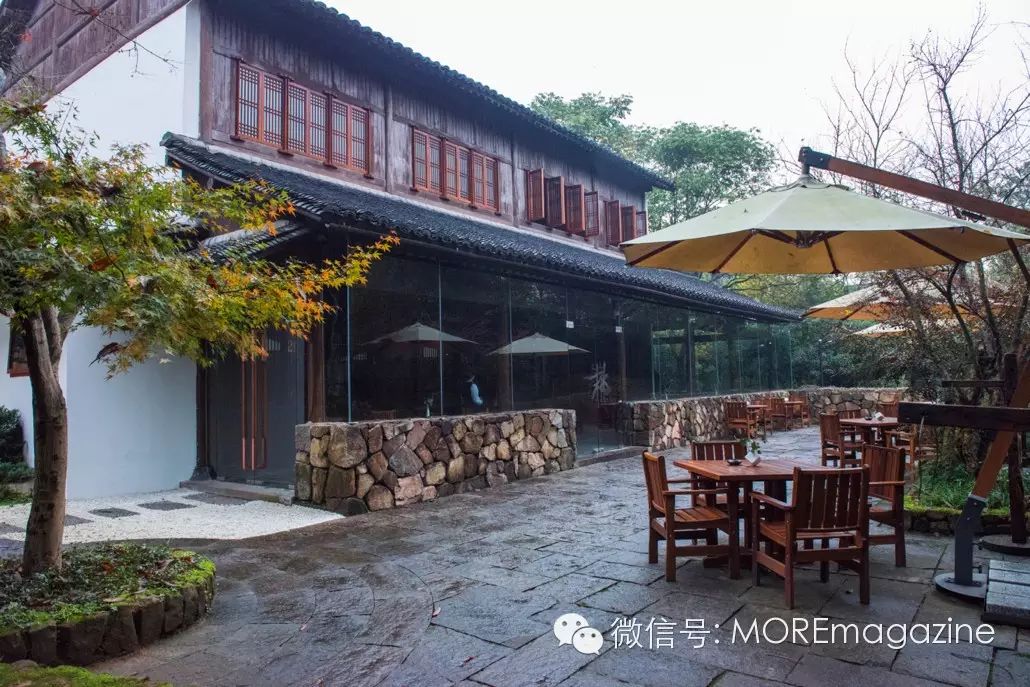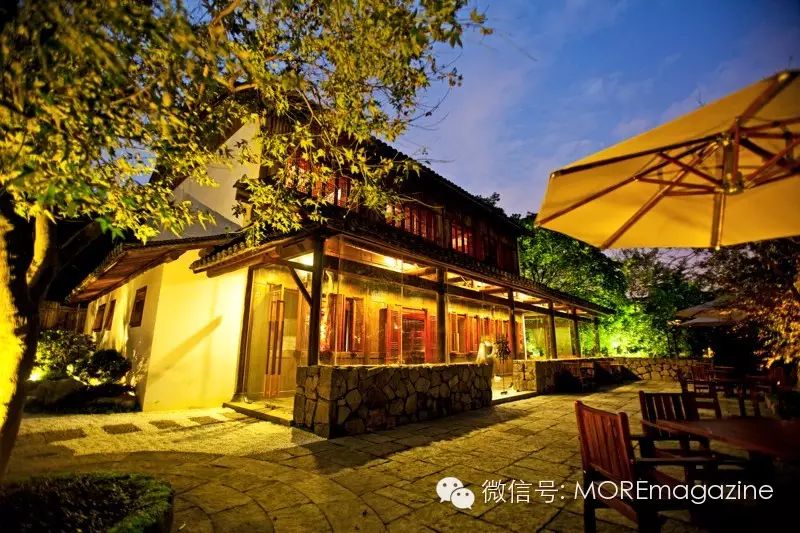 La Villa Restaurant's young chef, Yu Ning, first started working in Seven Villa's Chinese restaurant Jiexianglou before moving over to head the French restaurant. He trained as a Chinese chef and then taught himself western cooking through reading books. The dishes you'll find at La Restaurant are not typical French dishes but are his fusion creations. We were very impressed with his cooking, presentation and imagination.

For lunch, they only serve the four course tasting menu. On each place setting is a black envelop sealed with wax and stamped with the restaurant's insignia. You feel that something special is in store as you open the envelop to reveal the menu printed on fine paper inside. There are two choices for salad, soup and main course plus a dessert.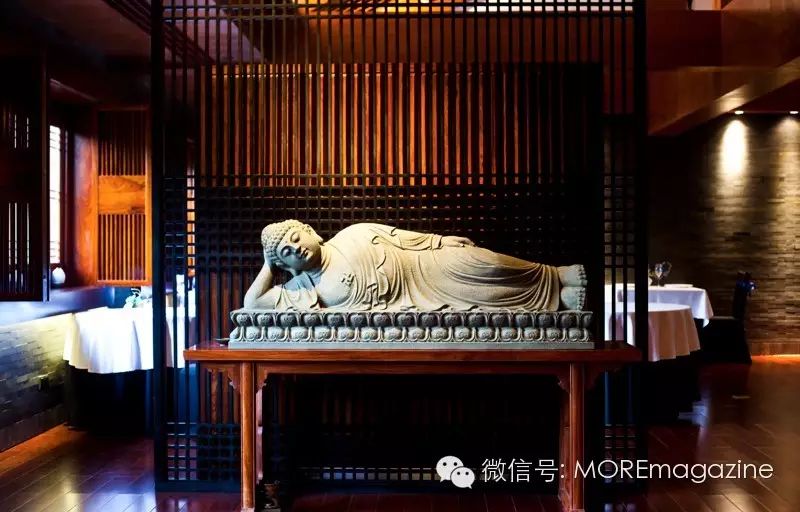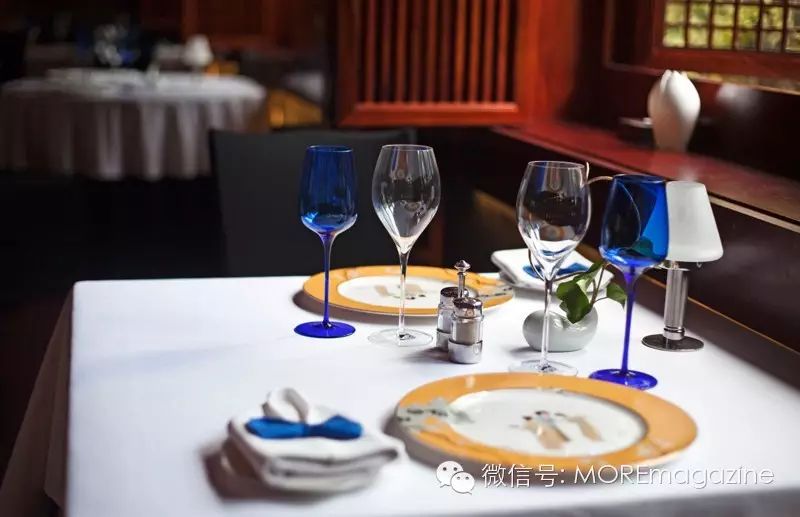 The Smoked Salmon salad was accented with black octopus ink crisps. The Japanese Poached Egg and Shrimp Salad had a creamy wasabi mayo dressing.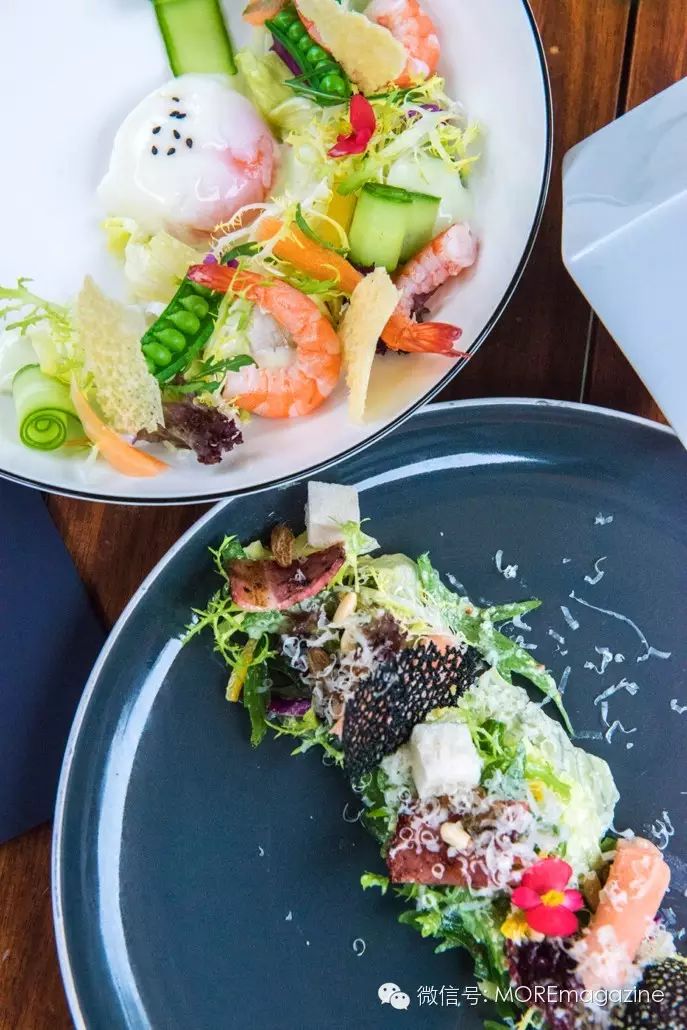 The Pumpkin Soup arrived with pumpkin, croutons, Jinhua ham and a mysterious white quenelle in a bowl. The soup was poured into the bowl at the table and the white material started to melt. I tasted it and realized that it was cream that had been frozen, most likely with liquid nitrogen. The soup was savoury, fragrant with herbs and good to the last drop.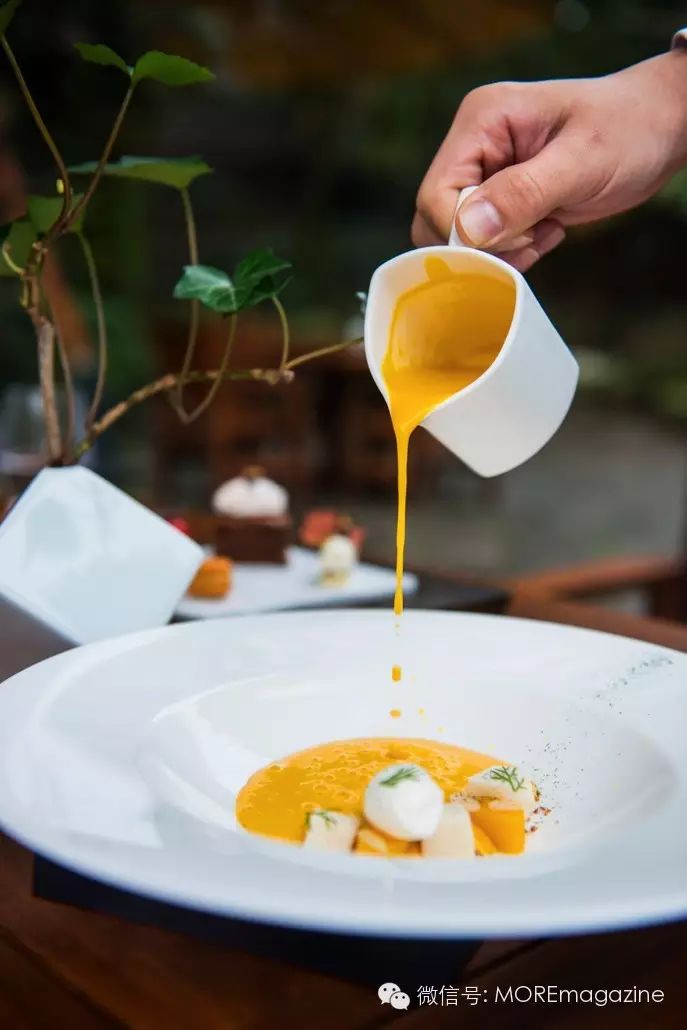 The Mushroom Consommé was beautifully presented in a square ceramic lidded pot and tasted light and delicate.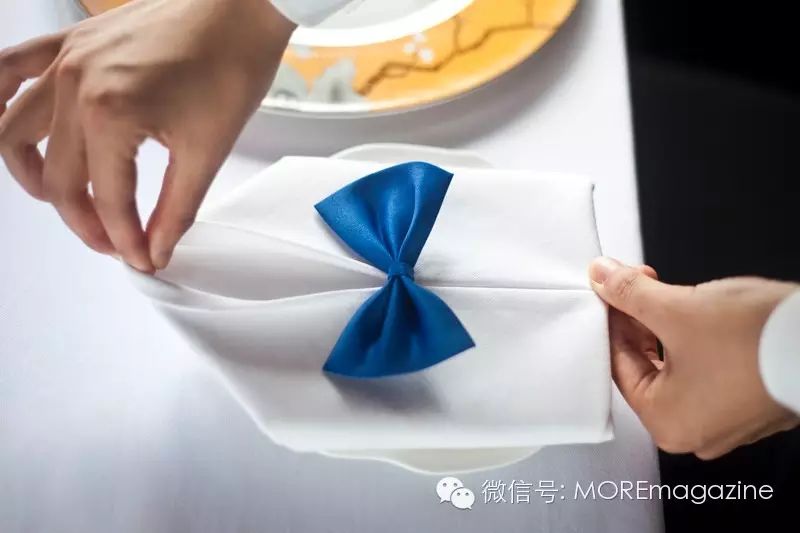 The A5 Wagyu Beef Rice had an incredibly generous amount of the expensive wagyu: it was almost equal parts beef to rice. The rice was sticky and sweet, and the tender morsels of beef were amazingly good.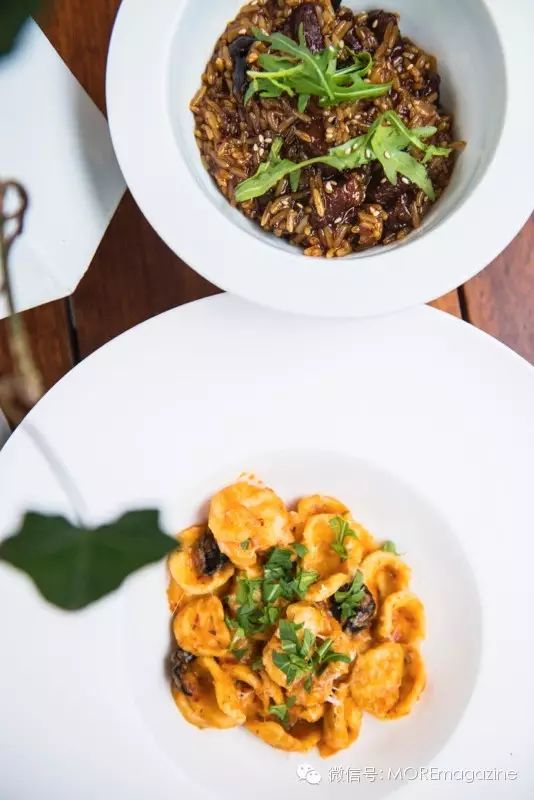 The Handmade Pasta with Lobster had a sweet and spicy Southeast Asian flavoured sauce.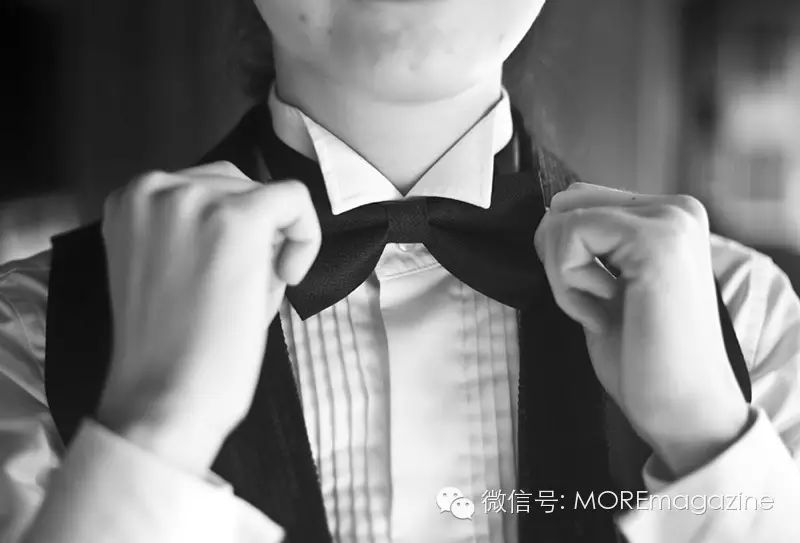 For dessert, there were macarons, truffles and fruit. The macarons and truffles are made in house and were arranged over a bed of thin wafer shards. It evoked a serene Japanese zen garden. The meringue on the macarons was fresh and crispy, and the truffles melted luxuriously in the mouth.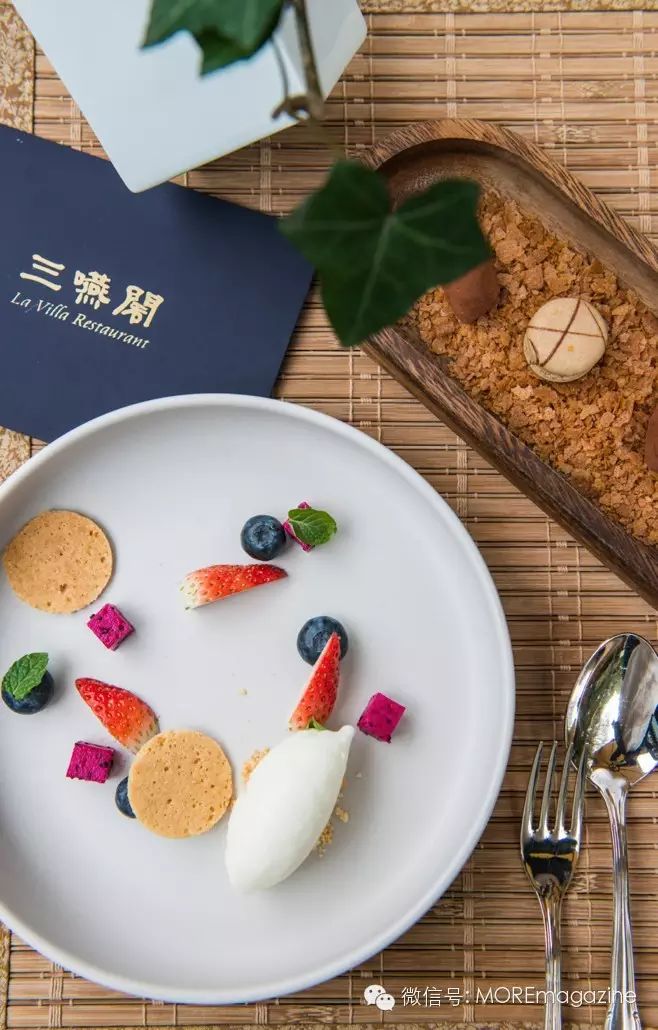 Eating this elegant lunch outdoors on the patio while admiring Seven Villa's Chinese gardens was a marvelous experience, especially for only 188RMB+. Parking is available.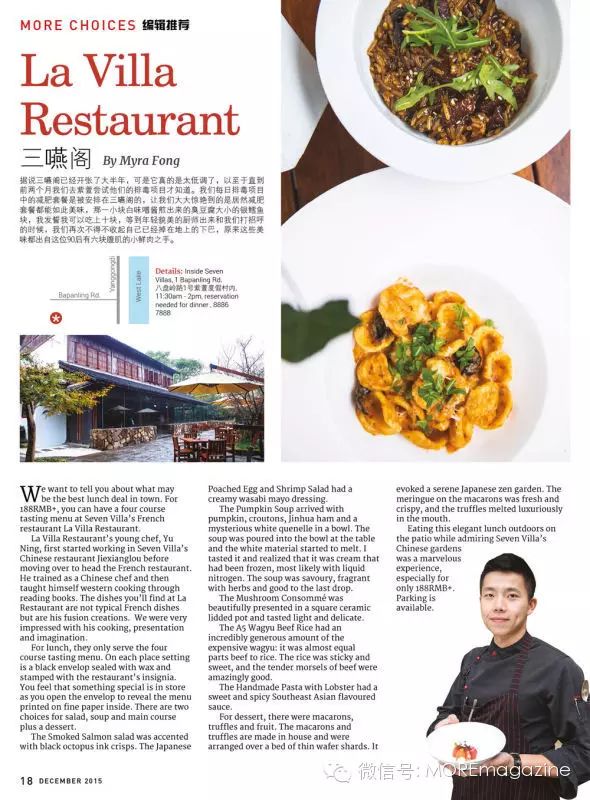 Venue: La Villa Restaurant/三嚥閣
Address: Inside Seven Villas, 1 Bapanling Road 八盤嶺路1號紫萱度假村內
Telephone: 0571 8886 7888
Opening Hours: 11:30am - 2pm (lunch), reservation needed for dinner

---
Want to know more places like this, discover more in December issue.
Want to have MORE on your phone? Simply search "More Hangzhou" in App store or open app.morehangzhou.com with your browser, it's going to make your life easier!
Follow MORE's wechat to find out what's going on around town