TS-0650 Series Video Recording System for Excellent Course
ITC Video Recording System Solution
for Excellent Course
System diagram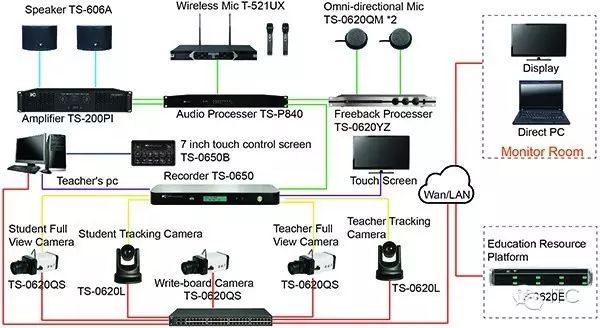 Product list
| | |
| --- | --- |
| Name | Model |
| Conference loudspeaker | TS-606A |
| UHF Wireless Mic | T-521UX |
| Omni-directional Mic | TS-0620QM |
| Stereo Power Amplifier | TS-200PI |
| Audio Processer | TS-P840 |
| Freeback Processer | TS-0620YZ |
| 7 inch touch control screen | TS-0650B |
| Recorder | TS-0650 |
| Student Full View Camera | TS-0620QS |
| Student Tracking Camera | TS-0620L |
| Education Resource Platform | TS-0620E |
System Features
* TS-0650 system is designed for the excellent course recording , it is built-in HD video and audio process technology, Video automatically tracking technology and Live system, can input the lesson video, audio and PPT from teacher's PC, composite them to a video file and upload it to recording server, students from different classrooms watch these live video simultaneously. And also can learn these course again at anywhere and anytime by using the browser to log in the Resource server;
* Support to save the recording video in 6 kinds video format, can meet the different requirement of software or website;
* Support Movie Mode and Multi-screen Mode to record the file; can adjustment the screen size and move its position manually ;
* Support directed manually, can select the area you want , this area will be zoomed automatically;
* Support 3 kinds recording model: Automatically, Semi automatically, Manually.
* Support up to 200 channels live playing simultaneously by single recorder and working with the resource server;
* Support using browser in Windows Android/IOS to log in the recorder to watch the live video.
About ITC
Professional Fields:
Conference system, Pa system(IP system), Professional Sound system, HD Video conference system, EVAC system, Mutimedia Central Matrix Control System etc.
Facebook:
https://www.facebook.com/gzitc/
Linkedin:
https://www.linkedin.com/company/guangzhou-itc-electronics-technology-limited/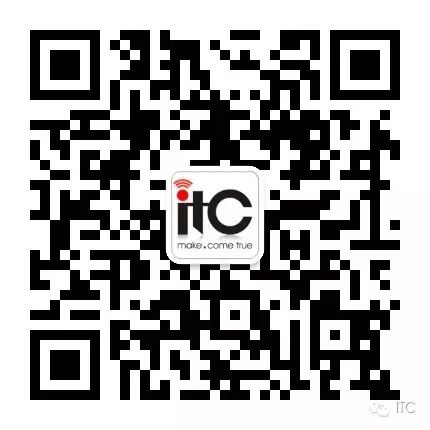 Long press and pay attention to us.