Heroic Pedestrians Lift Bus Off Elderly Man in China (Video)
Tap "ChinaWire" !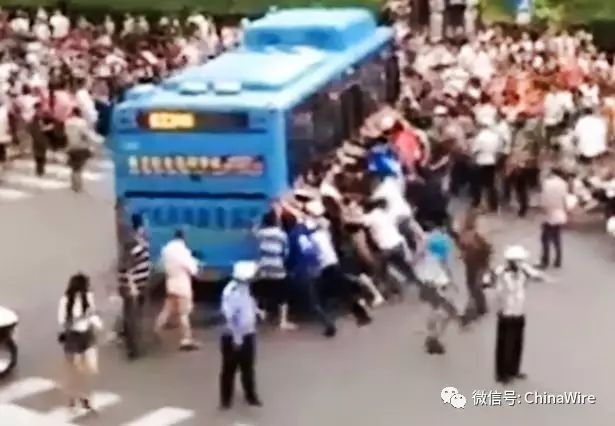 source: mirror.co.uk

These inspiring scenes show the moment hordes of shocked onlookers lifted a bus to free an elderly man trapped underneath.
The man in his 70s became lodged underneath one of the vehicle's wheels and more than 20 motorists and pedestrians desperately tried to save the victim.
According to witnesses, he was cycling in front of the number 823 bus when he was knocked over and run over by one of the wheels in east China's Fujian province.
Half the man's body was trapped under the heavy bus while the rest of his body remained free.
Instead of asking the bus driver to reverse off the man, which may have caused further injuries, the police the citizen heroes banded together and pushed the bus off its wheel.
They made enough room for the man to be pulled out from under the bus and he was later carried onto an ambulance and treated for his injuries.
The touching scenes have now going viral on social media sites where the Good Samaritans are being credited with saving the victim's life.
Fuqing city police are still investigating the incident, which is being treated as a regular traffic accident.
Check out www.echinawire.com for more content!
---
Subscribe by scanning below QR codes to get started.


A convenient way for foreigners and Chinese to buy real foreign imported products while living in China. Stay with ShopWire as we expand our products range. You can use either WeChat wallet or PayPal to purchase our products!
---

ChinaWire is the largest English WeChat Official account in China with over 150k subscribers. We post articles related to china and around the world as well as a survival mandarin section to help foreigners improve their Chinese skills.
---

WorldWire is a diversified account which mainly publishes breaking world news, entertainment, lifestyle, culinary and sports news from around the world.
---

Shop在線 is the Chinese version of ShopWire mainly for Chinese Customers. You can also use it if you are a foreigner with great chinese skills or introduce it to your Chinese friends. We guarantee only real imported products are sold on our shop.