Flight Delayed After Woman Tosses Coins in Engine for Luck
Tap "ChinaWire" !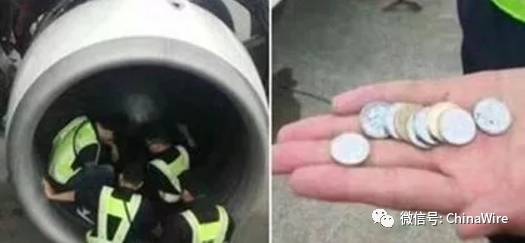 source: torontosun.com

An elderly woman delayed a flight for over four hours in China after chucking coins into the plane's jet engine.
The reason: She chucked them in "for good luck."
While boarding a China Southern Airlines flight at Shanghai's Pudong Airport set to leave at 12:40 p.m. on Tuesday, the 80-year-old woman threw nine coins into the turbine as part of a blessing.
Airline staff was notified about the incident, which forced already boarded passengers to evacuate the plane.
The flight eventually departed four hours later, after the engine was thoroughly examined and deemed safe.
According to Shanghai Daily, one of the nine coins thrown found its way inside the engine. The total value of the coins was 20 cents US.
The senior was taken away by police after the incident. They say she had no mental health issues or prior criminal history and that the coin tossing was strictly done for religious reasons.
There is no word yet on whether China Southern Airlines will take further legal action against the woman.
Check out www.echinawire.com for more content!
---
Subscribe by scanning below QR codes to get started.


A convenient way for foreigners and Chinese to buy real foreign imported products while living in China. Stay with ShopWire as we expand our products range. You can use either WeChat wallet or PayPal to purchase our products!
---

ChinaWire is the largest English WeChat Official account in China with over 150k subscribers. We post articles related to china and around the world as well as a survival mandarin section to help foreigners improve their Chinese skills.
---

WorldWire is a diversified account which mainly publishes breaking world news, entertainment, lifestyle, culinary and sports news from around the world.
---

Shop在線 is the Chinese version of ShopWire mainly for Chinese Customers. You can also use it if you are a foreigner with great chinese skills or introduce it to your Chinese friends. We guarantee only real imported products are sold on our shop.