Chinese man wins forced gay conversion therapy lawsuit
Press "PandaGuidesOfficial"!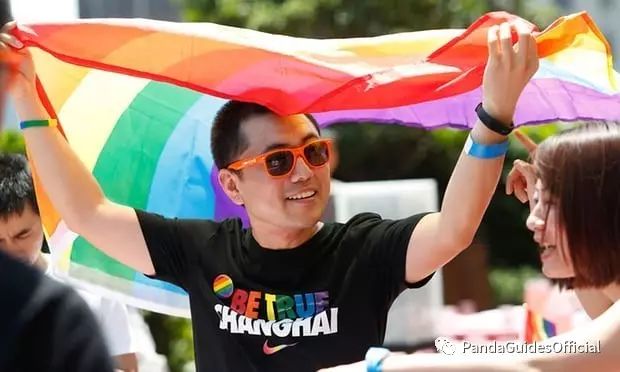 A man holds a rainbow flag at Shanghai's annual gay-pride festival.
A gay man in central China has successfully sued a psychiatric hospital over forced conversion therapy, in what activists are hailing as the first such victory in a country where the LGBT rights movement is gradually emerging from the fringes.

A court in Zhumadian, in Henan province, has ordered a city psychiatric hospital to publish an apology in local newspapers and pay the 38-year old man 5,000 yuan (£570) in compensation.
The man, surnamed Yu, had been forcibly admitted to the institution in 2015 by his wife and relatives and diagnosed with "sexual preference disorder," court documents show. He was forced to take medicine and receive injections before walking free after 19 days.
China removed homosexuality from its list of recognised mental illnesses more than 15 years ago but stories are rife of families admitting their relatives for conversion therapy.
Gay rights activists say the case marks the first victory against a public psychiatric institution for compulsory therapy against a patient's will.
In 2014 a Beijing man named Peng Yanhui checked himself into a private conversion clinic to investigate its advertised electroshock treatments. Peng, a gay rights activist who goes by Yanzi, then sued the clinic and won a payout for the suffering he endured in treatment.
The recent ruling in Zhumadian "confirmed the illegality of forced treatments," Peng said. "It's time for China to enact laws to prohibit forced gay conversion therapy."
The Zhumadian hospital did not immediately provide comment when reached by phone.
While few Chinese have religious objections to homosexuality, the country's authoritarian politics and conservative society's preference for marriage and childbearing create subtle barriers that keep most gay people in the closet.
Vibrant gay communities exist in large cities including Shanghai, which has an annual gay pride parade, and depictions of same-sex relationships are increasingly seen in Chinese films and television.
Source: https://www.theguardian.com
Editor's Picks
25 most difficult languages to learn in the world


Top 10 countries with the most beautiful girls in the world


Fake US embassy shut down after 10 years


Japan's porn industry is in crisis

Seven websites to learn Chinese for free


Premarital sex in China: new survey paints surprising picture


Fake alcohol in China and how to avoid it


China to be hit with coldest winter in 4 years


Those with work visas can skip the line at immigration


7 of the best websites to watch Chinese and foreign movies

Love is in the little things


15 sentences that will change your life
☞ Below is a paid advertisement
We are an English teacher supplier who sends native experienced English teachers to Chinese homes for private tutoring.

Please note that we recruit the teachers from the following countries ONLY: USA, UK, Canada, Australia, New Zealand, Ireland and South Africa.
If you are a native teacher now based in any city in China, please don't hesitate to add WeChat: 12753351 for inquiry.