Man Stuck in Flood Saved by Heroic Workmates (Video)
Tap "ChinaWire" !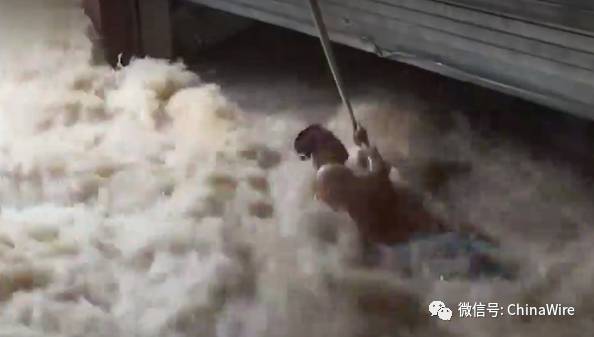 source: abc.net.au

An incredible act of bravery and ingenuity has saved a trapped man from rapidly rising flood waters with only moments to spare.
The scene was a garage in Yangshuo County in the south of China, where in an attempt to save a number of cars from water damage, the man found himself in serious danger.
Fast-moving water began to fill the small garage, trapping the man and giving him only minutes to find a way out before he was completely submerged. Fortunately, some colleagues were on hand to help.
Using a hastily crafted raft, the group of rescuers moved closer to the man and attempted to use a fire hose to fish him out of the garage — but the hose was a couple of feet too short.
By now, the water had reached neck-level and knowing the man surely had only minutes to find an escape, the rescuers came up with a last-ditch and desperate plan.
The fire hose was wrapped around the waist of a brave colleague, who was then lowered precariously into the rushing water. The trapped man was able to grab hold of the hose and was pulled to safety just as the water began to reach the ceiling of the garage.
"I didn't think how dangerous it is to rescue him," Huang Shuyu, the man's rescuer, said.
"I felt not so afraid, but I really wanted to rescue the colleague from floodwater with others. You see, the flood water was soaring.
"Only two or three minutes after we saved him, the flood water had overwhelmed the parking lot. So our rescue was launched right in time."
Workplace camaraderie at this particular garage has never been stronger.
Check out www.echinawire.com for more content!
---
Subscribe by scanning below QR codes to get started.


A convenient way for foreigners and Chinese to buy real foreign imported products while living in China. Stay with ShopWire as we expand our products range. You can use either WeChat wallet or PayPal to purchase our products!
---
ChinaWire is the largest English WeChat Official account in China with over 150k subscribers. We post articles related to china and around the world as well as a survival mandarin section to help foreigners improve their Chinese skills.
---
WorldWire is a diversified account which mainly publishes breaking world news, entertainment, lifestyle, culinary and sports news from around the world.
---

Shop在線 is the Chinese version of ShopWire mainly for Chinese Customers. You can also use it if you are a foreigner with great chinese skills or introduce it to your Chinese friends. We guarantee only real imported products are sold on our shop.