"Jump if you love me": Proposal Gone Wrong in Chongqing (Video)
Tap "ChinaWire" !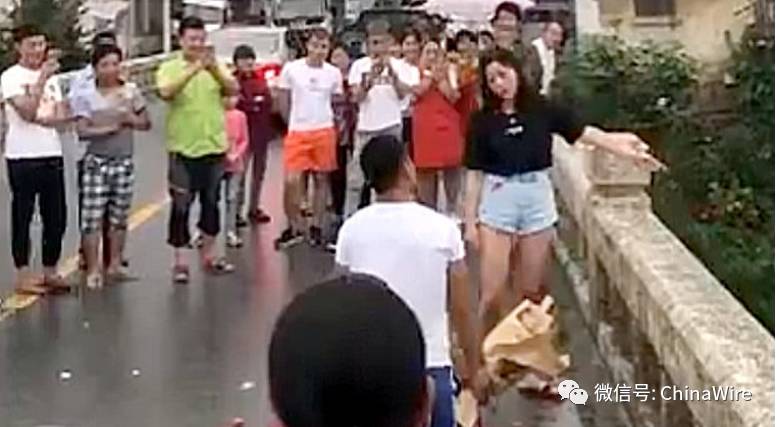 source: rocketnews24.com

Marriage proposals in public can be a risky affair, sometimes ending with teary joy or quickly turning into awkward rejections. It's a huge leap of faith, and no one wants to screw it up.
Despite that risk though, a few days ago one man's love was tested when he went down on bended knee and popped the question to his beloved on a bridge overlooking a river in Chongqing, China.
The man scattered a bunch of rose petals on the ground to perhaps set a romantic mood. Naturally, this has attracted a bunch of onlookers.
"If you really do love me, then jump into the river to prove it!" was the woman's answer. We don't know what possessed her to utter such an ultimatum; perhaps there wasn't any real love in the first place.
Driven into a corner, our man looked somewhat deflated, hoping to find some way to wriggle out of the situation. The onlookers were not helping though, as they began to chant, "Jump! Jump! Jump!"
Instead of backing away and thinking twice about marrying a woman who wanted him dead, the man threw down his bouquet of roses, kicked off his slippers, and promptly leapt into the river. It was all so effortless, you would have thought he was just heading to the nearest convenience store.
Not everyone in the crowd was heartless though, as someone quickly threw the poor chap a tire just in case, you know, he can't swim.
Check out www.echinawire.com for more content!
---
Subscribe by scanning below QR codes to get started.


A convenient way for foreigners and Chinese to buy real foreign imported products while living in China. Stay with ShopWire as we expand our products range. You can use either WeChat wallet or PayPal to purchase our products!
---
ChinaWire is the largest English WeChat Official account in China with over 150k subscribers. We post articles related to china and around the world as well as a survival mandarin section to help foreigners improve their Chinese skills.
---
WorldWire is a diversified account which mainly publishes breaking world news, entertainment, lifestyle, culinary and sports news from around the world.
---

Shop在線 is the Chinese version of ShopWire mainly for Chinese Customers. You can also use it if you are a foreigner with great chinese skills or introduce it to your Chinese friends. We guarantee only real imported products are sold on our shop.