American Beef Back in China After 14 Years
Tap "ChinaWire" !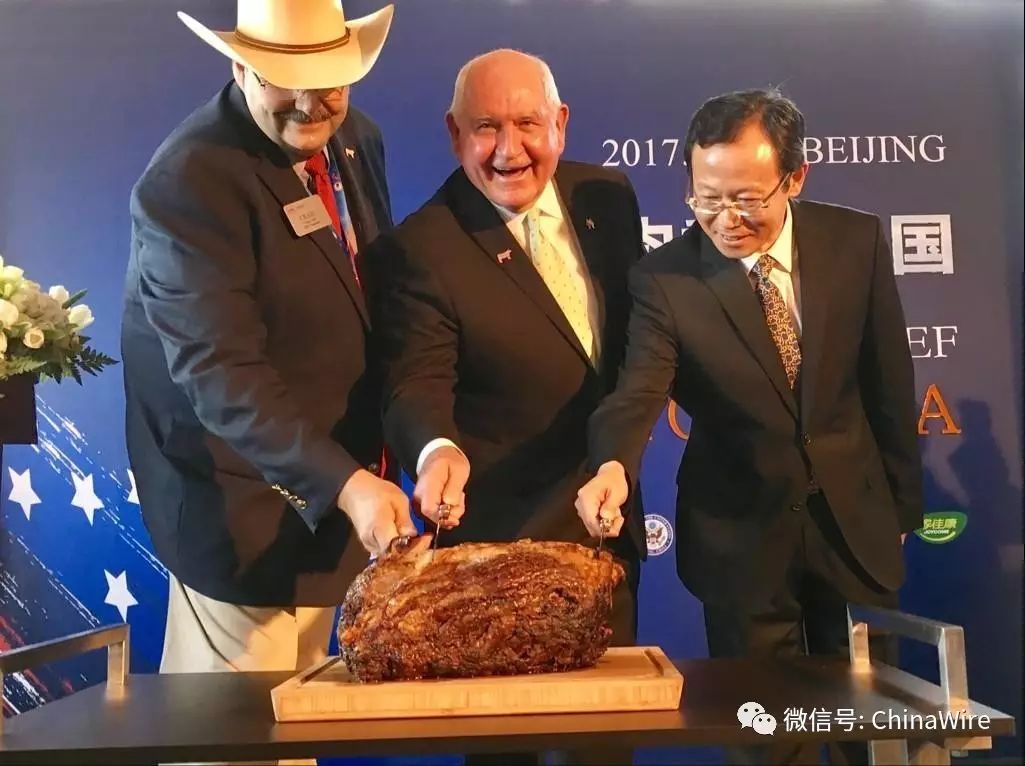 source: cattlenetwork.com

U.S. beef has made its way back to grocery stores and menus in the most populated country in the world, China. On June 30, a delegation of U.S. trade representatives including Secretary of Agriculture Sonny Perdue and Ambassador to China Terry Branstad celebrated the return of U.S. beef in Beijing.
"Beef is a big deal in China and I'm convinced that when the Chinese people get a taste of U.S. beef, they're going to want more of it. These products coming into China are safe, wholesome, and very delicious," Perdue says.
At a ceremony in Beijing, a prime rib from Nebraska was cut into marking the arrival of U.S. beef by Perdue; Craig Uden, president of National Cattlemen's Beef Association; and Luan Richeng, of state-owned Chinese importer COFCO.
"Restoring U.S. beef access to China has been a top priority for many years, and we are excited to have the opportunity to provide Chinese consumers with safe, tender, and delicious U.S. beef once again," Uden says.
Walmart's Sam's Club store in Beijing was the first retail outlet in China to obtain a shipment of beef from the U.S. It hit the shelves on June 27.
"For the first time in 13 years, Sam's Club is bringing prime- and choice-grade short ribs from Nebraska to China, all delivered using a 30-hour cold chain," according to a statement by Walmart.
Beef trade with China has been halted since late 2003 after the discovery of bovine spongiform encephalopathy in the U.S. During the past 13.5 years, China has become a major consumer of beef going from $275 million in beef imports 2012 to $2.5 billion in 2016.
A deal between the U.S. and China was brokered by the Trump Administration on May 11 part of the U.S.-China 100-Day Action Plan.
Check out www.echinawire.com for more content!
---
Subscribe by scanning below QR codes to get started.


A convenient way for foreigners and Chinese to buy real foreign imported products while living in China. Stay with ShopWire as we expand our products range. You can use either WeChat wallet or PayPal to purchase our products!
---
ChinaWire is the largest English WeChat Official account in China with over 150k subscribers. We post articles related to china and around the world as well as a survival mandarin section to help foreigners improve their Chinese skills.
---
WorldWire is a diversified account which mainly publishes breaking world news, entertainment, lifestyle, culinary and sports news from around the world.
---

Shop在線 is the Chinese version of ShopWire mainly for Chinese Customers. You can also use it if you are a foreigner with great chinese skills or introduce it to your Chinese friends. We guarantee only real imported products are sold on our shop.