Turtle Killed by "Good Luck Coins" in Hunan Aquarium
Tap "ChinaWire" !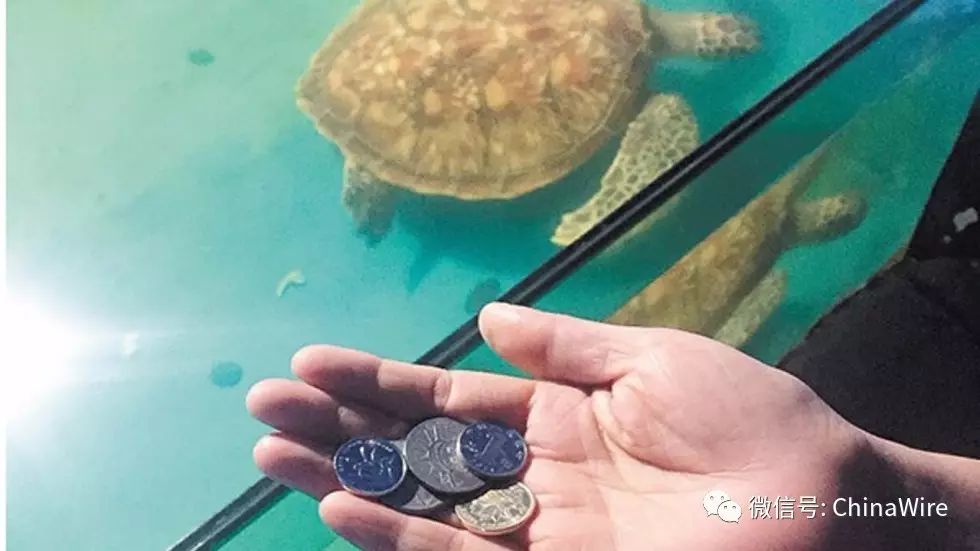 source: carbonated.tv

Good luck coins are not just disrupting flights, but now have claimed the life of a turtle at an aquarium in Hunan province, China.
A 20-year-old turtle choked to death after it started having breathing problems and stopped eating a week before. After the animal died, a necropsy showed the remains of plastic bags in the stomach and a coin stuck in its throat.
According to Zhao Chenggang, the aquarium's manager, the turtle died at a very young age, as usually the animals live up to 150 to 200 years. However, at 20 years old, this unfortunate animal's life was extremely short.
According to a report by Thepaper.cn, a sign outside the turtle enclosure read "don't feed the animals." However, despite the warning, multiple things, including coins and plastic bags, can be seen at the bottom of the aquarium.
In China, people believe turtles are a symbol of good health, primarily because of their long life. As a result, they tend to make a wish on a coin and throw it in a pond that houses turtles or tortoises.
But unfortunately, these beliefs are becoming extremely hazardous for animals.
Recently, an 80-year-old woman managed to delay a flight by five hours, had 150 passengers evacuated and prompted a search of the China Southern Airlines aircraft that she was supposed to board with her family, after she tossed coins at the plane.
Before hopping aboard the plane, the woman hurled nine coins at the plane for good luck. Some passengers saw her doing this and alerted the airport authorities. Passengers were evacuated and a thorough examination of the plane undertaken.
Check out www.echinawire.com for more content!
---
Subscribe by scanning below QR codes to get started.


A convenient way for foreigners and Chinese to buy real foreign imported products while living in China. Stay with ShopWire as we expand our products range. You can use either WeChat wallet or PayPal to purchase our products!
---
ChinaWire is the largest English WeChat Official account in China with over 150k subscribers. We post articles related to china and around the world as well as a survival mandarin section to help foreigners improve their Chinese skills.
---
WorldWire is a diversified account which mainly publishes breaking world news, entertainment, lifestyle, culinary and sports news from around the world.
---

Shop在線 is the Chinese version of ShopWire mainly for Chinese Customers. You can also use it if you are a foreigner with great chinese skills or introduce it to your Chinese friends. We guarantee only real imported products are sold on our shop.