Tap "ChinaWire" !

洪水 - Hóngshuǐ - Flood
Tens of Thousands Evacuated as Deadly China Floods Burst Rivers' Banks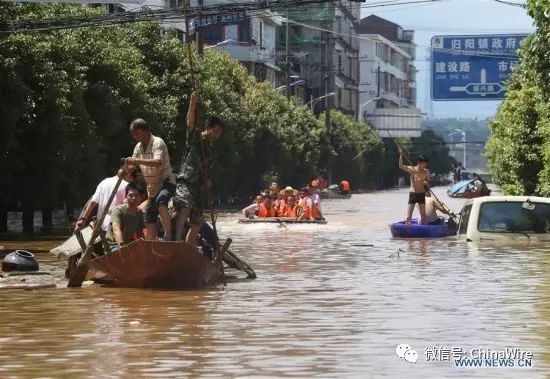 source: weather.com

Torrential rain in southern China spawned flooding and mudslides that killed at least 21 people and caused rivers to burst their banks, according to state-run media.
Parts of China's Guangxi and Hunan provinces picked up 8 to 20 inches of rain in seven days ending July 1, according to a NOAA CPC analysis, said weather.com meteorologist Jon Erdman.
At least 16 people were killed and 10 are missing in the Guangxi region of China as of Sunday, Xinhuanet reports. Roughly 600 homes collapsed and another 6,500 were damaged after flooding inundated thousands of acres of land. More than 90,000 were forced from their homes in Guangxi since Saturday.
Rainfall also triggered disaster Saturday in nearby Hunan province when a mudslide killed five people and left another four missing, AFP reports. More than 300,000 people have been forced to evacuate across the province since the torrential rainfall began on June 22, Xinhua reports. The flooding and landslides have destroyed more than 6,000 homes there.
More than 60 rivers in southern China surpassed warning levels as of Sunday, according to Reuters.

The Xiangjiang River exceeded its record flood level in Changsha, Hunan's capital, according to Xinhuanet. The major tributary of the Yangtze River inundated homes and roads, uprooted trees and damaged cars.
By 6:30 a.m. local time, the water's level reached 129 feet, beating the previous record of 128 feet set in 1998. The water is already 10 feetwarning level and is expected to rise as heavy rain continues.
Precautions are being taken throughout the area to lessen the blow of the flooding.
Hundreds of city officials and residents in the Yuhua district worked overnight Saturday to build a wall of 65,000 sandbags in an effort to keep water from streaming into the city, Xinhuanet reports. In Shaoyang, Yiyang and Huaihua, more than 2,000 paramilitary police assisted locals with repairing damaged dikes and evacuated more than 7,000 people.
A widespread blackout was reported in Guangxi, Reuters reports. Power was restored to half of the affected area by the morning.
Check out www.echinawire.com for more content!
You can click the READ MORE button to study survival mandarin
---
Subscribe by scanning below QR codes to get started.


A convenient way for foreigners and Chinese to buy real foreign imported products while living in China. Stay with ShopWire as we expand our products range. You can use either WeChat wallet or PayPal to purchase our products!
---
ChinaWire is the largest English WeChat Official account in China with over 150k subscribers. We post articles related to china and around the world as well as a survival mandarin section to help foreigners improve their Chinese skills.
---
WorldWire is a diversified account which mainly publishes breaking world news, entertainment, lifestyle, culinary and sports news from around the world.
---

Shop在線 is the Chinese version of ShopWire mainly for Chinese Customers. You can also use it if you are a foreigner with great chinese skills or introduce it to your Chinese friends. We guarantee only real imported products are sold on our shop.