WeChat and Alipay Lead Charge Into Cashless Society
Tap "ChinaWire" !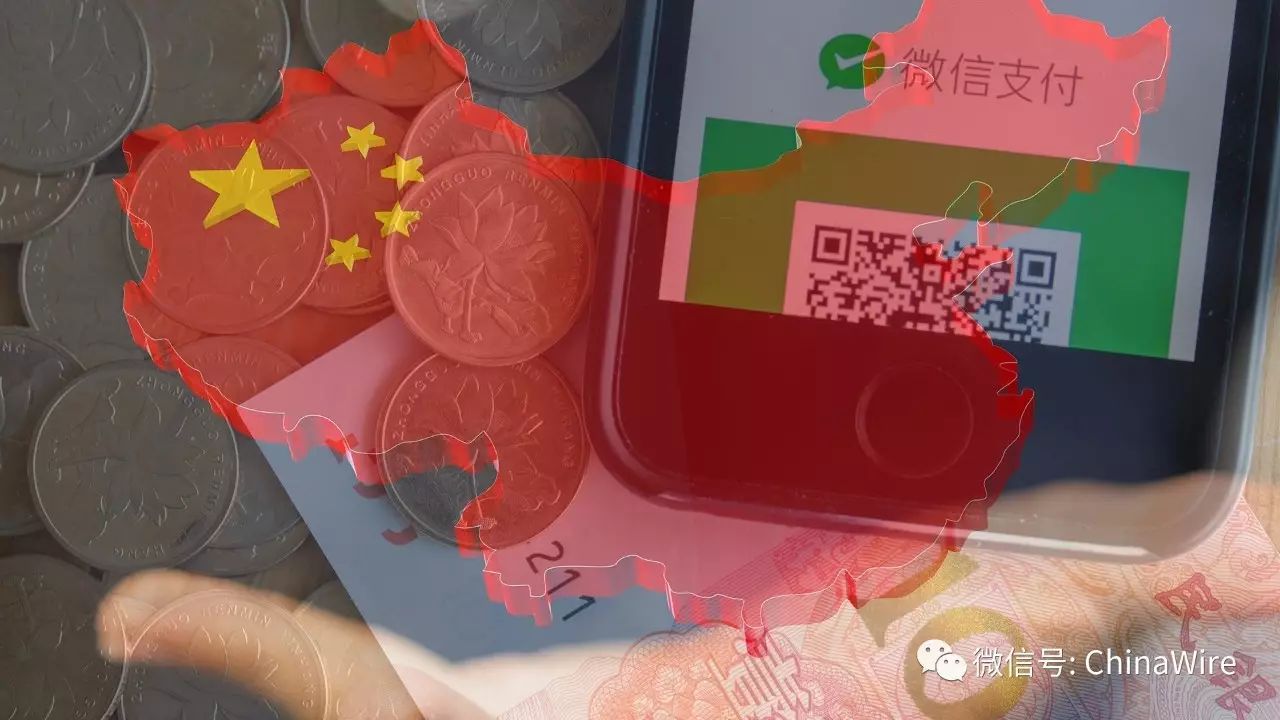 source: truenews.com

WeChat is a multi-functioning mobile Chinese social media app with 938 million active users globally (almost 1/7 of the world's population), and 494 million in China alone, making up 79.1% of all mobile phone messaging app users in the country.
According to Cathy Boyle, eMarketer's principal analyst of the mobile industry, "WeChat is by far the most advanced mobile messaging app worldwide in terms of its functionality and the services it offers users and businesses."
Mrs. Boyle believes the only short fall for WeChat is its lack of global reach, but the company is currently on a mission to attract a global audience to its app, and plans use WeChat Pay, its mobile payment app, to grow its international operations and expansion into new markets.
WeChat Pay works by syncing an existing bank account with the app, and allowing the user to buy, sell, or trade without ever changing currencies or utilizing physical cash. Once the apps installed, a user can scan a QR code on a product with their smartphone, which then directly bills their connected bank account.
WeChat Pay's director of global operations Grace Yin told Reuters at the RISE conference in Hong Kong this week that their parent company, Tencent Holdings Ltd, has applied for a license in Malaysia to offer local payment services through its app.
This marks the first time WeChat Pay has attempted to expand past mainland China and Hong Kong. Mrs. Yin said Malaysia was chosen due to its large pre-existing Chinese population.
WeChat Pay's parent company Tencent is China's biggest gaming and social media firm by revenue, and separate than WeChat Pay, which is embedded into WeChat, they also own QQ Wallet, which gives them a total of 600 million monthly active users on both electronic payment platforms.
Reuters reporter Sijia Jiang wrote that WeChat Pay and Alipay, Alibaba Group Holding Ltd's electronic payment app, are "turning China cashless by enabling payments or money transfers at the convenience of a code scan."
According to consultancy Analysys, WeChat Pay and Alipay dominate China's mobile banking market, which totaled 18.8 trillion yuan or $2.76 trillion worth of transactions in the first three months of 2017.
This allure has led to Silicon Valley payment startup Stripe striking a partnership with the Chinese duo to enable merchants using its platform globally to accept payments from Chinese customers.
Starting Sunday, July 10th, the partnerships began allowing online merchants using Stripe to integrate the ability for Chinese users to pay with Alipay and WeChat Pay on their websites, the company said.
Cashless Society Trend in China
According to a report in the Financial Times, the Chinese spent $5.5 trillion through mobile payment platforms in 2016, about 50 times the amount in the U.S. This is especially shocking because China was the first country in the world to introduce paper money.
This trend is very obvious in the eastern Chinese city of Hangzhou, which is home to the world's largest online shopping platform, Alibaba.
According to NPR reporter Anthony Kuhn who recently traveled to Hangzhou, he was able to ride buses and subways purely using Alipay. At the cities major Buddhist temple, visitors are able to make electronic donations through the payment app, and even musicians performing on the street can be paid through the app by scanning a QR code on a change box next to the performer.
A local noodle shop owner said about 50% of his customers pay for their meals with their cell phones. This trend wouldn't have been evident a few decades ago, because the Chinese population was very resistant to even adopting credit cards.
According to Chinese Academy of Social Sciences research fellow Cheng Lian, the Chinese people didn't want credit cards because they didn't want to owe anyone money." They saw the use of credit cards as incurring debt.
The Chinese payment services overcame this obstacle by facilitating people to link their phone to their debit cards instead of a credit card, so they paid only with the money readily available in their bank accounts. This also bypassed the often-unreliable data networks used by credit card payment terminals, by utilizing the cellular networks smartphones use.
Cheng Lian told NPR that mass adoption of cashless payments could go wrong, and unduly limit the access to services for those who refuse to adopt the system. Mr. Cheng also said there could be an issue with governments and corporations gaining too much power to invade people's privacy.
But Mr. Cheng doesn't see the latter as becoming a major issue, stating:
"Folks at the bottom of society feel that what's important is getting enough to eat and making money. They don't see matters of privacy as so important."
Other than Hangzhou, other major Chinese cities such as Beijing and Shanghai are also heavily adopting cashless payment systems.
Yuhan Xu, a 30 year-old Shanghai-based radio researcher who has used her smartphone to pay for almost all her purchases since early 2016, told Motherboard, "Pretty much every shop, restaurant and bar accepts WeChat and/or Alipay these days. Even a small pancake stall does that," she added. "I don't need to carry cash."
A survey recently conducted by Beijing Youth Daily showed that, like Yuhan Xu, 70 percent of internet users polled thought carrying cash was not necessary.
In China, 710 million people out of their total population of 1.35 billion are internet users, meaning a mass adoption of cashless systems here, even if its just among the digitally savvy, could create a waterfall effect everywhere nations do business with the Chinese.
Check out www.echinawire.com for more content!
---
Subscribe by scanning below QR codes to get started.


A convenient way for foreigners and Chinese to buy real foreign imported products while living in China. Stay with ShopWire as we expand our products range. You can use either WeChat wallet or PayPal to purchase our products!
---
ChinaWire is the largest English WeChat Official account in China with over 150k subscribers. We post articles related to china and around the world as well as a survival mandarin section to help foreigners improve their Chinese skills.
---
WorldWire is a diversified account which mainly publishes breaking world news, entertainment, lifestyle, culinary and sports news from around the world.
---

Shop在線 is the Chinese version of ShopWire mainly for Chinese Customers. You can also use it if you are a foreigner with great chinese skills or introduce it to your Chinese friends. We guarantee only real imported products are sold on our shop.