Daily Mandarin - Confucius AMA
Tap "ChinaWire" !

不恥下問 - bùchǐxiàwèn - Idiom. to not feel ashamed of asking questions and learning from one's subordinates

If you want to learn, you must not beasking questions.
你如果想學就要不恥下問.
nǐ rúguǒ xiǎng xué jiù yào bùchǐxiàwèn.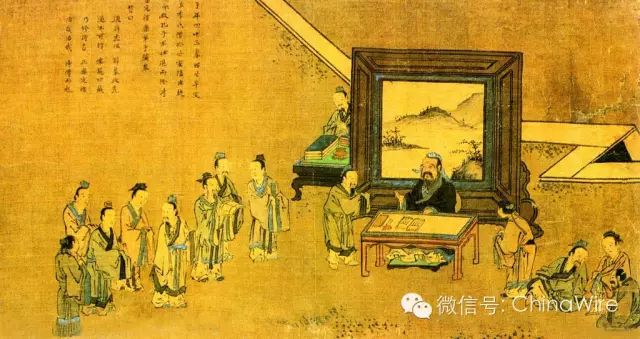 The most influential and well known of Chinese philosophers, Confucius lived during the Spring and Autumn Period (approx. 771 to 476 BC). He had an estimated two thousand disciples and students. He was greatly respected and many consulted him for his knowledge. His famous works, The Analects, were passed down from generation to generation.

An inquisitive man, Confucius was notlearning from those below his social status. One day when Confucius went to the temple to worship his ancestors he began asking other vistors many questions.

"Confucius, since you are such a knowledgable man, why is it that you still ask others so many questions?" someone asked with a laugh.

"If you have questions about things, then you should ask others" Confucius simply answered.

And again, when his students asked: "After Kong Yu died, why is it that people honored him with the title of Kong Wenzi (meaning Scholar Kong)?" He explained that "Only those who are intelligent, studious, and are unashamed to learn from their subordinates are worthy of being called scholars."

The idiom " 不恥下問" means that we should be modest and eager to learn from everyone, including those who are beneath us in social status.
Check out www.echinawire.com for more content!
You can click the READ MORE button to study survival mandarin
---
Subscribe by scanning below QR codes to get started.


A convenient way for foreigners and Chinese to buy real foreign imported products while living in China. Stay with ShopWire as we expand our products range. You can use either WeChat wallet or PayPal to purchase our products!
---
ChinaWire is the largest English WeChat Official account in China with over 150k subscribers. We post articles related to china and around the world as well as a survival mandarin section to help foreigners improve their Chinese skills.
---
WorldWire is a diversified account which mainly publishes breaking world news, entertainment, lifestyle, culinary and sports news from around the world.
---

Shop在線 is the Chinese version of ShopWire mainly for Chinese Customers. You can also use it if you are a foreigner with great chinese skills or introduce it to your Chinese friends. We guarantee only real imported products are sold on our shop.