Hatchery Back With Free Range Rotisserie Chicken Concept
Following the success of their Common Burger concept and after an extended hiatus that had us biting our fingernails in anticipation, the talented Hatchery team is back and bringing a new concept to Beijing: Bird on a Wire.

Bird on a Wire (birdonawire.co.nz) is a popular free range rotisserie chicken brand with three restaurants based out of Auckland, New Zealand. This co-op represents a first for both parties – the first time Hatchery has partnered with an international SME and the first time Bird on a Wire has expanded outside of their native New Zealand. Why Bird on a Wire? Hatchery co-founder Alex Worker explains that "we love what Bird on a Wire do as leaders for ethically-sourced chicken in New Zealand and believe there is an exciting market opportunity for them here in China."

In addition to introducing a new concept to Beijing, Hatchery are also hoping to educate the city's diners about the importance of free range chicken. "What qualifies as a free range chicken?" you ask. Standards and definitions do vary by country but the general consensus is that free range chickens are allowed to roam outside to the hearts' content during the day, rather than being cooped up in a cage like battery chickens. They can also root out their own food, which reduces the amount of processed feed they need to consume, as well as the steroids, hormones, and antibiotics that often come along with it. Free range chicken is not yet mainstream in China but both sides are passionate about doing what they can to change that. As Bird on a Wire co-founder Ben Grant says: "If we can help China progress in their ethically-sourced food journey and share some of our knowledge from New Zealand, that's a big tick in our books for our international strategy."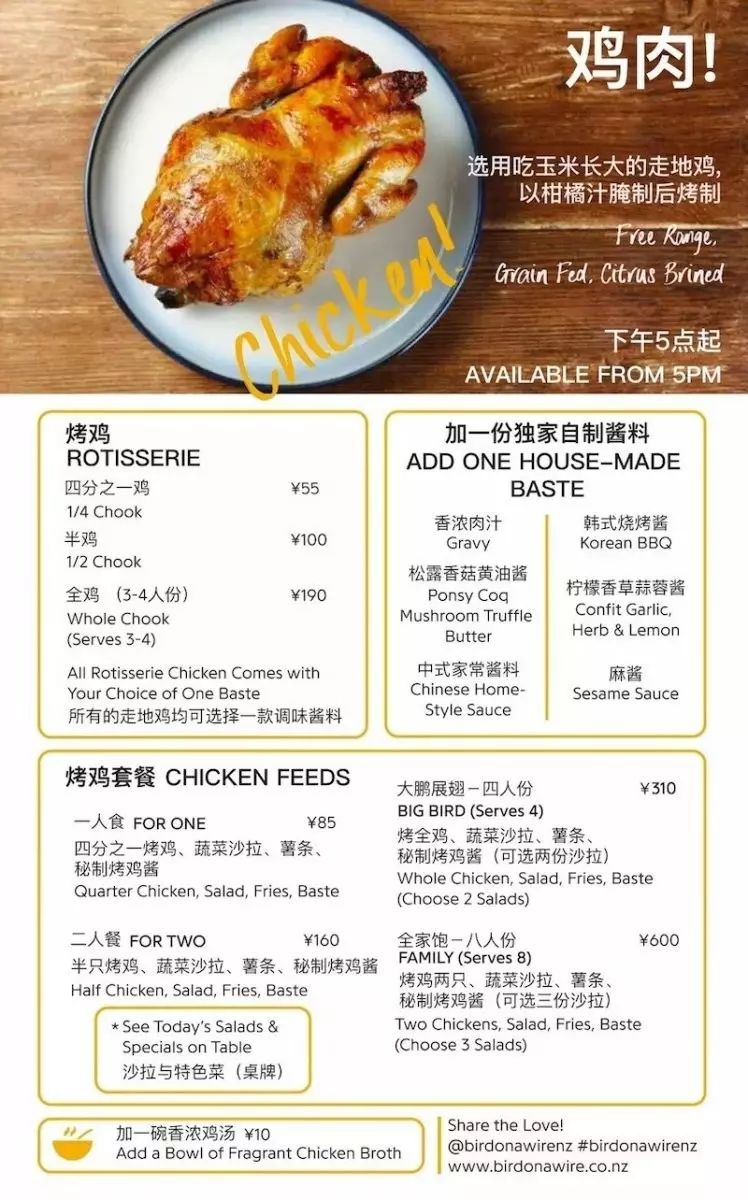 Bird on a Wire's rotisserie chicken menu


Bird on a Wire's chickens are brined for two days and roasted for 1.5 hours. Diners can order a quarter (RMB 55), half (RMB 100), or whole (RMB 190) bird, all of which come with your choice of "baste," such as mushroom-truffle butter, Korean barbecue, or just plain chicken gravy. Back in New Zealand, Bird on a Wire have also become known for their healthy, creative salads and sides, and you can choose to have your bird with said salad, as well as fries, in a variety of meal combos serving one to eight people.

Aside from the rotisserie chickens, the rest of the menu also has a distinctly avian focus, with dishes such as panko-crusted chicken schnitzel (RMB 80), chicken noodle soup (RMB 25), and a pulled chicken burger with tarragon mayo (RMB 45) available at both lunch and dinner.

Hatchery is open 8am-10.30pm, seven days a week, serving all-day breakfast from 8am-5pm; mains, burgers, and everything else from 11am-close, and weekend brunch from 11am-5pm (shout out to those extra long brunch hours). Note that the rotisserie chickens are only available from 5pm. For full menu details, check out Hatchery's WeChat (ID: HatcheryIncubator).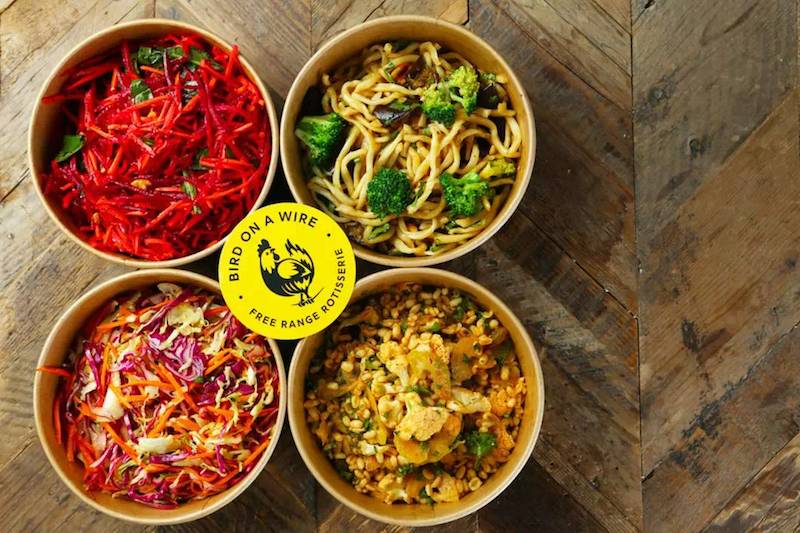 Bird on a Wire have become known in New Zealand for their changing selection of healthy salads


Of course, it wouldn't be an opening without a promotion and as such, Hatchery is offering all diners who spend RMB 50 or more per person a free beer, house wine, house mixer or mocktail.

Not only that, but if you share their post about free range chickens on your WeChat moments you will be entered into a draw to win a Big Bird meal for four people, valued at RMB 300. A good excuse (if you needed one) to share the love for ethically raised, better tasting chickens.

Photos courtesy of Hatchery/Bird on a Wire

---
Top Stories This Week:
Road Construction to Close 3rd Ring Road This Summer

Streetcars Return to Beijing After Half-Decade Absence

These Are the Top 12 Beijing Burgers You Need to Eat
Beijingers Are Buzzing About:

300 Beers at the China Intl Craft Beer Fest, Jul 8-9

Where to Take Your Parents for Hutong Dinin

Notorious Misogynist and Homophobe Chris Brown in BJ, Sep 30