Woman Tries to Smuggle 102 iPhones on Her Body in Shenzhen
Tap "ChinaWire" !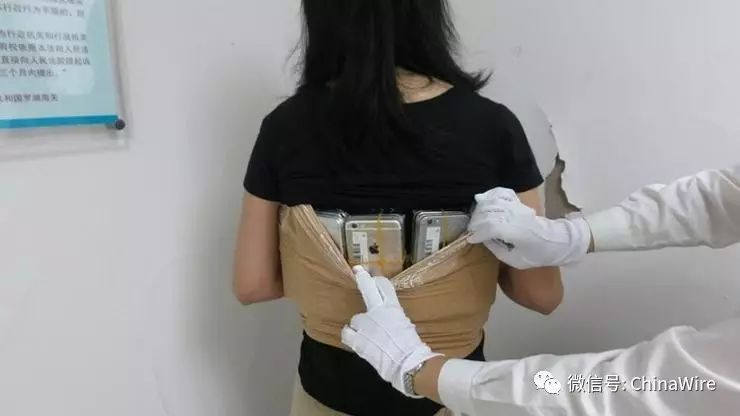 source: pcmag.com

There is a price difference between an iPhone purchased in Hong Kong and one purchased in mainland China. In Hong Kong, Apple's smartphone is cheaper, so there's a great temptation to smuggle iPhones through customs and into China to make some quick cash.
The more you can smuggle in, the more profit there is to be had. However, throwing hundreds of phones into a bag will easily get you caught when the bag is scanned. So the preferred method is strapping them to your body and trying to act natural. One woman just tried that with 102 iPhones and failed.
According to 9to5Mac, as well as 102 iPhones she also managed to squeeze in 15 luxury watches. The total weight being carried was around 44 pounds. Try acting and walking naturally while carrying that around.
Unfortunately for her, customs officials in Shenzhen noticed some unusual bulges on her body and pulled her aside. If she wasn't sweating before that point, I guarantee she was as they started their search.
Once her clothing had been fully searched and all the phones and watches removed she was arrested. As the image from XMNN above reveals, most of the iPhones were packed several deep in a band around her stomach as well as into the top of her underwear. How she sat down remains a mystery, but I suspect it wasn't very comfortable to do so if she could at all.
Apparently 102 iPhone isn't the record for most smartphones smuggled. In 2015, a man tried the same thing with 146 iPhones. He also failed.
Check out www.echinawire.com for more content!
---
Subscribe by scanning below QR codes to get started.


A convenient way for foreigners and Chinese to buy real foreign imported products while living in China. Stay with ShopWire as we expand our products range. You can use either WeChat wallet or PayPal to purchase our products!
---
ChinaWire is the largest English WeChat Official account in China with over 150k subscribers. We post articles related to china and around the world as well as a survival mandarin section to help foreigners improve their Chinese skills.
---
WorldWire is a diversified account which mainly publishes breaking world news, entertainment, lifestyle, culinary and sports news from around the world.
---

Shop在線 is the Chinese version of ShopWire mainly for Chinese Customers. You can also use it if you are a foreigner with great chinese skills or introduce it to your Chinese friends. We guarantee only real imported products are sold on our shop.