Chinese Folk Rock Band Lazy Cat @Rucker Bar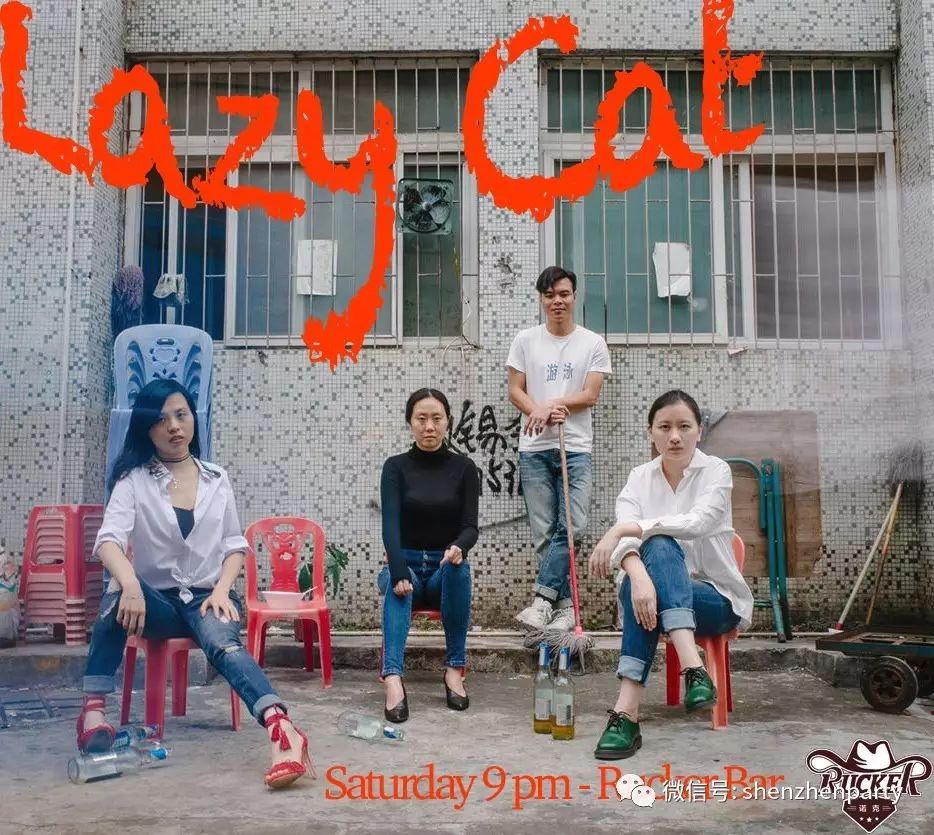 Saturday: Lazy Cat, 9pm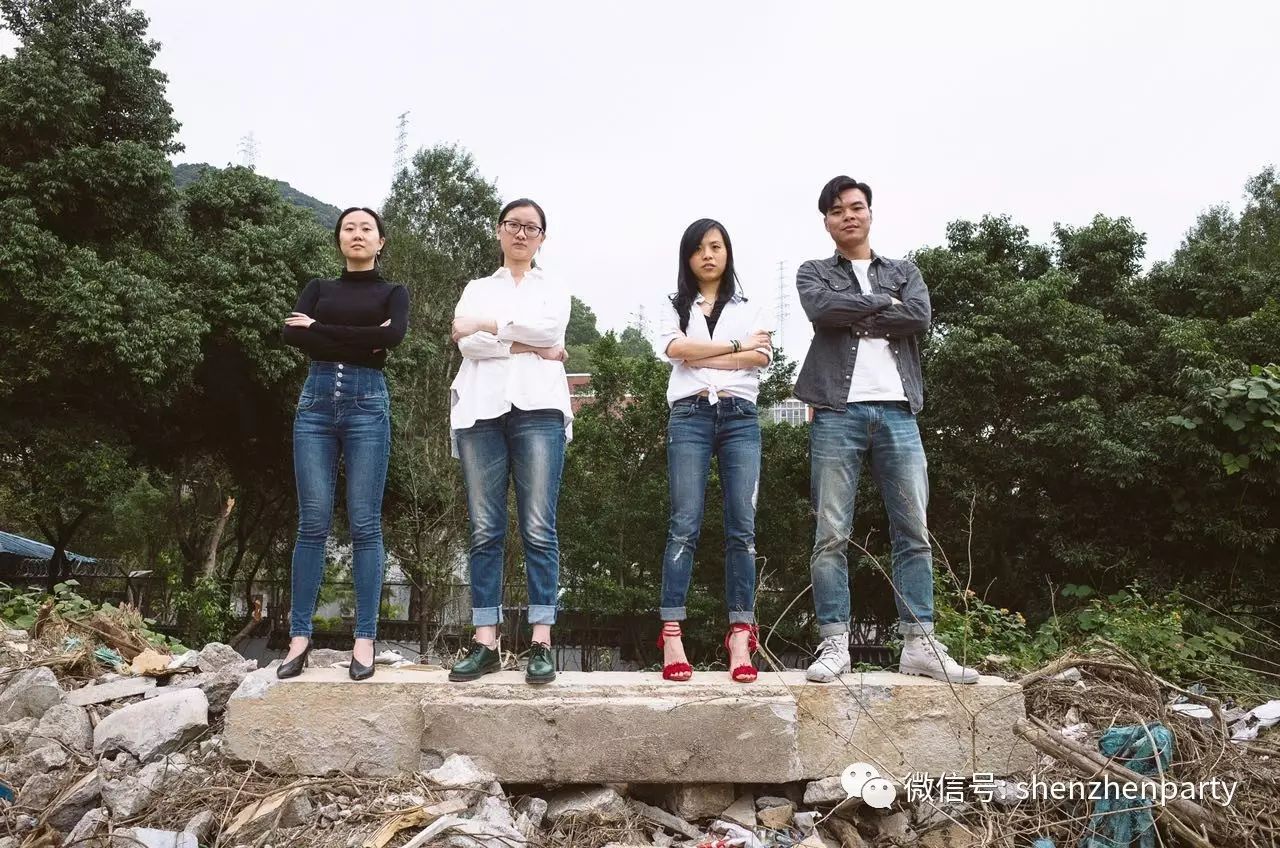 Lazy Cat was founded in Shenzhen in 2013. Their songs tell the stories that happen around them as well as those that happened in their childhood. Lazy Cat's music is sometimes melodic and sometimes manic, as they endeavor to create a simple and unadorned style with basic instruments, expressing folk rhythms and the melodies in their home dialect. The songwriting is mainly in the Chaoshan dialect, with an occasional mixture of Mandarin lyrics.
In December 2015, the band embarked on their first tour called, "Dong dong qiang."
In December 2016 they released their first EP, "those things that man taught me."
Since the band's formation, they have maintained their original and pure love of music, by following their heart and always putting all of their energy into their music.

Band members:
Guitar/ lead singer:Lin Zi
Pipa: Liu Yun
Drums: Yu Gu
Organ: Xiao Xue
Bass:Tony
周六:懶貓9pm
懶貓樂隊(LazyCat)2013年組建於深圳。她們用音樂的方式,述說著身邊的所見所聞和過往的童年故事。懶貓的音樂時而深情悠揚、時而狂躁,她們喜歡將富有民間色彩的節奏以及方言俚語本身具有的旋律,透過簡單的配器結合,形成簡單質朴的風格;在詞曲創作上則是以潮汕方言歌曲為主,偶爾也有潮汕口音的普通話歌曲。2015年12月樂隊進行了名為"咚咚嗆"的首次巡演;2016年12月以數字音樂的方式發佈了第一張EP專輯《那些先生教我的事》。

從組建至今,樂隊一直保持最初的那份純粹和熱愛,一路隨性而自然的歌唱。 【樂隊成員】 吉他、主唱:林子 琵琶:劉芸 鼓:谷鈺 口風琴:小雪 貝斯:tony

Rucker Bar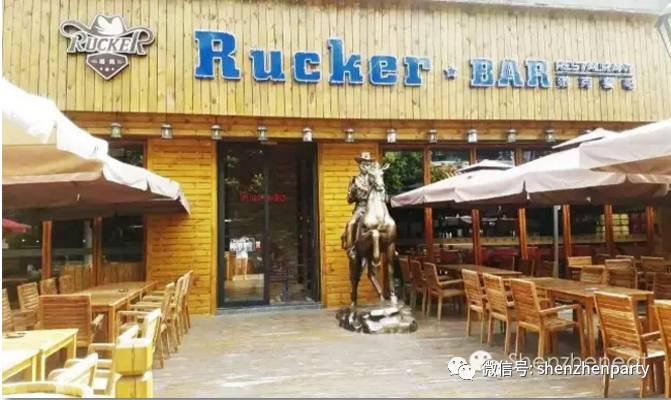 Rucker bar is a spacious Cowboy Western themed bar complete with Australian marbled steaks, country fried chicken burgers, top-shelf whisky and any other saloon-based craving you might fancy. There's plenty of room to shake your stuff at the front of the stage and ample seating both inside and out as well as upstairs.
Rucker酒吧是一個空間寬敞的西部牛仔主題酒吧,有澳大利亞的牛排,鱷梨醬烤乾酪辣味玉米片、精釀威士忌和一切能滿足你渴望的雅座酒吧。室內室外和樓上足夠的位置以及作秀台前的空間可以讓你盡情搖擺!

Directions: At Chegongmiao subway stop take exit C. Go straight out of the exit until the end of the road. Take a left on the road, Tairan 9, and continue until you reach the first traffic light and the entrance to the sports park will be on your right. Take the right and you will meet and you will see a brightly lit mall area inside. Continue straight through into the entrance of the mall. You will see Rucker Bar's pool table about 100m down on the right.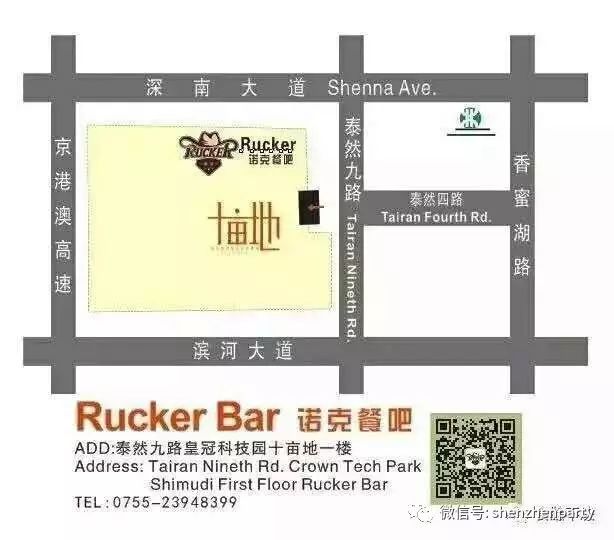 Scan the QR code below to follow Rucker Bar's official WeChat account for updates on future events.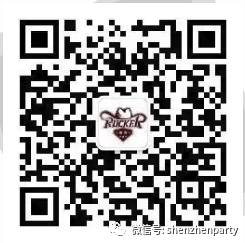 Event Date: Saturday, June 17, 2017 - 9:00pm - 11:00pm
Phone Number: 18589096945

Place Name: Rucker Bar / 諾克餐吧
Place Address: A33-A36, 1st Floor, Building 2, Huangguan Tech Park, Tairan 9th Road

Tai ran jiu lu huang guan ke ji yuan shi mu di yi lou
Editor's Favorites, Tap the Links Below:

Club Cubic Presents KAKU

[Job] DVB Software Developer
Candy Crazy Family Pool Party

Flash Brunch: All You Can Eat for Only ¥160

QSI's Accredited Education Gives A Sense of Relief to Families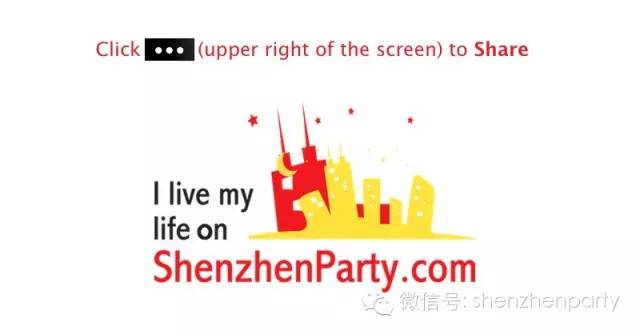 ---
Long-press the QR Code, tap "Extract QR Code" to Follow "shenzhenparty" on Wechat: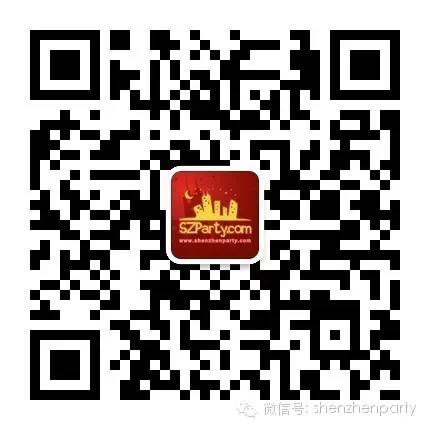 For more details, please click "Read More".