Workshop | Taming the Beast - Befriending Stress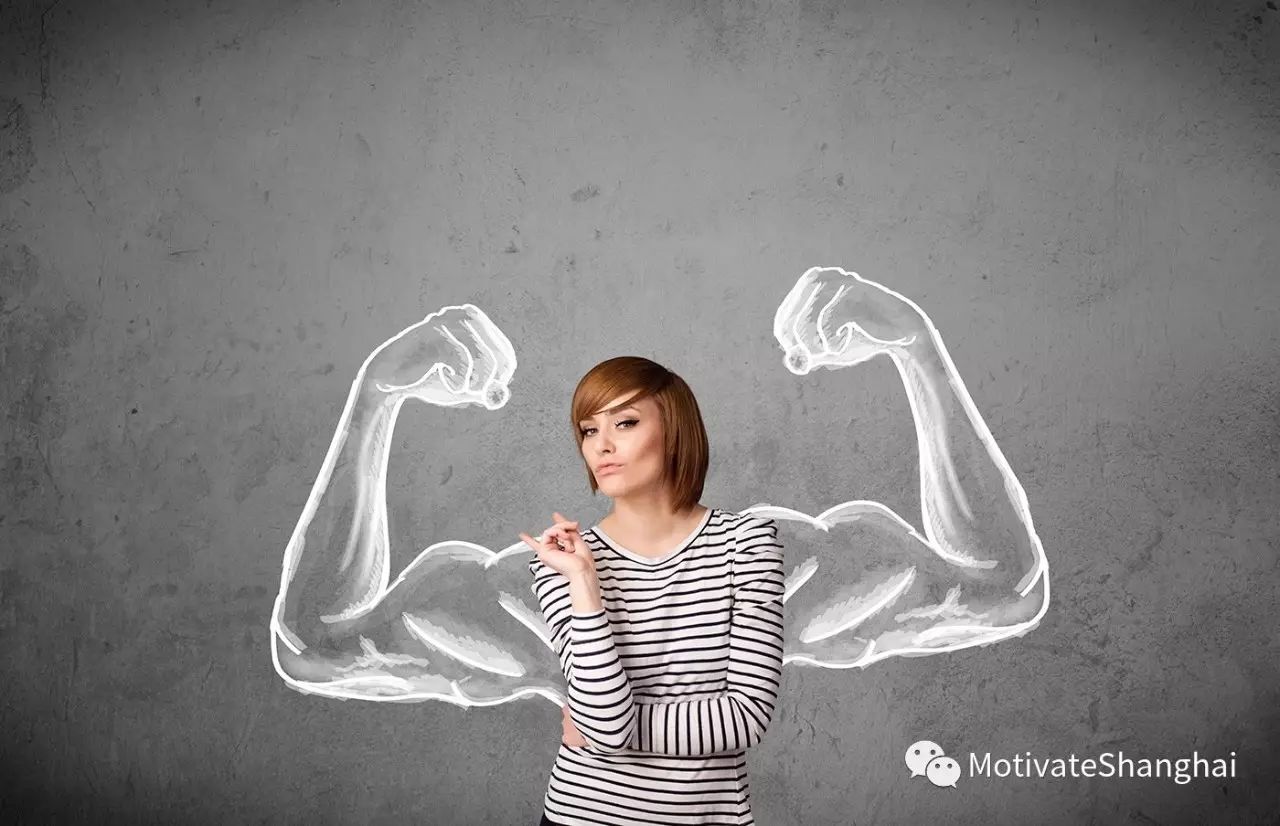 The year 2005 was for me a year to remember.
I was in the peak of my athletic career, aceing my master's degree, and working my dream job. "Can it get any better than this?" I kept asking myself.

One Thursday afternoon, I met a man who offered me a job in Portugal.
He said: "Pipo, I want you to work with me on the setup and development of my NGO in Europe." I nearly fell off my chair. "I need you to give me an answer by next week."
At that moment my mind went into overdrive. Constant scenario analysis, cost-benefit charts being drawn on every napkin I found, and asking everyone for opinions. I couldn't handle the decision-making process and it stressed me out hard.

After 4 days I was facially paralyzed. The right side of my face was absolutely motionless and senseless.

"How could this happen?" I asked. "I eat healthy, exercise, meditate, I do tons of things so this won't happen…" No answer came to my mind.
I was lost, paralyzed, and on the verge of a meltdown, but why?
I randomly met a stranger in a café. We started talking. My paralysis was evident so I shared what had happened to me. After a long silent pause in our dialogue, the old woman looked at me and said: "It is not what you are doing. It is how you are doing it that's affecting you."
This moment changed my approach to my personal sense of wellness and health.
It was no longer about stacking up positive behaviors or accumulating wellness tags, no. The focus was more on how I envisioned, felt, and experienced what I was doing, rather than just doing it.

This shift in my purpose affected my approach towards health and wellness.
I moved from a controlling & dominating (rational) approach, towards a comprehensive & caring (emotional) one.
Befriending stress implies changing our attitude towards it, and further down the rabbit hole, it involves changing our attitude towards ourselves.
How this workshop can benefit you
During our workshop session we will experience comprehensive and constructive ways of dealing with stress. Our aim is beyond understanding. We will reclaim ownership of ourselves through specific exercises and seed positive habit-forming hacks for our daily lives.

Are you in?
About the Speaker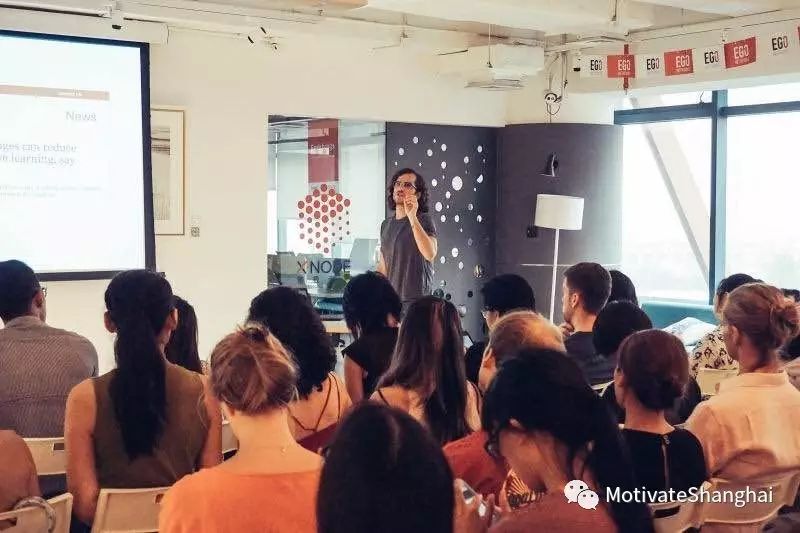 For the past 12 years Alberto Contador has been working on performance enhancement with teams in business, education and sports.


He has an integrative focus on our mind-body connection thus using its boundless potential to create sparks of change.

This process of seeding constructive change is based on rigorous discipline & daily practice of habit-forming life hacks.

Alberto is a life entrepreneur, professor, and organizational consultant. He is married to Caro and father of Martino.
Investment: 150 RMB
including dinner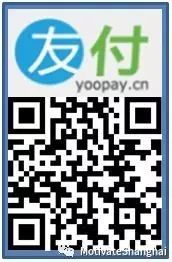 When & Where
Date: Tuesday, 27th of June
Time: 7 - 9pm
Where: MIXPACE Amyitis, No. 566 Huaihai Middle rd, near Chengdu rd 米域飛元聯合辦公,淮海中路556,近成都路
Metro stations:

Line 13 Middle Huaihai Rd, exit 1
Line 1 South Huangpi Rd, exit 1
Line 10 & 12 South Shaanxi Rd, exit 8
MIXPACE Amyitis Co-Working Space
MIXPACE doesn't just create ideal workspaces for getting work done, it is also a platform for freelancers, mobile workers, startups, independent professionals and small business to collaborate with different minds. They are dedicated to building a passionate and creative community, providing a comfortable and unique environment for their members and bringing them in touch with a vast network of people, enabling them to create and unleash their imagination. Make it possible here!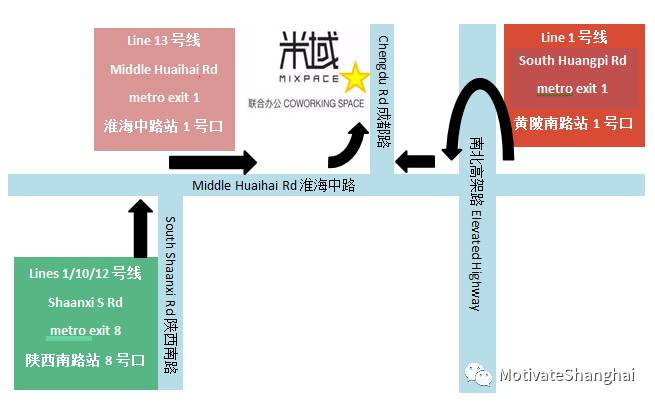 About the Organisers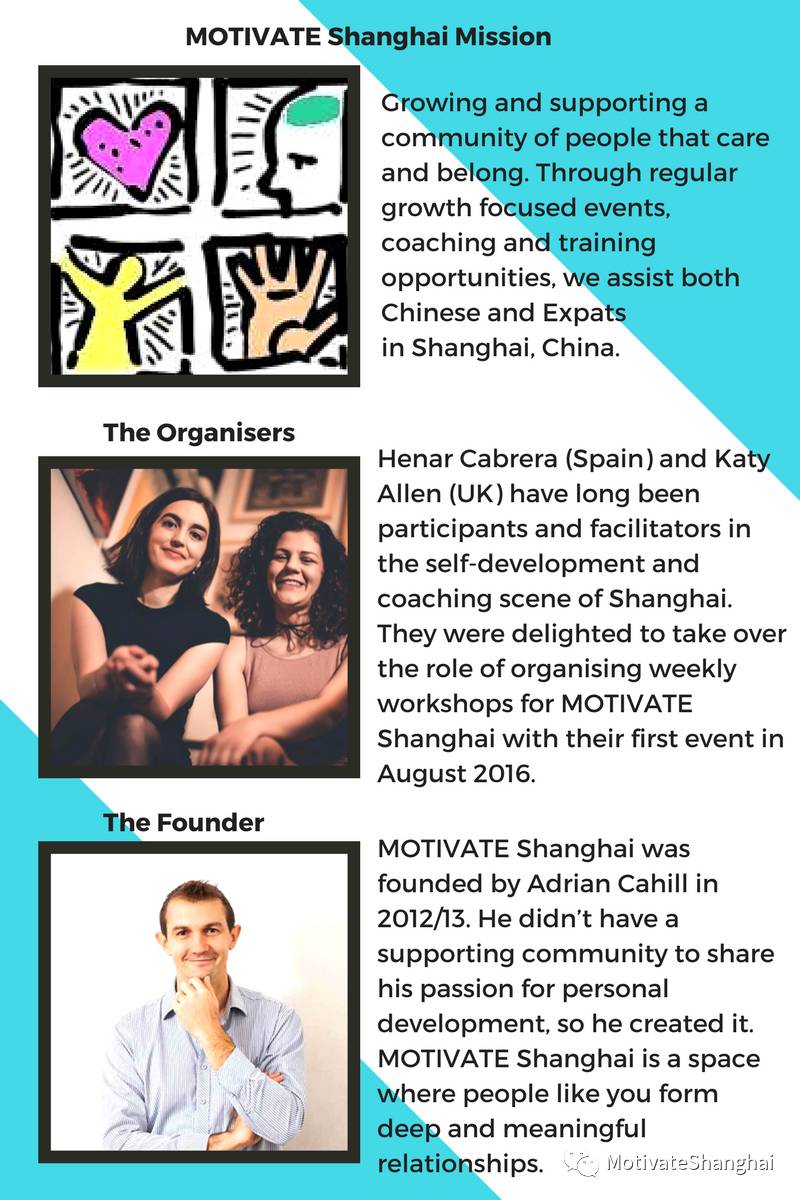 Pictures from previous workshops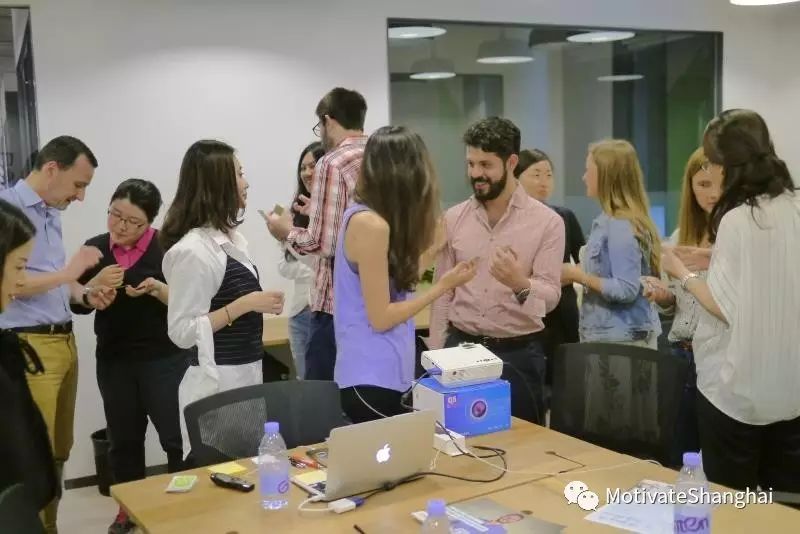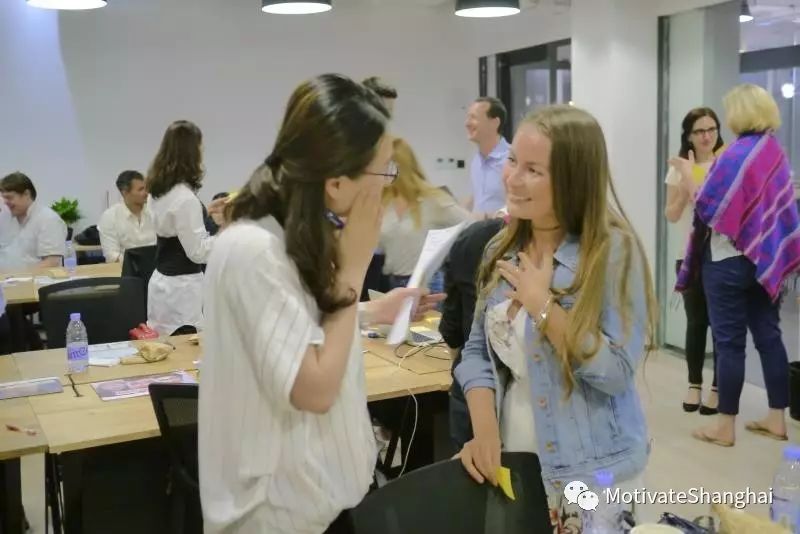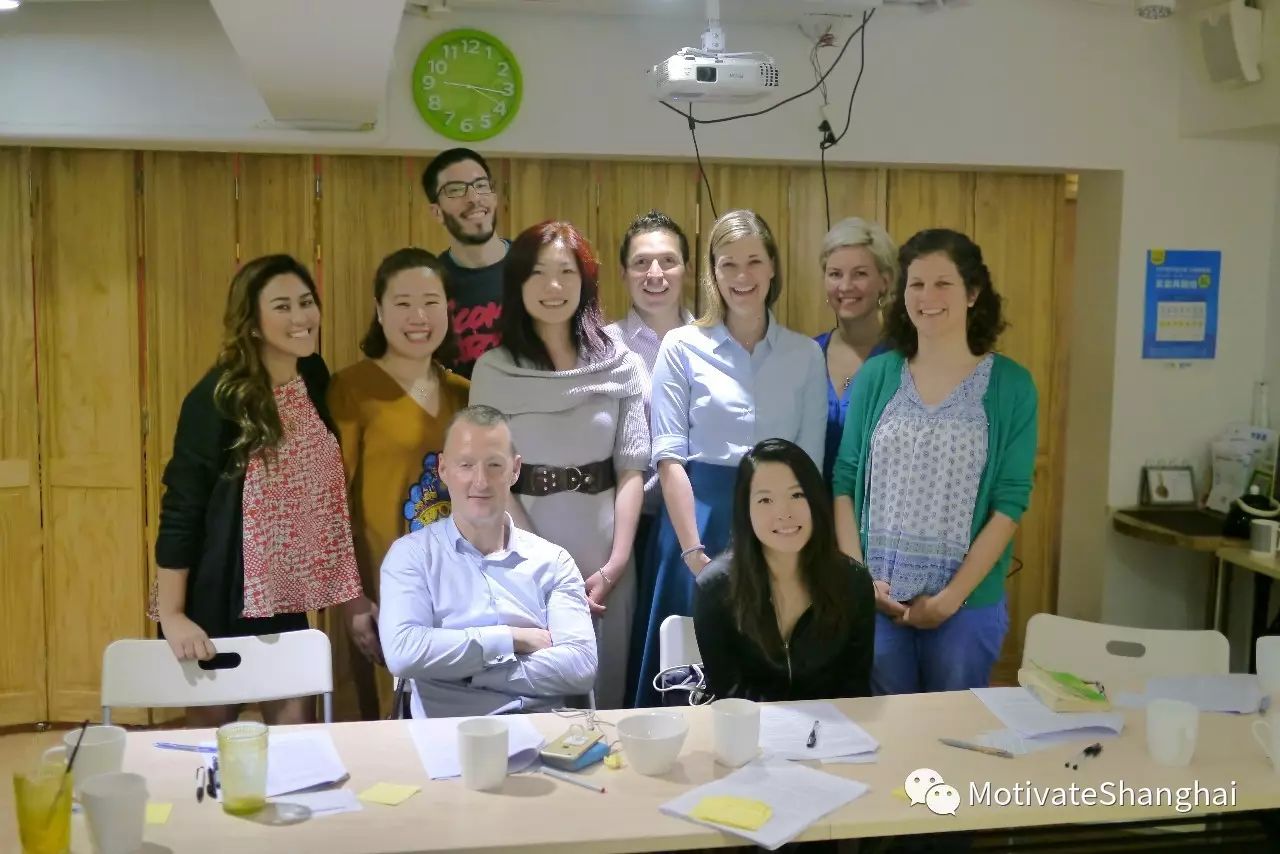 Feedback from attendees of previous MOTIVATE Shanghai workshops:

"It was an unique, interesting experience tonight. Thanks again"
"Thanks for your insights and shining postive energy"
"Many thanks to all of you! Learnt a lot"
"Loved how many other interesting people attended and the friendly and open atmosphere".
"There was a cozy and warm feeling of the venue and the participants"
"Thanks a lot for a really nice event yesterday night! Loved having the opportunity to meet other people who are interested in personal development. What a treat!"
"I love being surrounded by wonderful people like you"
"It was a pleasure to be in the presence of you all"
"Thank you for sharing your experience and knowledge"
"I gained a lot tonight!"
"The energy was so special. We enjoyed the evening so much!"
"Wonderful, powerful and highly emotional workshop"
"I just cannot stop smiling. You are an amazing group of people that is ful of love, passion and joy. You went up and beyond my of all we could have dreamed of"
"It was nice sharing with like minded people and learn about tips and tricks to improve our lives"
"I love meeting new, growth-oriented folks"
"Great people, great minds alike, positive vibe all along, lots of nice energy exchanges, hands-on experience, learned and enhanced previous knowledge".

"Amazing experience for me as well. So glad to have you all. Love the group energy, very receptive and open minded."
"A wonderful, inspiring experience... Totally worth the trip from Suzhou!"
"Love tonight's workshop soooo much! Nothing to say but THANK YOU!"

"Thanks girls for spreading positivity and self-love!"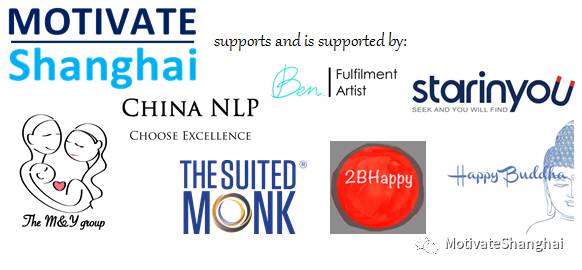 Contact us: