International Yoga Day on the Great Wall
Tap "ChinaWire" !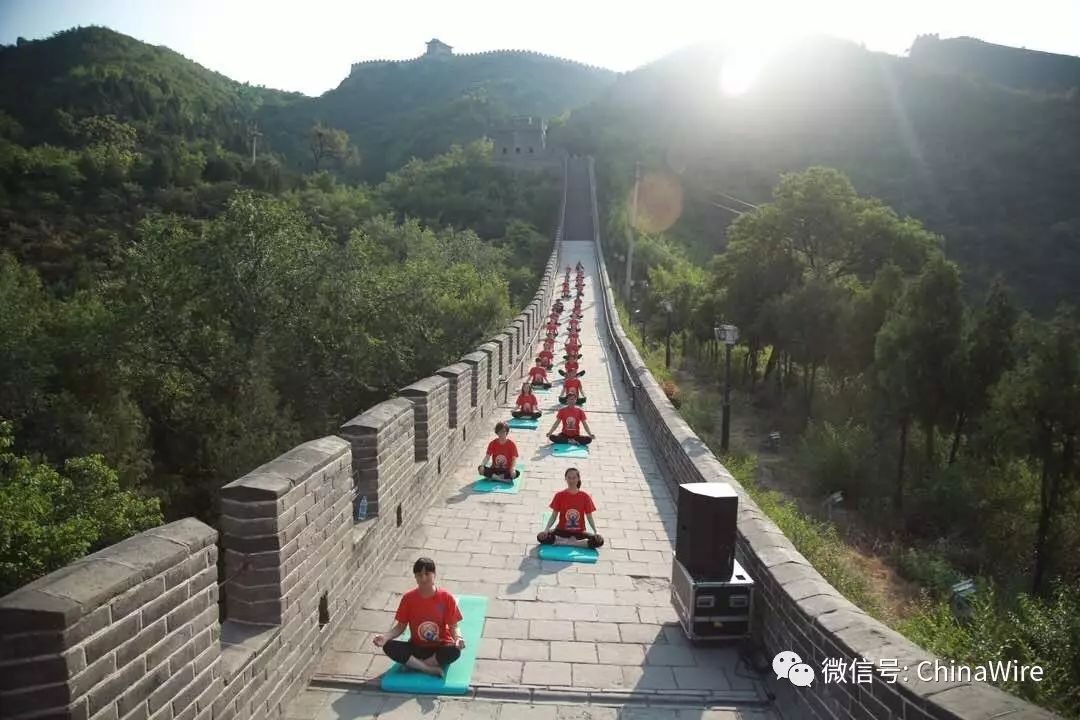 source: ndtv.com

A large number of Chinese yoga enthusiasts today participated in a colourful yoga event at China's iconic Great Wall on the eve of International Yoga Day which is being celebrated all over the nation. Minister of State for External Affairs V K Singh took part in the event and practiced the yoga postures for a while.

The event was jointly organised by Embassy of India, Beijing Chinese People's Association for Friendship with Foreign Countries (CPAFFC) and Yogi Yoga, a popular yoga school.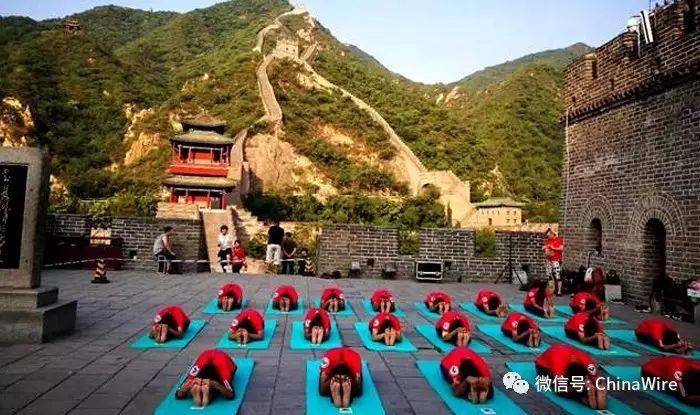 The event is a cultural milestone, marking the first time yoga has been performed atop the Great Wall by a joint Indian and Chinese group of yogis, the embassy said in a statement.

Mr Singh, who wrapped up his visit to Beijing to attend the BRICS Foreign Ministers' meeting, took time out on his way to the airport to join the event.
In a brief speech, Mr Singh talked about the goodness of yoga and quoted Prime Minister Narendra Modi as saying that yoga was Indian civilisation's gift to the world.

Charge d'Affaires of the Indian Embassy Amit Narang and CPAFFC Vice-President Lin Yi hailed the event for taking forward India-China friendly cultural exchanges and yoga for bringing wellness to humanity.

Around 200 Chinese and Indian participants then carried out the Common Yoga Protocol, followed by a spectacular display of advanced yoga poses by 20 young Indian yoga ambassadors from the Morarji Desai Institute in India, who are specially visiting China for International Day of Yoga celebrations.
Check out www.echinawire.com for more content!
---
Subscribe by scanning below QR codes to get started.


A convenient way for foreigners and Chinese to buy real foreign imported products while living in China. Stay with ShopWire as we expand our products range. You can use either WeChat wallet or PayPal to purchase our products!
---

ChinaWire is the largest English WeChat Official account in China with over 150k subscribers. We post articles related to china and around the world as well as a survival mandarin section to help foreigners improve their Chinese skills.
---

WorldWire is a diversified account which mainly publishes breaking world news, entertainment, lifestyle, culinary and sports news from around the world.
---

Shop在線 is the Chinese version of ShopWire mainly for Chinese Customers. You can also use it if you are a foreigner with great chinese skills or introduce it to your Chinese friends. We guarantee only real imported products are sold on our shop.