Mobike Secures $600 Million in Funding for Global Push
Tap "ChinaWire" !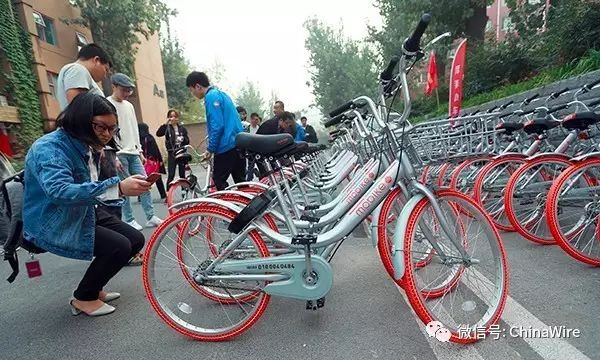 source: venturebeat.com

Chinese bike-sharing behemoth Mobike has raised a chunky $600 million in a series E round of funding led by Tencent, with participation from Sequoia, TPG, and Hillhouse Capital, among others.
This takes Mobike's total financing to date to around $925 million, including a $215 million round also led by Tencent just six months ago, with participation from the Chinese affiliate arm of Silicon Valley's Sequoia.
Founded out of Shanghai in 2015, Mobike is available in dozens of cities across China, while it landed in Singapore back in March and earlier this week announced its first European market, with a planned launch in Manchester, U.K., later in June.
In terms of how Mobike works, well, it provides cities with bikes that are chainless and sport puncture-proof airless tires and an anti-rust aluminium frame for durability. The company also provides the underpinning technology platform, including mobile apps and QR codes, which are scanned to unlock the GPS-enabled smart-lock.
The latest $600 million raised by Mobike will be used to spearhead its push out of China, with a number of European cities on the agenda in the coming months. Mobike cofounder and CEO David Wang said that the company plans to double the number of cities it's available in by the end of 2017.
"With the continuing support of our investors, we have three clear targets for the coming months," he said. "Firstly, we will accelerate the pace of global expansion, and our new target is to be in 200 cities by the end of this year. Secondly, we will increase investment in R&D of our IoT network and new technologies, working closely with our global-leading technology partners. And thirdly, we will invest in building a superior technology infrastructure to support our innovations in the field of AI and intelligent hardware, which will further bolster our competitive advantage and enable us to offer the best possible experience to Mobike users globally."
Though ride-hailing services such as Uber have stolen the hearts of urban travelers around the world, there has been a notable uptick in bike-sharing services of late. Back in September, Didi Chuxing invested "tens of millions" into Ofo, a rival bike-sharing startup that went on to close a whopping $450 million round a few months back. And over in the U.S., LimeBike recently raised $12 million in a round led by Andreessen Horowitz.
Check out www.echinawire.com for more content!
---
Subscribe by scanning below QR codes to get started.


A convenient way for foreigners and Chinese to buy real foreign imported products while living in China. Stay with ShopWire as we expand our products range. You can use either WeChat wallet or PayPal to purchase our products!
---

ChinaWire is the largest English WeChat Official account in China with over 150k subscribers. We post articles related to china and around the world as well as a survival mandarin section to help foreigners improve their Chinese skills.
---

WorldWire is a diversified account which mainly publishes breaking world news, entertainment, lifestyle, culinary and sports news from around the world.
---

Shop在線 is the Chinese version of ShopWire mainly for Chinese Customers. You can also use it if you are a foreigner with great chinese skills or introduce it to your Chinese friends. We guarantee only real imported products are sold on our shop.