Chinese Students Slammed for Using Cleaners to Cross a Puddle
Tap "ChinaWire" !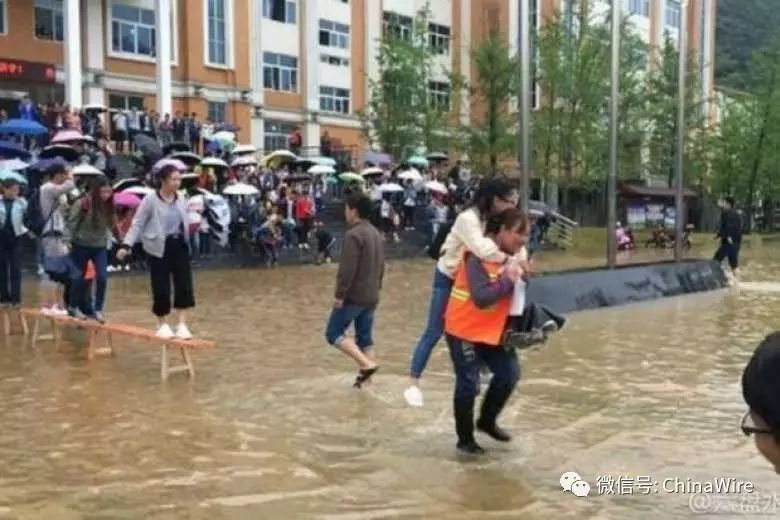 source: straitstimes.com

Students balancing on benches and making their way through floodwaters to get to school might sound like a noble effort at pursuing education. However, photographs of a group of students from Liupanshui Normal College in Guizhou province doing just this on June 15 went viral for all the wrong reasons.
The problem? The floodwaters were less than ankle-deep, and the students were being carried on the backs of the school's cleaning staff.
According to the China News Service, the area had been hit by heavy downpours which inundated the roads. Benches were lined up along the ground, and cleaners were deployed to carry the students to the school.
Online condemnation was swift, with many saying that the students were spoilt and "giant babies".
According to the South China Morning Post, one netizen wrote: "For kindergarten kids, it's fine, but for university students, I don't understand that!"
Check out www.echinawire.com for more content!
---
Subscribe by scanning below QR codes to get started.


A convenient way for foreigners and Chinese to buy real foreign imported products while living in China. Stay with ShopWire as we expand our products range. You can use either WeChat wallet or PayPal to purchase our products!
---

ChinaWire is the largest English WeChat Official account in China with over 150k subscribers. We post articles related to china and around the world as well as a survival mandarin section to help foreigners improve their Chinese skills.
---

WorldWire is a diversified account which mainly publishes breaking world news, entertainment, lifestyle, culinary and sports news from around the world.
---

Shop在線 is the Chinese version of ShopWire mainly for Chinese Customers. You can also use it if you are a foreigner with great chinese skills or introduce it to your Chinese friends. We guarantee only real imported products are sold on our shop.