Woman Releases Plane Emergency Slide "For Fun" in Beijing
Tap "ChinaWire" !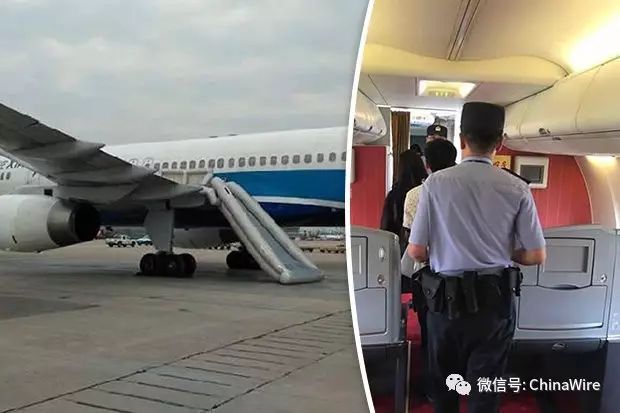 source: dailystar.co.uk

A lady faces a major flight ban after deploying an emergency slide on an XiamenAir plane just minutes before take-off.
The flight from Beijing Capital International Airport in China was severely delayed after the woman released the 100,000 yuan slide.
Witnesses aboard the Boeing 757 said the female tourist – sitting two rows behind the left-side emergency door – could not curb her own curiosity and flipped the lever that caused the inflatable slide to shoot out onto the tarmac.
She deployed the inflatable slide despite being told to leave it alone by flight crew.
Other passengers onboard said the incident happened at 11.50am, seconds after cabin crew announced over the PA system that the emergency equipment was not to be touched.
In fact, crew specifically said that the emergency door and slide should only be activated during emergencies.
The unruly passenger was removed from the aircraft and could face a lengthy flying ban.
It is unclear whether the rest of the passengers were asked off the plane while the slide was packed up and the plane was inspected once more from top to bottom.
Check out www.echinawire.com for more content!
---
Subscribe by scanning below QR codes to get started.


A convenient way for foreigners and Chinese to buy real foreign imported products while living in China. Stay with ShopWire as we expand our products range. You can use either WeChat wallet or PayPal to purchase our products!
---

ChinaWire is the largest English WeChat Official account in China with over 150k subscribers. We post articles related to china and around the world as well as a survival mandarin section to help foreigners improve their Chinese skills.
---

WorldWire is a diversified account which mainly publishes breaking world news, entertainment, lifestyle, culinary and sports news from around the world.
---

Shop在線 is the Chinese version of ShopWire mainly for Chinese Customers. You can also use it if you are a foreigner with great chinese skills or introduce it to your Chinese friends. We guarantee only real imported products are sold on our shop.