GAC MOTOR PARTICIPATES IN EGYPTIAN-CHINESE INVESTMENT FORUM
Recently, the Belt and RoadForum for International Cooperation under the spotlight of the world kicked offin Beijing, drawing heads of statesand international organizations, representatives, foreign former dignitaries,well-known entrepreneurs, experts and scholars from Asia, Europe, Africa, LatinAmerica and other regions. During the event,GAC MOTOR was invited to take part in the "Suez Canal: the Gateway to theSilk Road—Egyptian-Chinese Investment Forum" and met with Tarek Kabil,trade and industry minister of Egypt.
As the intersection of the Land Silk Road and Maritime Silk Road, Egypt sinceancient times has been of natural strategic importance and is a trade centerand cultural hub between the East and West. Meanwhile, Egypt is also the placefrom which ancient Chinese inventions were spread to Europe. For thousands ofyears, the spirit of the Silk Road, going through ancient and modern times, isa symbol of friendly exchanges between China and Egypt. Based on such aprofound historical accumulation, GAC MOTOR, against the backdrop ofChina-proposed Belt and Road Initiative in the new era, made a constructivediscussion with Egyptian embassy on the development strategy of the company'sbusinesses in the Middle East.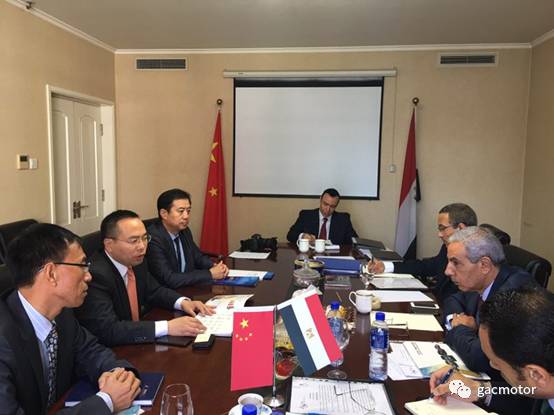 GAC MOTOR made a business discussion with officials fromEgyptian Ministry of Industry and Trade
During the discussion, Wang Shunsheng, vice general manager of GAC MOTOR,shared with Minister Tarek GAC MOTOR's development in recent years in theMiddle East. Learning that GAC MOTOR since 2014 has entered Kuwait, Bahrain andQatar and introduced models such as GS5S, GA3S and GS4 into the Middle East,Minister Tarek praised the company for implementation of overseas expansionstrategy. Meanwhile, MinisterTarek introduced the market situation in Egypt, saying that Egypt plays animportant role in the Middle East for population and economic volume, and theimprovement of people's quality of life is also in a developing stage. Withwide market prospect, Egypt welcomes excellent enterprises and products.
Also, Wang provided a description forMinister Tarek on GAC MOTOR's achievements made in China: since itsestablishment, GAC MOTOR has always insisted on medium and high-end brandpositioning, international standards and forward development, building aworld-class auto manufacturing system centered on GAC Global R&D Network,GAC Production System and global supply chain system, as well as carving out adevelopment path of "high-end orientation, quality first and innovationdriving". According to J.D.Power's IQS report, GAC MOTOR has topped theranking of Chinese brands for 4 years in a row, with quality widely recognizedand trusted by global consumers. Last year, GAC MOTOR achieved terminal salesof over 380,000 units, with year-on-year increase of 96%, realizing leap-frogdevelopment with a compound growth rate of 85% for 6 consecutive years. In the first quarter of this year, GAC MOTORcontinued to maintain high-speed growth, with total sales exceeding 121,000units, up 68.4% from a year earlier. And its development speed andprofitability rank top among Chinese brands.
In the end, Minister Tarek indicatedthat he was looking forward to visiting GAC MOTOR and wished that it could makeGAC MOTOR Dream come true in the development opportunity of "The Belt andRoad" in Egypt.