AFRICAN DANGOTE GROUP PURCHASES GAC MOTOR'S CARS BY BATCHES
On February 26 (local time), Ms. Chen Xiuxia, chairman of Choice International (Group), met Mr. Aliko Dangote, the richest man in Africa, in Nigeria and they exchanged ideas on business, politics, cultural policies and development of both China and Africa, the world's two economies.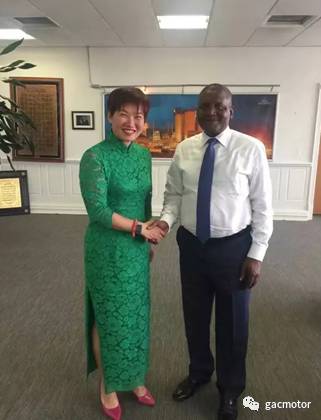 Ms. Chen Xiuxia posed for photos with Mr. Aliko Dangote
Ms. Chen provided an introduction to Mr. Dangote by focusing on their painstaking efforts and remarkable achievements in becoming an agent of GAC MOTOR. Chairman Chen said GAC MOTOR opened flagship stores and SKD plants in Nigeria, which cannot do without the support and cooperation of Nigerian people and indicates rapid economic development of Nigeria and the entire Africa. After that, Chen also discussed the difficulties and challenges faced by Chinese enterprises in African market and hoped that they would get help from Mr. Dangote to cope with such unfavorable factors as instability of exchange rate and the economic downturn.
Mr. Aliko Dangote highly praised Choice International's remarkable operation results and thanked the group for bringing Nigeria GAC MOTOR, a high-end and advanced auto brand. Introduction of the famous brand cannot only facilitate Nigeria's manufacturing technologies and cultivation of staff skills, but also drive local economic development. He will actively provide Choice International with support and help, so that more Chinese brands and advanced technical management experience will enter Africa.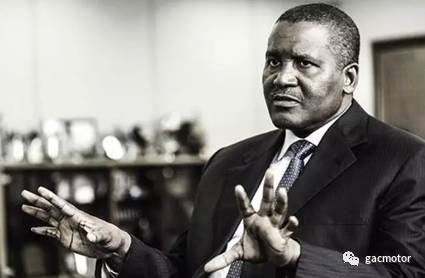 Africa's richest man Mr. Aliko Dangote
In May this year, Dangote Group purchased a lot of cars from GAC MOTOR. The first batch of 20 cars was delivered at CIG Motors of Victoria Island in Lagos of Nigeria and there will be more batch orders.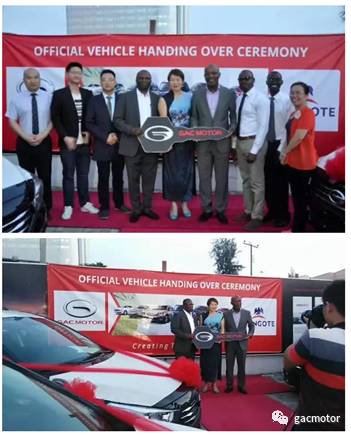 Vehicle Handing Over Ceremony
Meanwhile, Nigeria's newspapers This Day and Business Times had the headline news that African richest man's Dangote Group and Choice International reached a cooperation agreement and GAC MOTOR cars will be purchased as the group's administrative vehicles.