Island Offshore finding new roles for subsea LWI vessels
07/10/2013
Nick Terdre
Contributing Editor
Island Offshore management's decision to commit to light well intervention (LWI) in subsea wells a decade ago is proving far-sighted. The company now has three dedicated LWI vessels in full employment, with more field operators looking to reap the benefits of maintaining their subsea wells in good order.
The business is managed from Stavanger, Norway, by Island Offshore Subsea (IOSS), created in 2005 to look after the company's LWI activities. Its first work was for Chevron and Nexen in the UK sector.
However, its first major contract came from Statoil, a pioneer in subsea well intervention to achieve increased recovery. The contract, which started in 2006, was for a firm six years with three optional one-year extensions. Of the three dedicated vessels employed on this program, the LWI vessels Island Frontier and Island Wellserver have been working full-time since 2006 and 2009, respectively, while Statoil makes regular use of Island Constructor under a separate frame agreement signed in 2011.
IOSS' LWI engagement takes place through the Riserless Light Well Intervention (RLWI) Alliance – FMC provides the subsea lubricator package and Aker Well Services the downhole wireline operations. The alliance, formed in 2004, provides services ranging from scale milling, gauging and logging, and plug-setting to reperforations.
Statoil recently signed new contracts valued at NOK 3.3 billion ($570 million) to extend its charter of Island Frontier andIsland Wellserver from 2015 to 2020, with a further four years of options.
Another existing customer, BP, has awarded a two-year extension on its contract with Island Constructor through 2015: the extension is valued at $86.5 million and includes further options. IOSS has been providing LWI services on BP's Foinaven, Schiehallion, and Loyal fields west of Shetland since 2009.
Other LWI clients are ConocoPhillips (in this case services include logging operations in subsea wells at the Ekofisk complex in the southern Norwegian North Sea); and Norske Shell, for the Draugen field in the Norwegian Sea.
With about 5,500 subsea wells in service worldwide, IOSS managing director Robert Friedberg wonders why more oil companies do not show a greater interest in what he says is now a proven means of increasing recovery. For example, with its large stock of subsea wells, Petrobras is a potential LWI customer, but has so far limited its activities to riser-based intervention.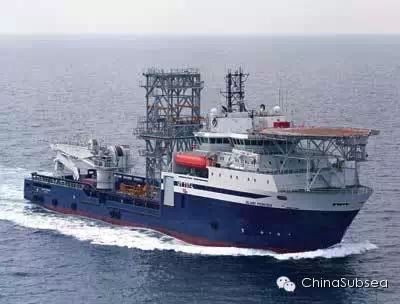 The light well intervention (LWI) vessel Island Frontier has been working continuously for Statoil since 2006. (Photo courtesy IOSS)
When all costs are included, the day rate for a monohull works out at about 30-40% of the rate for a semisub, Friedberg says. And due to its DP-3 station-keeping capability, the intervention vessel moves on and off location much faster than an anchored rig. Such advantages warrant attention at a time when the rig market is particularly tight and Statoil, for example, has a heavy exploration and development drilling workload to keep its contracted drilling rig fleet occupied.
P&A savings
Island Frontier, Island Wellserver, and Island Constructor were all designed specifically as LWI vessels and are classed as mobile offshore units, equipped to enter live wells. Island Frontier, with deadweight of 4,200 tons, was the first, delivered in 2004, followed by Island Wellserver and Island Constructor in 2008. The latter two units are larger, at 8,500 dwt and 8,700 dwt, respectively.
All three have an amidships moonpool measuring between 7 and 8 sq m (75 and 86 sq ft). And all are equipped with National Oilwell Varco derricks, rated for 70-ton loads in the case of Island Frontier and 100 tons for the other two vessels, and, as mentioned, DP-3 station-keeping systems. When the Ekofisk program was initiated, a study was performed to confirm that the vessel could operate safely on dynamic positioning in the shallow water (79 m) depth.
Each vessel can perform around 20-25 operations a year, spending on average 15-16 days per job.
The LWI base has enabled expansion into other subsea well-related activities, including plugging and abandonment. Last year Island Wellserver, working for Statoil, performed part of the well abandonment on the five Troll-Oseberg Gas Injection (TOGI) subsea wells in the North Sea, killing the wells, setting plugs, and retrieving the vertical subsea trees. To finish the operation, a semisubmersible rig pulled the tubing. In its review, Statoil reported that the IOSS scope was completed with very good results, taking only 62.5 days rather than the 80 planned.
Following the cessation of production on Statoil's Glitne field earlier this year, Island Wellserver will perform the same scope as on TOGI.
IOSS has also performed P&A operations in the UK sector. For this type of work it has developed a specialized cement adaptor tool (CAT) which may be used in conjunction with the existing lubricator package to establish a cement plug barrier in the well. If the tubing is cut at a shallow enough depth, the monohull vessel is able to pull it, thus performing the whole P&A operation, Friedberg says.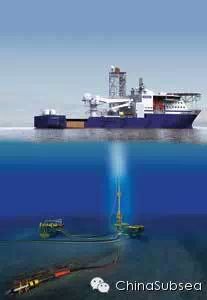 With its partners in the RLWI Alliance, Island Offshore Subsea provides riserless intervention in subsea wells. (Image courtesy IOSS)
IOSS planned to move into heavier forms of subsea well intervention through construction of the newbuild rig Island Innovator, originally designed as what Statoil calls a "Category B" rig. However, the company and its co-owner Marine Accurate Well ASA (Maracc), instead opted to convert the unit into a drilling rig after it had been contracted by Lundin for a conventional drilling campaign late last year.
Well stimulation is another form of intervention offered by Island Offshore, and which oil companies are turning to increasingly as developing tight reservoirs becomes more commonplace. Larger platform supply vessels are used to support this work.
This summer, Island Centurion and Island Captain are due to start seven-year contracts with Schlumberger as well stimulation vessels. In 2012 Halliburton chartered Island Captain for two months' well stimulation work on the RWE Dea-operated Clipper South gas field in the UK southern North Sea.
Island Patriot and Island Commander are also employed in well stimulation. Island Commander, which is outfitted with a Schlumberger well stimulation spread, recently secured an extension to June 2014 to well stimulation services contracts in ConocoPhillips' greater Ekofisk area.
From trenching to top-hole drilling
Island performs other subsea work. Island Valiant and Island Frontier worked under contract to AGR Subsea on the latest development phase of Shell's Ormen Lange gas field in the Norwegian Sea, in water depths up to 925 m (3,035 ft). Island Valiant was the platform from which AGR deployed its ClayCutter technology for excavating the 6-km (3.7-mi) pipeline route from the northern template to the field center in hard seabed clays, while pre-lay trenching was performed fromIsland Frontier.
The trenching operation allowed the company to demonstrate that 6 5/8-in. drillpipe could be deployed from the vessel in deep waters in accordance with Norwegian Petroleum Directorate requirements, Friedberg says. Similar campaigns were performed in earlier phases of Ormen Lange by Island Valiant in 2008 and Island Frontier in 2005/06.
Experience gained from handling, running, and retrieving drill pipe in trenching operations indicates a potential for top-hole drilling – drilling surface hole for conductor pipe, installing the subsea wellhead, and cementing the pipe in place. Again, monohull vessels working on DP-3 should be able to perform these tasks at lower cost than drilling rigs. When the rig arrives, as the wellhead system is already in place, it can straightaway run the subsea BOP system and start drilling, rather than spend time establishing the well.
An opportunity for top-hole drilling may materialize next year, Friedberg says, following an ongoing qualification program with Statoil. A pre-drilling phase has been performed involving use of a cylindrical can as a substitute for 30-in. casing to set conductors.
Subsea construction
In recent years, Island Offshore has also taken advantage of growing market demand to build its fleet of subsea construction vessels. In February 2014 it is due to take delivery of its latest newbuild, Island Pride, which will be equipped with a 125-ton active heave-compensated crane and two work ROVs. The vessel, featuring ICE-class notation, will be able to work in Arctic waters.
Another newbuild on order is Island Performer, a large X-bow vessel with a 250-ton crane. It will also have room to carry a carousel, and will likely be used for laying flexible pipe, a new operation for Island Offshore.
The company's existing subsea construction fleet includes Island Enforcer, Island Pioneer, Island Spirit, Ocean Intervention III, and Island Intervention. The Intervention, delivered in 2011, was designed for LWI but started by doing subsea construction on BP's Skarv development in the Norwegian Sea, i.e. installing and testing subsea trees. Only one tree installation had been intended, but the operation proved so efficient that the vessel has been kept in this role, having installed 17 trees to date.
However, it has also been used for other tasks such as changing out subsea control modules and splicing a heating cable attached to the underside of a pipeline. For this job a special chute was developed to bring the required section of the cable to the surface.
With the exception of Island Intervention, the subsea construction vessels are managed by the parent company from its base in Ulsteinvik, Norway, and often work under subcontract for a subsea contractor. But IOSS provides the engineering expertise. One novel example was a feasibility study for Det norske oljeselskap's current Ivar Aasen development in the North Sea, which envisaged the combined use of Island Enforcer and Island Constructor to lift and set a subsea template, rather than using a crane-vessel or drilling rig. In the event Det norske decided not to proceed with the operation, but now that it has been shown to be feasible, Friedberg hopes other opportunities will arise.
IOSS has around 140 staff, of which close to half work as superintendents and supervisors on the LWI and subsea vessels, with the parent company providing the marine crews. The company would like to add an international dimension to its LWI activities, and is examining subsea provinces offshore West Africa, Brazil, and India. It has responded to a couple of LWI tenders from Brazil and West Africa, and expects to receive another one soon. But if it were to establish a presence in one of these areas, it would do so via a dedicated vessel – it would not make sense to have a vessel transiting back and forth between, say, West Africa and the North Sea, Friedberg says.