GAC MOTOR POWERS GAC GROUP TO BECOME WORLD-CLASS BRAND
On June 3, 2017, the 20th Anniversary of the Founding of GAC Group, themed with "Create Better Future with Gratitude", kicked off at the gymnasium of Tianhe Sports Center in Guangzhou, China. More than 4,000 people attended the event, including GAC Group Chairman Zeng Qinghong and General Manager Feng Xingya as well as representatives of GAC Group's staff, investment enterprises, co-partners, retirees and news media. They witnessed GAC's achievements made in the twenty years.
This year marks the 20th anniversary of GAC and is the key year when GAC Group implements the "13th Five-year Plan" in an all-round way. As the development priority of GAC Group in the "13th Five-year Plan" period, GAC MOTOR, with the ambition of becoming a world-class Chinese brand and an international enterprise with global production, marketing and R&D, will further improve systems, strengthen mechanisms and innovate reforms, in efforts to realize leaping development in business and boost GAC Group to grow into a well-known brand in Chinese automobile industry and a global automotive group with worldwide influence and high sense of social responsibilities.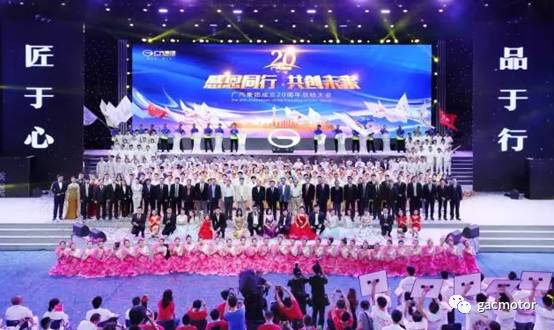 (The 20th Anniversary of the Founding of GAC Group)
GAC MOTOR's high-speed and quality development powers GAC Group to make constant improvements
After twenty-year development, GAC Group, adhering to the business philosophy of "Humanity, Credibility and Creativity", has formed a complete industrial chain covering five sectors including overall vehicles, R&D, parts, business and finance, becoming China's first large state-holding joint-stock carmaker listed in A+H share market.
This year, GAC Group, while releasing a brand-new enterprise slogan "crafted by the driven", set the goal of manufacturing and selling 1.9 million cars in 2017, with an annual compound growth rate of nearly 30%, sales revenue of about RMB 280 billion and profit tax of RMB 45 billion. Since 2013, GAC Group has been listed into Fortune Global 500 for four years running and now it ranks the 303rd place.
According to sales data from January to May, GAC Group had its sales exceed 792,500 units, up 33.16% from a year earlier, which is much higher than the average value in the industry. That has also laid a solid foundation for achievement of the goal in the whole year.
GAC Group Chairman Zeng Qinghong said, " GAC's twenty-year development history witnessed its reform and reorganization, revitalization of Guangzhou automobile industry, ceaseless self-improvement and exploration and innovation. GAC people's arduous efforts, pursuit of truth and being practical as well as dedication are also recorded in the history. "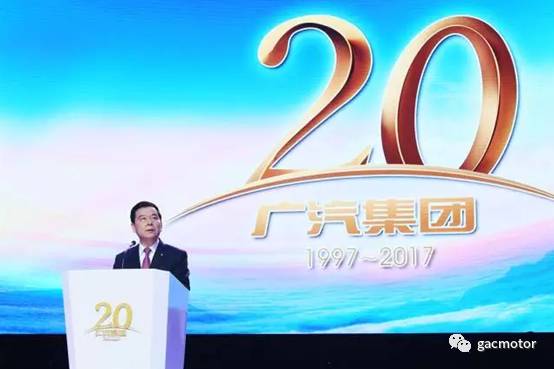 (GAC Group Chairman Zeng Qinghong made a speech at the 20th Anniversary of the Founding of GAC Group)
GAC MOTOR, as an independent sector of GAC Group, shows a favorable development trend this year. From January to May, its sales reached up to 207,000 units, a year-on-year increase of 62.2%, making its growth rate lead Chinese automobile market again. In fact, GAC MOTOR has always been keeping high-speed and quality development since its establishment. The company made its sales increase to 380,000 units in 2016 from 17,000 units in 2011.
By ranking No.1 with the highest compound annual growth rate of over 85% among Chinese brands for 6 consecutive years, GAC MOTOR has topped its domestic counterparts in development speed and profitability, creating a remarkable "GAC MOTOR speed" in the industry. This year, GAC MOTOR also proposed the goal of manufacturing and selling 500,000 cars to help GAC Group achieve results.
Insiders in the industry said that in recent years GAC MOTOR's sales performance continued to grow, making the company contribute the most to GAC Group in profits. Meanwhile, GAC Group's business performance surged as well.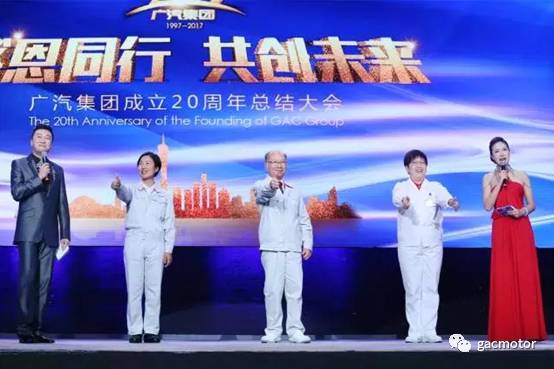 (GAC Group's senior employees told moving stories in the 20 years)
Pursuing craftmanship, GAC MOTOR creates new value of Chinese auto brand with high-quality products
GAC MOTOR's rapid growth should be attributed to its unceasing pursuit of craftsmanship to build high-quality world-class products. Yu Jun, deputy director of GAC Group Executive Committee and general manager of GAC MOTOR, said GAC MOTOR will comprehensively implement the business philosophy of "quality priority and customer first" by focusing on the policy of "refining systems, strengthening mechanisms, making innovations and reforms, and achieving leaping development in business".
Since its establishment, GAC MOTOR has directly focused on medium and high-end market, pooled the world's superior resources, adhered to forward development and international standards as well as built a world-class auto manufacturing system centered on GAC Global R&D Network, GAC Production System and global supply chain system, thus forming core competitive advantages in sustainable development.
Meanwhile, GAC MOTOR has unswervingly insisted on originality in technologies and built high-quality auto products with the spirit of craftsmanship. Aside from that, GAC MOTOR has topped the ranking of Chinese brands for four years in a row and ranked No.5 in the whole industry in 2016, according to J.D.Power's IQS report. In terms of quality, GAC MOTOR's products can be on a par with world-class brands.
Guaranteed by high quality, GAC MOTOR had its millionth car roll off the production line within merely a short period of six and a half years, showing with practical actions the world its development speed and advantages in world-class auto manufacturing system and realizing a constant increase in brand value.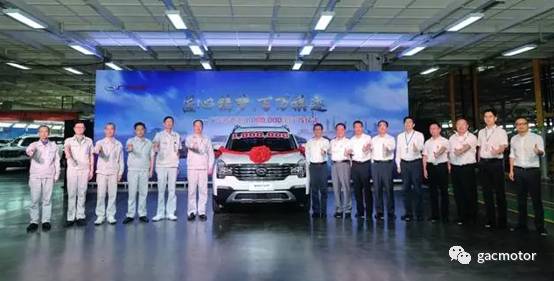 (Off-line ceremony of GAC MOTOR's millionth car)
GAC MOTOR's star model GS4 has always taken on a favorable momentum of good sales since its launch two years ago, ranking top two among domestic SUVs in terms of monthly sales. With the launch of GAC MOTOR's luxurious flagship 7-seater SUV GS8 manufactured on C-class platform, GAC MOTOR posed challenges to high-end market again.
By virtue of superior product strength and world-class quality, GS8 realized total sales of 43,528 units from January to May, driving Chinese auto brand to reach a record high. In addition, star models such as GS4 and GS8 see explosive growth by constantly breaking the price ceiling of self-owned brands, becoming "phenomenon" models.
It is worth pointing out that GAC MOTOR, while doing well in SUV market, also makes constant achievements in sedan market. For example, GAC MOTOR's stylish B-class sedan GA6 realized sales of 3,275 units in May, with a year-on-year increase of 212.8%, which is the best sales of the model.
With total sales of 9,127 units from January to May and a year-on-year increase of 232.3%, the model saw such a huge growth in medium and high-end sedan market, which is not easy for a Chinese brand.
GA8, a "luxurious car for pacesetters in the new area", topped the sales raking of Chinese C-class luxurious sedans with sales of 730 units in May, demonstrating again the strength of Chinese high-end manufacturing. GA8 and GA6 achieved such good sales in medium and high-end sedan market, indicating GAC MOTOR's balanced development in both sedan and SUV sectors.
With such a good sales trend, GAC MOTOR obtained the highest score of 934 points in the industry and ranked No.1 in ranking of small samples, according to J.D Power's Chinese DSI report released in April.
Promoting brand internationalization steadily, GAC MOTOR vows to a world-class Chinese brand
While achieving high-speed development in China, GAC MOTOR is also actively making layouts in overseas markets. As one of GAC Group's three major breakthroughs in the "13th Five-year Plan" period, internationalization is also GAC MOTOR's important development direction in the future.
With the help of "The Belt and Road" Initiative, GAC MOTOR, under the overseas strategy of "brand coming before sales", has currently completed its layouts in 14 countries of five sectors including the Middle East, Southeast Asia, Eastern Europe, Africa and America, and established preliminary global marketing networks and service systems, making phased breakthroughs in overseas markets.
GAC MOTOR has made a foray into the Middle East market with its medium and high-end products, and leads sales of Chinese auto brands in local market, becoming the "best Chinese brand" among consumers. In Africa, GAC MOTOR has built SKD plant in Nigeria. Yu Jun said GAC MOTOR's overseas sales volume is expected to hit 5,000 units in 2017 and 60,000 units in 2020. Meanwhile, GAC MOTOR aims to realize market share of 1-2% in each overseas market.
GAC MOTOR has made its world-class brand image widely recognized while actively making arrangements in overseas markets. GAC MOTOR showed up in 2017 North American International Auto Show (NAIAS) by becoming the first Chinese brand entering the showroom of NAIAS with a history of 110 years.
In this way, GAC MOTOR was able to exchange ideas with world-famous auto brands on the same arena.
Aside from that, GS7 made a global debut and received the "Impressive Worldwide Debut: GS7 SUV" from Forbes and "A New Generation Blockbuster SUV" from The New York Times, demonstrating the world the strength of China's high-end manufacturing.
In March, GAC MOTOR concluded a partnership with 2017 Fortune Global Forum in Guangzhou , becoming the only official car sponsor for the event. At that time, GAC MOTOR will be reviewed by high-end elites from around the world. In May, GAC MOTOR, for the first time, launched a large-scale overseas talent recruitment "introduction of talents and going global" to introduce talents from outside and cultivate talents inside.
In addition, GAC MOTOR has set up North American R&D Center which will serve R&D of state-of-the-art technologies, design originality and even product planning, as well as strengthen talent and technical reserve. That is the first step for GAC MOTOR to enter the North American market. Also, GAC MOTOR has preliminarily established overseas teams with consummate systems and plans to enter North American no later than 2019, in an effort to cultivate GAC MOTOR's international brand image.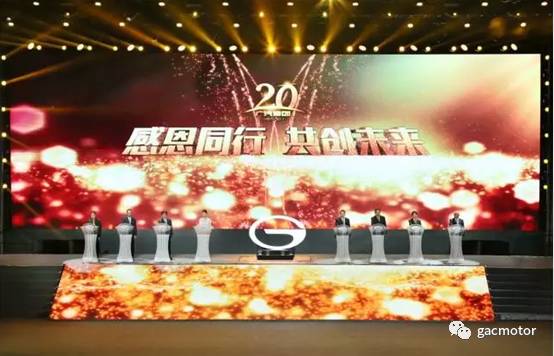 (GAC Group General Manager Feng Xingya and representatives of investment enterprises gathered strength to create GAC's better future)
"Reviewing the past, we are very proud of the achievements we made. Looking into the future, we know that we still have a long way to go. " said Chairman Zeng Qinghong, adding that GAC Group will be more clearly aware of the situation and the task facing. By continuing with the past and opening up the future, GAC Group will meet challenges ahead and strive to implement GAC's "1513" development strategy in the "13th Five-year Plan" period. With originality, GAC Group will elaborately create value for consumers and employees, cooperation and investment partners, and industry and society, so as to embrace another more brilliant twentieth anniversary.
Taking over from the past and setting a new course for the future, GAC Group stands on a new starting point of the twentieth anniversary. We believe that GAC MOTOR in the future will further improve systems, strengthen mechanisms and innovate reforms. With the improvement of system strength and comprehensive promotion of globalization process, GAC MOTOR, while boosting GAC Group to develop into a global independent brand, will be bound to become a world-class Chinese brand favored by consumers in the world.