Chinese Middle School Smashes Confiscated Phones with a Mallet
Tap "ChinaWire" !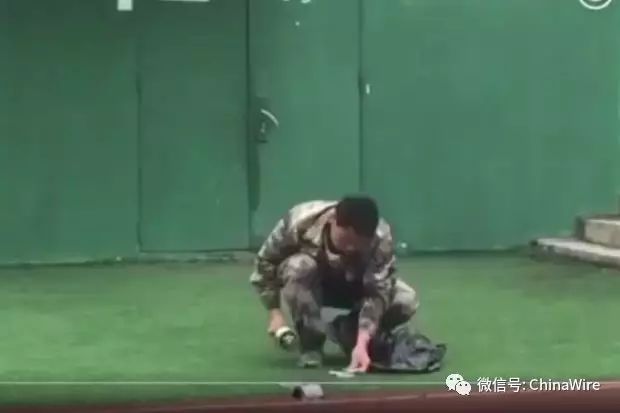 source: thestar.com.my

When a student's mobile phone was confiscated by a school in Singapore earlier this year, the pupil's father sued the school for damages.
When a student's mobile phone was confiscated by Yongmao Middle School in Guizhou, however, the Chinese school decided to do some actual damage to it - by smashing it with a mallet on the school field.
The South China Morning Post reported on Friday that the school has a zero tolerance policy when it comes to pupils bringing unauthorised mobile phones into its campus.
A video on People's Daily shows a man in camouflage fatigues pounding away at the mobile phone with a heavy looking mallet, before snapping it in two with his bare hands and throwing it aside.
"Any cell phone brought into school against regulations - meaning the students haven't alerted the school or obtained the proper credentials - will be soaked in water and smashed on the ground," says an announcer over a loudspeaker, as rows of students watch glumly.
After finishing with the first phone, the man takes several more mobile phones out of a backpack and repeats the process.
In a voiceover, an unnamed female faculty member says: "Our school policy doesn't allow students to carry cell phones. Not without getting permission or turning them over to teachers for safekeeping. .. If a student still disobeys, we have no choice but to handle it this way, to destroy the phones right in front of their faces. We do this to better manage our students."
She adds: "Students have a different point of view from their parents' and their teachers'. Their parents give us the green light to do this."
However, netizens were not as supportive of the school's actions, reported SCMP.
One weibo user wrote: "Mobile phones are private belongings, and schools do not have the right to destroy (them) ."
"What you're crushing is not just a cell phone, but children's dreams," said another.
Yongmao Middle School is not the only school to take such drastic action against mobile phones. News website Public Network reported that a middle school in Hebei has installed metal detectors to catch pupils who attempt to smuggle mobile phones into class, and spent more than 200,000 yuan to install payphones for students to use instead.
Check out www.echinawire.com for more content!
---
Subscribe by scanning below QR codes to get started.


A convenient way for foreigners and Chinese to buy real foreign imported products while living in China. Stay with ShopWire as we expand our products range. You can use either WeChat wallet or PayPal to purchase our products!
---

ChinaWire is the largest English WeChat Official account in China with over 150k subscribers. We post articles related to china and around the world as well as a survival mandarin section to help foreigners improve their Chinese skills.
---

WorldWire is a diversified account which mainly publishes breaking world news, entertainment, lifestyle, culinary and sports news from around the world.
---

Shop在線 is the Chinese version of ShopWire mainly for Chinese Customers. You can also use it if you are a foreigner with great chinese skills or introduce it to your Chinese friends. We guarantee only real imported products are sold on our shop.