Jiangsu Issues 2017 Foreign Permanent Resident Cards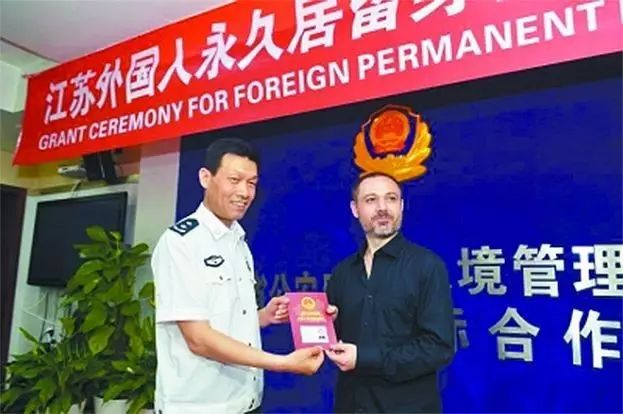 The Ministry of Public Security decided to start officially using 2017 version of the permanent resident card for foreigners since June 16.
On the afternoon of June 16th, Jiangsu Provincial Public Security Bureau held the first issue for 9 foreigners working and living in Jiangsu to get 2017 foreign permanent resident cards. Our reporter found that the design of this card-type electronic document is based on China's second-generation ID card with holographic film security and other features.
"2017 foreign permanent resident cards and the current foreign permanent resident cards are the identity documents of the holders who reside in China. Card holder can use this card as an ID for financial, education, health care, transportation, accommodation, communication, work, taxation, social insurance, property registration, litigation and other matters. " Deputy Secretary Yang Xingliang for International Cooperation Department of Provincial Public Security Bureau Exit-Entry Administration said.
A Dong, a foreigner from Spain, was sent to Nanjing to work in August 1999. He married a Nanjing wife and now he received the foreign permanent resident card. "I have been working in Nanjing, Shanghai, Tianjin and Beijing all over the years. And I have been working in Nanjing since last year. I like Nanjing because of the friendly people and the beautiful city." He said in excitement that now his roots are in China.
MORE FROM THE NANJINGER
Many more stories can be found at
www.thenanjinger.com
We are also always on the lookout for new talent to join our stable of writers. If you think you have what it takes, contact us via www.thenanjinger.com